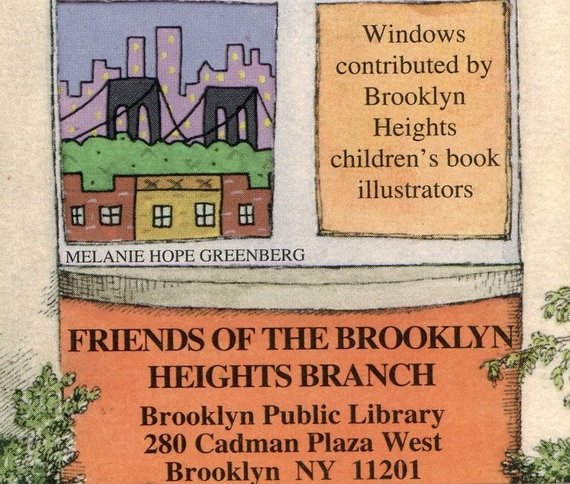 Whenever my apartment is painted I get stranded and need refuge. From early morning to early evening I cannot stay in the apartment, also my studio-office, while a fresh coat of paint is lathered onto the walls. I've learned how to prep from other paint jobs. First, I set up couch-surfing nights at a friend's place. Next, I plan to be at home in the morning and early evening to let the painters in and see them out. Last, I schedule ways to kill time in the neighborhood during the day.
For the last paint job I planned to finish reading a wonderful book, "Just Kids", Patti Smith's beautiful art and music history perspective of an era in New York City that I also lived through. August's surly summer heat was not inviting to read and swelter on the Promenade. Instead, I chose to read at the local public library, in an air conditioned space. I mostly visit the Brooklyn Heights branch's children's room for researching my picture book projects. I've also presented my author-illustrator programs there. The adult side on the second floor has comfortable reading chairs.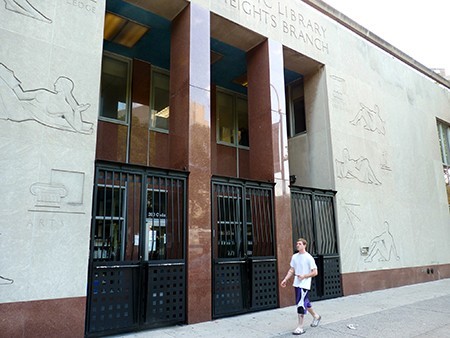 In the small circle of cushy seats sat a toothless lady reading the local paper, a sleeping man snoring quietly (who might have been homeless), and an elderly gentleman who pulled his chair out of the circle and moved it to the large picture window. The entire time I was there he watched the foot and vehicle traffic along Cadman Plaza. I felt a bit spoiled knowing I had more options than the library for cool refuge. My chair mates did not look wealthy. How fortunate for us to have a place to go that is welcoming and free; a place which opens worlds with catalogues of books, magazines, newspapers, computers, and programs. I thought about the generous hearts of librarians who meet every kind of humanity each day. What a great place for refuge in any weather.
Surprisingly, I became very emotional at the end of "Just Kids". I don't often cry in public but I was weeping. Getting to know artist Robert Maplethorpe through Patti Smith's tender memories left me devastated when he died. I don't think my chair mates saw anything unusual about my tears streaming, eye wiping, nose blowing, and sighs. I was not a local author in that moment. I fit right in unnoticed in the sea of the library's daily motley humanity.
Nowadays, I worry about my chair mates because there's a broken HVAC system at our branch. For the last few summers the library closed at 1pm due to the excessive heat. There are confusing stories such as the technology to fix the HVAC system is old. That does not sound right. Today's technology can send a spacecraft to Pluto and beam photos back to Earth. In 2008 the Donnell Library in Manhattan closed for similar reasons with plans for a new library built inside of a high-rise. Eight years later sketchy stories circulate that the Donnell will reopen soon.
The Brooklyn Heights branch is in a strategic location. Instead of funding repairs, the city administration with recommendations by the Board of Brooklyn Public Library approved a real estate deal similar to the Donnell's. Plans include razing the existing building to build a luxury high-rise with a "21 Century Library" inside and fund repairs at a few other Brooklyn branches. My Facebook librarian friends have no idea about "21 Century Libraries" except that it's a meme. A few blocks away, in a straight land deal without the city involved, another high-rise real estate developer offered three times the amount that was offered to the city for the library. Proud to say those neighbors voted no to that offer.
In a 4 hour video filmed inside the Borough President's chambers I watched neighbors who are against the high-rise debate high-rise advocates. The majority of non-local advocates seemed to read from the same script, and had a lack of understanding that what looks good on paper is not the reality of displacement, environmental hazards, traffic, construction noise, and permanent blockage of sky in our neighborhood. Nor did they seem to care that our local public school is over capacity, or that we recently lost our local hospital to build more high-rises. I felt lectured, told what was needed in our neighborhood by those who do not live here.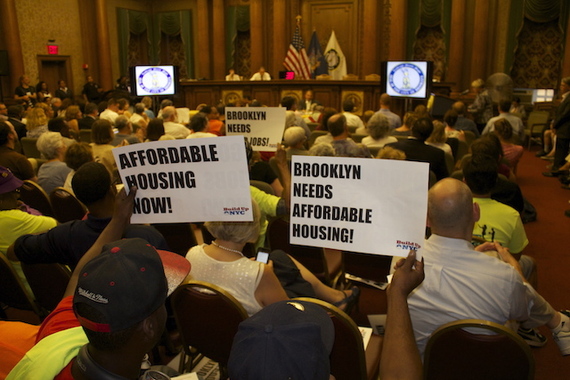 It's hard to keep up with the never-ending changing developments so I read the local news. On the radio this week I heard the library's real estate developer fund-raised for the mayor. Will that delay the deal? I receive emails saying the branch is closing this July with a temporary home in a neighborhood church. There are protest groups but I'm not joining. During confusing times I keep it simple and know, as a book professional and as a long time resident of Brooklyn Heights, this is a sad deal.
What happens to those who cannot afford to live in Brooklyn any longer due to sky-rocketing buildings and rents? Where do my chair mates go who have limited options for places of refuge and without the proper voices to represent them? As Patti Smith says, "More people than ever are using New York City libraries. This is indeed inspiring. Let's keep it that way."
Photo Credits: Mary Frost, Jessica Nieberg
REAL LIFE. REAL NEWS. REAL VOICES.
Help us tell more of the stories that matter from voices that too often remain unheard.