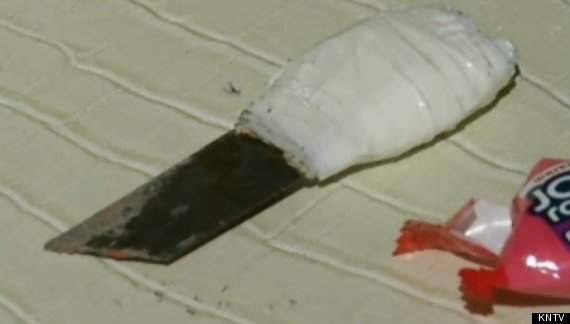 Mealbreaker (n.): a nasty, non-edible surprise found in food while it is being eaten; often lawsuit-provoking, sometimes fabricated, always disgusting.
"I was going for another blue one and all of sudden I saw white, which didn't make sense because everything is colored in there and when I pulled it out, my heart just sank and I was like, what is this?" Amy Hu says.
The blade's end was covered in a unknown substance, and the other end was wrapped in white tape. Hu voiced concern about possible contamination from the blade, noting that she is nursing a half-month-old child and could pass germs and bacteria along to her child.
After her husband posted a picture of the blade to Jolly Rancher's Facebook page, the candy's parent company, Hershey, commented back with an apology and offered three bags of free candy. Hu was unimpressed with the offer, saying she just wants Hershey to be more cautious.
MercuryNews.com also writes that Hu had contacted Santa Clara police, because she had bought the bag in that city. She later took the blade to police, but declined to press charges. Since the incident, Hershey has been contacting Hu with "canned statements about the high standards of their manufacturing process."
"The way they're handling it, it leaves a sour taste in my mouth," Hu told the publication.
Food safety and the well-being of our customers is a top priority for The Hershey Company. We were contacted by the customer yesterday regarding this incident and immediately began reviewing our processes related to our JOLLY RANCHER CRUNCH 'N CHEW Candy. We have apologized to the customer and, while there was no injury, we take this situation seriously. We believe this is an isolated case and accidental in nature. We will be taking the needed actions to prevent this happening in the future.
Hershey says since the blade is an isolated incident, it will not be issuing any recalls.
Watch Amy Hu speak about finding the blade in the video below.
Related
Before You Go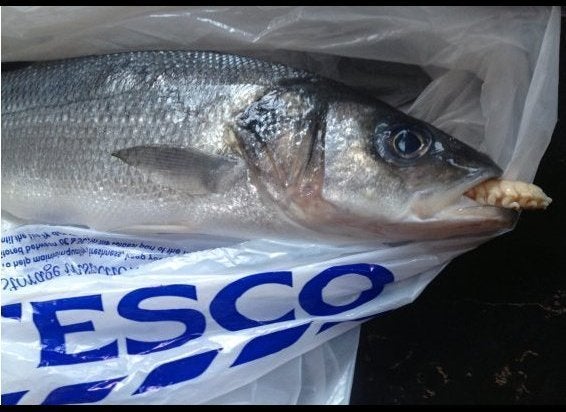 Mealbreakers