"I still get goosebumps when I go to a drag show and they're performing 'Stranger in My House,'" admits singer Tamia with a laugh.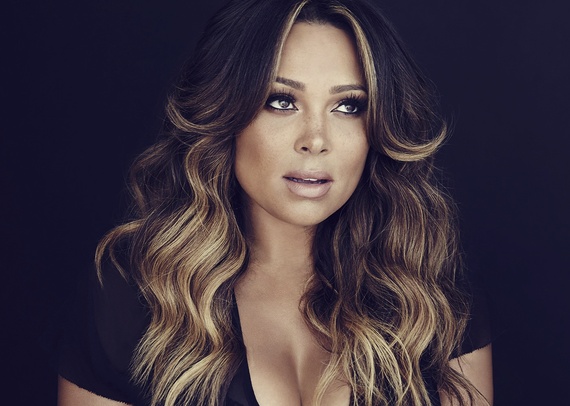 The star must get chills often then! Nearly 20 years after its release, the chart-topping Thunderpuss remix of "Stranger" is now classic in LGBT clubs...bordering on cliché among drag performers. And the song remains Tamia's single greatest Billboard chart success to date. Its multi-genre appeal speaks to her approach to music, she says.
"I make music for everyone," confirmed Tamia during a recent telephone interview, "If you show me love, I show you love back!"
In 2001, the Canadian solidified herself as a recording artist with mass appeal. The smoldering album version of "Stranger" became Tamia's sole Top 10 mainstream hit -- and third such staple at R&B stations. Those remixes, inescapable in gay clubs, topped global dance charts. Even now, Tamia says, fans of all varieties go crazy for the song.
And, she acknowledged, in some ways that continues to guide her career -- even influencing the writing on her latest album, Love Life.
Watch "Stuck with Me" from Tamia's New Love Life Album

"Hopefully, my career is long, and 'A Stranger in My House' was a long time ago, but I love performing that song," she stated. "I can't wait to get to it in a show. So that's what I compare [any new material] to.
"I always ask myself, 'Is this something I want to sing for the rest of my life?'" Tamia confessed, "Or if somebody said, 'She sings that song!' am I going to be proud?'"
The formula seems to have worked. After two independent album releases, her major label return Love Life arrived in early June on Plus One, a subsidiary of Def Jam Records. Led by singles "Sandwich and a Soda" and "Stuck with Me," it opened at No. 2 on the R&B Album tally, Tamia's highest-charting record to date.
"I didn't know if I wanted to go with a major label, but when I met with them, they said, 'We want you to continue everything you've been doing, we just want to help you with it,'" she shared.
Apparently Def Jam took note of Tamia's self-made success! After More in 2004, No. 17 on Billboard's "Hot 200" and a Top 5 R&B Album, she left long-time label Elektra. Independently-released Between Friends (2006) and Beautiful Surprise (2012) both broke the R&B Top 10.
Relive Tamia's Iconic "Stranger in My House" Remix!
Given her track record alone, Tamia was hesitant to re-sign with a major label. However, noting the added reach such an agreement offers, not to mention the financial support, she was open to discussions. Her new label home, she said, proved to be a...well, "beautiful surprise."
"They didn't say, 'If you can just work with this producer' or 'If you can just be a little younger or a little thinner' or a little whatever," noted Tamia, who has experienced exactly that in the past with other labels. "They just wanted to be there to help me along. They were like, 'What goals do you have? How do you see this project?'"
With the album now a proven success, a tour in support of the new work is in full swing. Throughout Sept., Tamia has performances scheduled in Houston, New Orleans, Dallas, along the West Coast and across the Southwest. She lands at San Francisco's Regency Ballroom on Tues., Sept. 22.
"I feel very fortunate that, after 20 years in the music business and six albums later, I'm able to still do what I love and make music that continues to inspire me," she said in closing, "And, hopefully, will be appreciated by everyone."
For Additional Information About Tamia's Love Life Tour, Click Here.
Calling all HuffPost superfans!
Sign up for membership to become a founding member and help shape HuffPost's next chapter