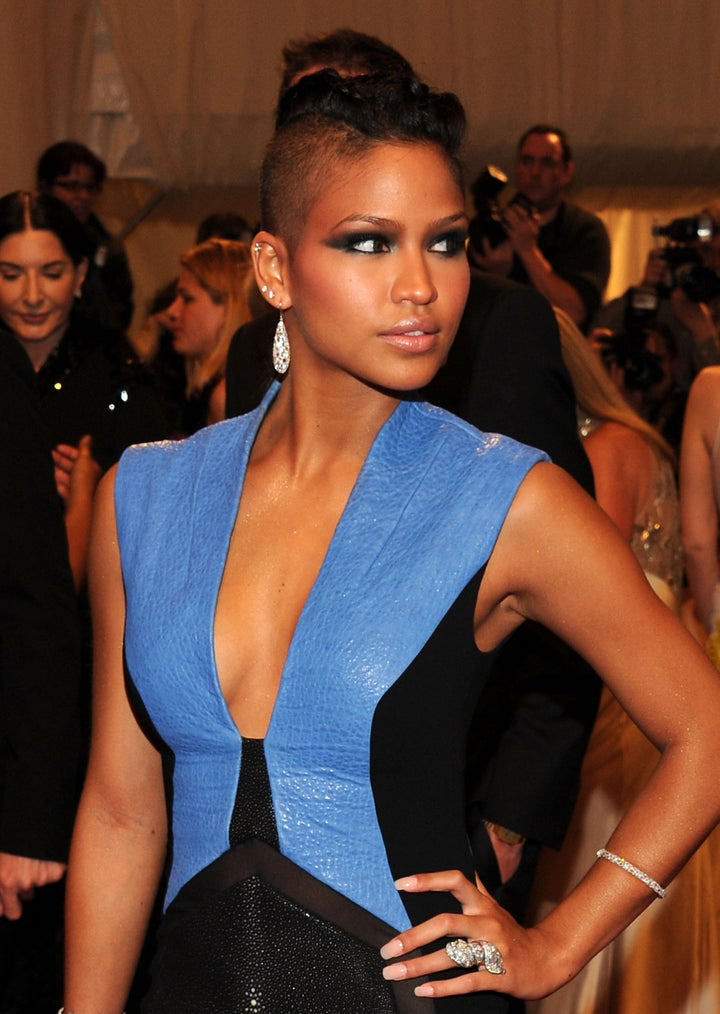 It's been nearly six years since Cassie became an international sensation with platinum-selling hit "Me & U." Taken from her self-titled debut, the single pushed the then-teenage singer into the U.S. Top 5, proving equally successful around the world.
The years since have been about self-discovery, the now 25-year-old chanteuse admits. From her club-friendly roots, Cassie's moved through pop and hip hop, working with a who's who of the music industry's top names as she struggled to find her musical identity. With a still-untitled sophomore album slated for release by Interscope Records later this year, she admits looking for "that song," the one to build a return around.
She's found it in "King of Hearts," a thumping electro-house-influenced club banger, the singer says. Inspired by what worked for her debut -- a minimal track, driven by vocals and a catchy bassline -- Cassie released the single and its accompanying video on Valentine's Day.
Here she sits down with me, a Huffington Post celebrity blogger. Cassie shares thoughts on the new album, what fans can expect from it, and how -- after such an extended time away -- she plans to re-establish herself as an artist.
I read in addition to "King of Hearts," you've recorded anywhere from 50 to 60 songs for this new album?
Yeah! I don't know an exact number, and we talk about it all the time. I'm going to get that exact number, so I can tell people. It's definitely closer to 100, because I wanted to try a lot of different things. There was nothing set in stone, but as an artist, you fall in love with every record you make. I was going through stages. I was recording all R&B at one point. Then I was recording all pop and Top 40 type of stuff. I went through those stages, which helped me get to the point where I am now. They helped me get to "King of Hearts" and all the songs I've chosen for the album.
You've worked and collaborated with many different people in the last five years. Who have been your favorite collaborators?
Oh, wow! I've worked with a lot of different people, you're right. (Laughs.) This is kind of a difficult question. Hmm... I really liked working with Rico Love. We did a record together. He always makes dope, sexy records, so I had a great time with him. I made a few records with Danja over the last few years. I have one on my album. Jean Baptiste. Who else? I'm trying to think of other people I've worked with in the studio and had a good time. Oh, Pharrell. He's another good one. I've worked with so many people over the last six years, I can't really pick just one, but it's been fun.
Will all of the new album have the same vibe as "King of Hearts"?
I think it's more of a blend. It's not like "King of Hearts" is the end-all, be-all. It's a little bit pop, a little bit hip hop, a little bit dance, a little bit ska. There's a little bit of everything for everybody. That's the best way to describe it.
When people think of you as an artist, what genre should they put you in?
I don't really want to be put in a genre. I really want to make my own lane. I don't know, if that's even allowed at this point. I think pop -- "popular music" -- has crossed over from a Taylor Swift record to a T.I. record. It doesn't really matter, as long as people love it. Do you know what I mean?
Of course.
I don't really want wrapped up in one genre. We just got the #1 most added at radio among rhythmic/crossover, so that's the "in-between" between pop and urban stations.
As an artist, tell me how you have grown between records?
Oh, wow. If you can, imagine a real woman -- any young woman you could pick out of the crowd -- and you met her when she was 18, then you met her again when she was 25, like how different she would be. I haven't changed in the ways -- I haven't "diva-ed out," I haven't changed in those ways -- I think I just grew up. I was humbled. The situation has really humbled me as a human being. I'm actually really happy the situation and things worked out this way, that I took my time, because I don't think I'd be the same person had it not. I've actually spent time working on myself over that four-year period, so there's a more confident person you'll see when I hit the stage or see me in an interview.
What is the plan to re-introduce you to fans? The downside of taking so long between releases is you have to come back and, in some ways, start all over.
Yeah, definitely. It's kind of a process, but at the same time, it's also kind of fun. "Me & U" was a kind of big song around everywhere, but I didn't really have a big presence with certain audiences. So even some of the people listening to my music now is kind of "new," so I'm gaining new fans. It's kind of a challenge, but it's also fun.
I'd think it's kind of a great opportunity.
It's almost like I get to start over, you know?
Absolutely! And I'd think the previous song was an "introduction," but people probably don't have significant expectations of who you'll be when you return.
Mm-hmm. Exactly! So if I went away again, they won't know what they'll get when I come back! (Laughs.) Except I won't be going away ever again.
REAL LIFE. REAL NEWS. REAL VOICES.
Help us tell more of the stories that matter from voices that too often remain unheard.