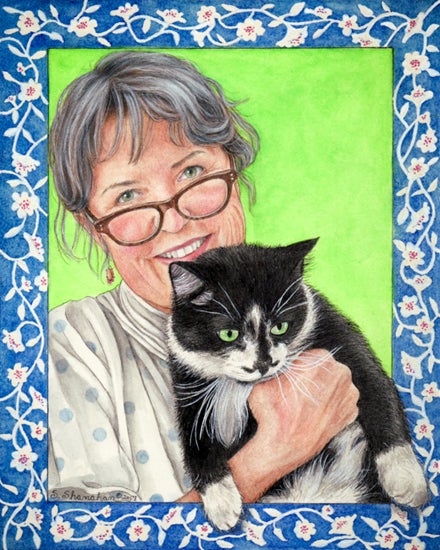 Porch Light People: Individuals who are fully themselves. They are not influenced by "shoulds" from the culture or other people. They instead live from their inner light.
Porch Light People: Individuals who are fully themselves. They are not influenced by "shoulds" from the culture or other people. They instead live from their inner light.
My second Porch Light Profile is about New York Times best selling author and illustrator, Susan Branch. Her cookbooks, calendars and memoirs have made her feel like a dear friend to thousands. Handwritten and gorgeously illustrated, they are a vacation for the mind. Filled with conversational style and inspiring quotations, they are an antidote for the harshness of life. Her 2015 memoir, The Fairytale Girl begins in her childhood and ends with the break-up of her marriage in the 1980's. Like many women of that time, she had hitched her wagon to a husband. Although being a stay-at-home wife had it's perks (she was able to turn homemaking into an art and honed her skills as a watercolorist) in the end it left Susan empty. All that centering around her husband, meant that she had no life of her own and no way to support herself.
"Believing in myself was probably the hardest thing I ever had to learn to do."
So where did Susan go from there? She went for a three month stay on Martha's Vineyard and ended up never leaving. What she thought was a hiatus to nurse her wounds turned out to be an introduction to herself. She decided that the days of someone setting the tone for her life were over. On the island, she soon realized that her steady diet of news and soap operas were weighing her down. She turned off the television and decided the only news she needed to hear could come through her open window. To sooth her unrest, she began seeking the keys to life in biographies of her heroes and quote books. She learned the theme that ran through most of them was that the answers to your questions cannot be found outside of yourself. Heaven lies within. Now that she knew that, Susan's search was over. It was time for her to take responsibility and get to know herself.
In 2016, her sequel to The Fairy Tale Girl was released. She wrote Martha's Vineyard - Isle of Dreams to help others transcend loss, follow their hearts and believe in their dreams. Hope lives in its pages. In it, Susan writes in detail of how she learned to live from her own center, "I learned that, for me, the key to making my dreams come true – the one that opened the door to the gift of "within" – was meditation." Becoming an author and illustrator was a byproduct of self-discovery and living from her inner light. She didn't have to map out a plan on how to make a living with her talents. When Susan found her heart, her life's work found her. It came to her that realizing her dream of getting a cookbook published wasn't about the dream world at all. Realizing her dream was about hard work. Happily, the toil is made much easier when you are doing what you love.
In her books and blog, she talks to her readers as if they are old friends. Because of that, over 56,000 kindred spirits subscribe to her newsletter and feel like they know her personally. Never one to market herself much, most of her followers have been drawn to her by word of mouth. In fact, that's how a Hollywood screenwriter found her. A script for Susan's books is now being shopped under an exclusive deal. If her fans are lucky (my fingers are crossed), the screenplay will soon be made into a movie or a television series.
Go. Be. Love. The world needs you. - Susan Branch
Two summers ago our mutual friend, Margot Datz, brought me over to Susan's house for tea. At that time, I vaguely knew Susan's work, but I liked her right off the bat. She was warm and welcoming. Her house oozed charm right down to her mustached cat, Jack. I have since became a huge fan of Susan's memoirs and cookbooks and can't believe she wasn't on my radar sooner. Her newest books, The Fairy Tale Girl and Martha's Vineyard - Isle of Dreams, have become two of my all time favorite reads. How she writes about herself, and who she is, are one in the same. Don't let the nostalgic cheeriness of her work lead you to believe she has no opinion of the world past her doorstep. She is a woman of heart and mind and doesn't shy away from speaking her truth. I suspect this quality only makes her followers, or girlfriends as she likes to call them, love her more.
I based the above watercolor portrait of Susan on a photograph I took. The only snafu in the process was that after I had completed the art I discovered her hair was no longer brown like it been in the photo. Susan Branch had decided to let it go gray. No point in not being who you are.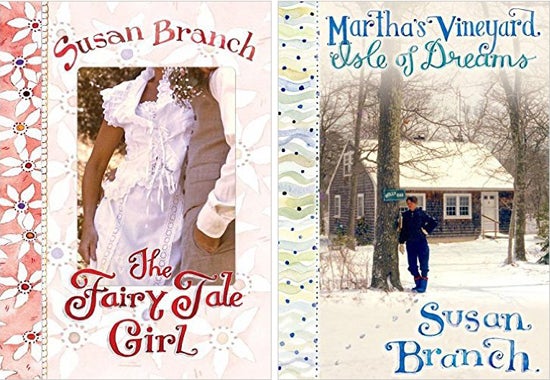 Related
Popular in the Community