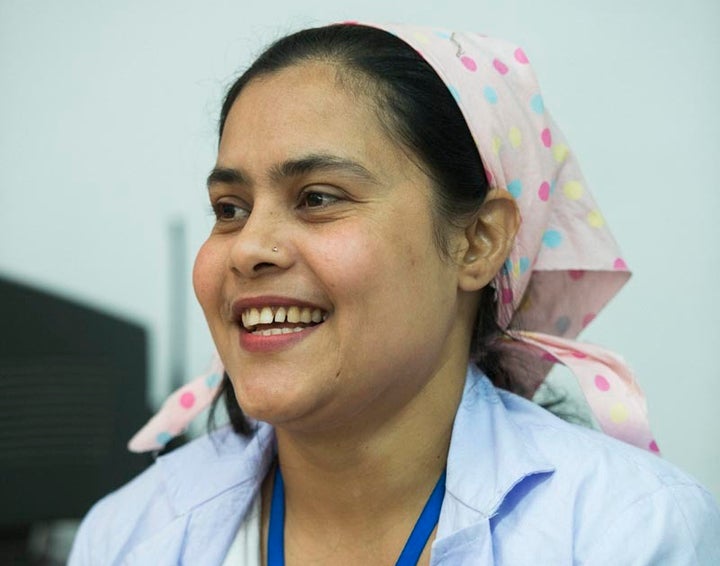 September 26 is World Contraception Day — a day when the global community focuses on how to address the unmet need for vital reproductive health services around the world. There are more than 225 million women and girls in developing countries who want to avoid pregnancy but are not using safe and effective contraception. But there is good news: momentum is accelerating to put the power of choice directly into the hands of more women, and it's happening beyond the clinic walls—where women and girls live, work, learn, and socialize.
Meet Fatema Begum, a dynamic woman who recently shared her story with us from Bangladesh. Fatema works at the Versatile Apparel garment factory in the bustling capital of Dhaka, where hundreds of sewing machines hum under the fluorescent lights. More than 1,400 women work in the factory, part of Bangladesh's 23-billion-dollar garment industry.
In addition to her regular duties as a seamstress, Fatema works as a peer educator teaching her co-workers about contraception. It's part of a pioneering program by EngenderHealth to offer contraception and reproductive health information directly where women are.
Fatema was selected to be a peer educator because she has earned the trust and respect of her coworkers. Her own history gives her a keen understanding of how contraception—or lack of it—can affect a woman's life. She married when she was 10, and had her first child, a son, at age 13. Six years later she gave birth to her daughter. Now 29, Fatema has no desire to be pregnant again. "Two children are enough," she laughs.
Bangladesh's garment industry employs an estimated 4 million people, 80 percent female. The average age is 26; most of them are married. The nature of the work—often long hours on factory premises—can make accessing health services a challenge. Regular government-run health clinics, for example, have limited hours and long waiting lines. Most factory workers can't afford to take any time off.
EngenderHealth is filling the gap by bringing contraception information and services to women directly on the factory floor. Through a public-private partnership with the Bangladesh Garment Manufacturers and Exporters Association—the trade body that represents garment manufacturers and exporters in the country—health clinics are being established right on the factory premises. EngenderHealth trains health care providers and peer educators in participating factories.
Some of the employees at Versatile Apparel were hesitant at first about discussing contraception in the workplace, especially in front of men: "It's a cultural issue," Fatema explains. "Women aren't accustomed to talking about these things openly. But they want to avoid pregnancy, because having children can hamper their earnings."
The trainers and peer educators dispelled the awkwardness by treating contraception as a matter-of-fact health issue. Family planning is part of life, and health care is a benefit for workers. "There's no problem talking about it now," Fatema says. "Workers are seeing this as a basic health need."
Of course enabling women to decide whether and when to have a family is good for the factory owners too. Workers who don't have access to contraception are more likely to get pregnant and take maternity leave; they're also more likely to experience ill health and complications. Or if a worker chooses to leave her job entirely after giving birth, the factory has to hire and train a replacement. Making reproductive health services freely available results in a work force that is healthier, more stable, and more productive.
Fatema is proud of her role as a peer educator and family planning champion. "I feel good about providing services that help the workers," she says. "I'm contributing to the betterment of the community."
Women and girls know what they want if given the freedom to choose. Fatema is a testament to how we can—and must continue to—find more ways to take reproductive health information, counseling, and services out of the health sector and bring them to women—when and where they need them.
Please join us and partners in a #WCD2016 on Twitter this September 26 at 9:30 am EST and share your ideas about how we can increase choice and access to contraception.
Popular in the Community