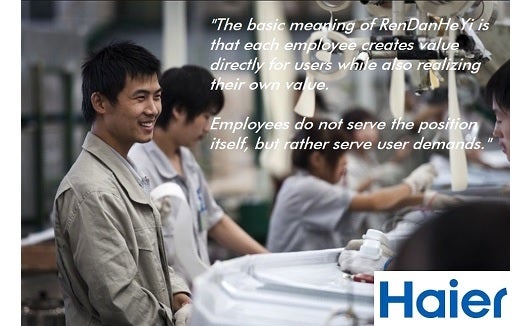 If there were a management equivalent to the annual Davos Economic Forum, where would it take place? A good bet would be Qingdao, China.
On September 20-21, 2017, China's preeminent corporate citizen, the Haier Group, organized the 1st International Rendanheyi Model Forum in conjunction with Gary Hamel's Management Laboratory (MLab). I was privileged to attend this exclusive event as a journalist (with much gratitude to my intrepid guide and interpreter, Haier Group's Director of International Communications, Na Qu) and to report on the proceedings.
Haier Group is the world's largest appliance manufacturer, with annual revenues exceeding $32 billion USD. Haier's 70,000 employees run global operations including multiple R&D centers, industrial parks, manufacturing plants and trading companies. Led over the last three decades by visionary CEO Zhang Ruimin, Co-Founder Madame Yang Mian Mian (until her recent retirement), and now President Zhou Yunjie, Haier has mastered the art of strategically reinventing itself while boldly embracing new opportunities.
As Haier's Rendanheyi Forum invitation points out: "The steam engine marked the beginning of the first Industrial Revolution and changed the entire world, but it was the creation and application of assembly line management that supported the development of the Industrial Revolution. In the Internet Age, technological innovations have emerged in an endless stream with the establishment of various Internet technology-centered companies. However, what is still needed in this age is Internet management."
The 1st international Rendanheyi conference, aiming to become the Davos of management, packed a wealth of management content into its ambitious two-day agenda.
Following a Day One opening ceremony, host Geoff Colvin of Fortune magazine introduced a powerful lineup of morning speakers, beginning with Chairman and CEO Zhang Ruimin.
Chairman Zhang articulated a vision nothing short of revolutionary: he wants to directly connect Haier's 70,000 employees (called MAKERS) with consumers (USERS) via the internet of things (IoT). His passion is to make sure that his company continues to innovate and never falls victim to bureaucracy. After shedding nearly 10,000 middle managers and organizing its global workforce into thousands of self-managed micro-enterprises, what else could Haier do to transcend bureaucracy?
The answer was: plenty. Beginning in 2017, Haier's strategic virtuosity created the age of Rendanheyi, characterized by the birth of amazing new customer-facing micro-enterprises (MEs) large and small.
From its proposal in 2005 to implementation in 2012, Rendanheyi development moved from globalization to a platform of entrepreneurs energized by a people-centric value creation network.
What does such a network look like? For one thing, it insures mutual accountability between MEs—any internal ME can bid to take over an underperforming node ME (R&D, for example). The platform allows for operational coordination, where two or more MEs can band together to seize new business opportunities.
The Rendanheyi platform relies on openness. Massive flows of IoT data from social media and the Haier appliances installed in millions of homes around the world help Haier research and co-develop new products and services with its customers. In a recent example, Haier gathered 30 million responses from nearly 700,000 users to perfect the Tianzun air conditioner (they learned that people wanted cool and quiet, not cold and loud).
Chairman Zhang noted that the average big company is a centrally planned economy and not particularly well adapted to the age of the internet of things. I couldn't help wincing when he contrasted Thomas Jefferson's statement that "All men are created equal" with the way most companies treat people. His vision is to give ownership opportunities to everyone, grounded in total P&L accountability, specific decision rights for strategy and people, and compensation tied to targets with no upside limits.
Where the 20th century was based on management, commercial activity in the 21st century will be based on the social web, combining Makers and Users via IoT. How about a refrigerator with a screen connected to 400 food suppliers buying low-sugar foods for a diabetic customer? Perhaps a restaurant wine cabinet connected directly to winemakers, eliminating the need for distributors? The Rendanheyi future is already on the doorstep, and the doorbell is ringing. To survive, a company can no longer be an enclosed entity. It must be a node on a very large network, connected everywhere.
The key polarity addressed by Rendanheyi is that of growth vs. innovation. As Chairman Zhang explained, small startups fall victim to bureaucracy as they grow. How does a big company maintain the innovative edge of a startup? It launches startups everywhere, and makes entrepreneurial opportunities available to everyone. Haier is a company beyond stock options. Haier is a company full of entrepreneurs; its goal is not to produce new products but to create lifelong users. Now involved in transforming Shanghai Hospital by aligning physician and patient interests in a patient (user) centric model, and reinventing China's beef cattle industry, Haier is blowing the doors off old industrial age business models.
Presentations by Christian Busch of the London School of Economics, Marshall Meyer of Wharton, author Larry Downes (Big Bang Disruption), Frank Shipper of Salisbury University, Stuart Crainer of Thinkers 50 and author and scientist Danah Zohar (The Quantum Self) rounded out the morning.
Takeaways included the idea of cultivating serendipity and embracing unknowingness (Busch), embracing the post-Coasian firm and recognizing success as the venture capital exit of a successful ME (Meyer), the idea that "wherever you go in management, Chairman Zhang has already been there" (Downes), the idea that business is slow to pick up changes in human technologies (Shipper), B-schools that were once the source of Big Ideas have ceded that role to independent thinkers and practitioners, and that management is a strategic competitive advantage (Crainer), and that human beings are patterns of dynamic energy like waves on the sea, connected to everything through quantum entanglement (Zohar). A theme of most speakers seemed to be the idea of humility. Since no one person can know everything, true power lies in the ability to humbly and compassionately engage with communities and networks.
The afternoon finished with an MLab Summit kicked off by Professor Gary Hamel and followed by Polly LaBarre, Michele Zanini and Michelin's Bertrand Ballarin. Great case studies peppered the discussion, including Intuit (solution jam, anyone?) and its fabulous Fasal experiment that empowers farmers in India with mobile phone services to find the best prices for their crops; Denmark's decentralized bank Handelsbanken; Spotify, busy maximizing the "surface area" of the organization that directly faces its customers; Amazon, whose mid-level engineers originated the service which now represents 40% of market value—AWS; and Michelin, which is moving to empower its 100,000+ people to decide and act in their work lives.
The day finished with a press conference fronted by Chairman Zhang and Professor Hamel.
Chairman Zhang reiterated his belief in blending the best of eastern philosophy (thinking holistically) with western approaches (measure results) to achieve the best possible outcomes.
Professor Hamel noted that leaders can't divorce practice from principle—that's is crucial to start with clear principles. He further noted that a primary challenge is that people have to give up authority.
The second day was a deep dive into the practical application of the Rendanheyi model for Haier's business. We learned about the development and application of the model from Haier Group President Zhou Yunjie, who noted that there are now 52 incubated micro-enterprises, two of which have a market cap of over $2 billion. Unicorn sightings!
We learned about the Shunguang Platform, connecting Users and Makers on a large socially networked community ecosystem designed to created tight bonds with lifelong users with smart washers, kitchens, entertainment systems and connective operating systems. We learned about COSMOPplat, a smart manufacturing platform designed to connect factories around the world with each other and with users. We learned about the Haichuanghui Platform, a self-described "jungle forest for entrepreneurs" designed to accelerate the incubation process.
Smart kitchens that promote health. An IoT high-efficiency laundry service. ThunderRobot, a popular gaming PC selling 16,000 units per day. Fisher & Paykel, a New Zealand-based premium appliance manufacturer acquired by Haier that saw Rendanheyi-driven earnings soar 88%. Turning small and large data into mass customization with artificial intelligence. Acquiring GE Appliances in Louisville, Kentucky. It's been quite a journey from the failing Qingdao refrigerator factory of 1986 to the bright lights and TV cameras of Rendanheyi Forum 2017.
The day finished with The Ceremony of Rendanheyi Badge, emotionally highlighted by a beaming former Haier President and Vice Chairman Madame Yang Mian Mian receiving a Lifetime Achievement Award for helping guide Haier through no less than five consecutive strategic transformations. To close the forum, Chairman Zhang urged attendees to simplify everything, to be creative, to adapt to the times, and to rise up like a phoenix.
Judging by the management luminaries present and the sheer volume of content and dialogue, Qingdao seems quite comfortable assuming its place as the Davos of 21st century management.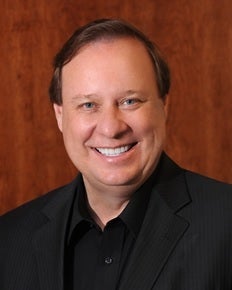 Related
Popular in the Community