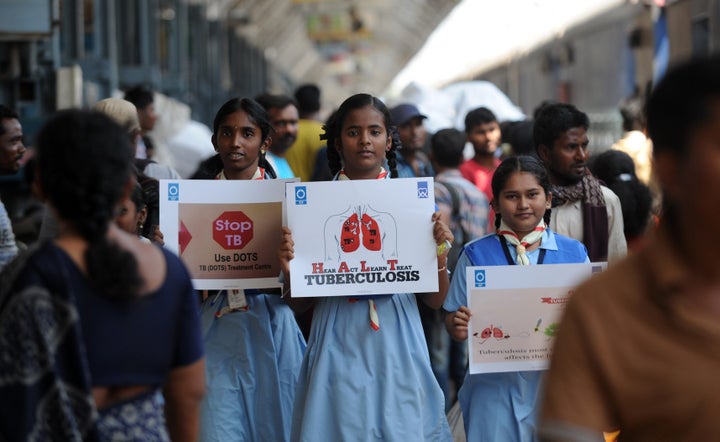 This year marks two decades to when World TB Day was set up by the World Health Organization (WHO). Incidentally, I joined WHO in the early nineties as a young Junior Professional Officer, just a few years before this day for TB was established. I clearly remember being part of efforts to prepare for this. It was an important step, as, at the time, nobody really knew much about the suffering TB was imposing on humankind.
Back then in 1994, colleagues at WHO including myself estimated that the TB epidemic would surge from 7.5 million in 1990 to 10.2 million in the year 2000. There have been significant ups and downs since then. While there has been progress made with nearly 50 million lives saved since the year 2000 and the epidemic on a downward trend, countries still have not been able to drive down the epidemic fast enough to foresee elimination any time soon. The burden of TB remains enormous today with nearly 5,000 deaths and 30,000 people falling ill with TB on a daily basis.
The "left behind" vulnerable and marginalized populations continue to carry the greatest burden of TB. This disease is deeply rooted in communities where poverty is pervasive and human rights and dignity are limited. I started seeing the devastating social and economic impact of TB first hand as a young doctor―from helping the homeless combat newly emerging multidrug-resistant TB in affluent New York to working in the poorest communities in remote rural Swaziland.
WHO reported last year, that globally, one out of every three persons suffering from TB is currently undetected or unreported losing out on access to high-quality TB care. Four out of every five persons suffering from MDR-TB are also deprived of appropriate treatment, perpetuating the public health crisis and health security threat it poses. Migrants, refugees, prisoners, ethnic minorities, miners and others working and living in risk-prone settings, and marginalized women, children, and older people face enormous challenges in accessing equitable TB care. Stigma and discrimination for those affected is rife and often unbearable. That is why World TB Day this year is focused on "leaving no one behind."
"World TB Day this year is focused on leaving no one behind."
The UN Sustainable Development Goals (SDGs) and the WHO End TB Strategy have both set ambitious targets for ending the TB epidemic by 2030. Countries can only deliver on this promise and accelerate the response to end TB if they identify and reach those farthest behind in accessing care. This requires an extraordinary response from all sectors of society - all across the globe.
The good news is that some countries are beginning to take bold steps to reach those left behind. For instance, India is moving towards universal access to TB care as part of its campaign for a TB Free India to reach all the TB patients who miss out on care. A web based system called Nikshay seeks to strengthen private sector engagement and reporting to ensure that all patients access quality care in the private sector. The Philippines National Department of Health is working to further decentralize access to rapid TB diagnostics, especially to better serve people at risk of drug-resistant TB, children and the urban poor. Lesotho is moving forward to use Xpert as the first line of diagnosis for high-risk patient groups, including people living with HIV and prisoners. Likewise, South Africa has implemented Xpert across the country and is pursuing an integrated approach to care for TB and its major risk factor there - HIV/AIDS.
In Thailand, as part of the national health system's focus on universal health coverage with financial protection, the national TB Strategic Plan seeks to eliminate catastrophic costs and access barriers for key vulnerable groups including migrants, prisoners, people living with HIV, children, and older people. Viet Nam, besides introducing all innovative care interventions recommended by WHO, has developed a strategic approach to research that should result in benefits for the country and the world. Russia, is making significant progress in driving down incidence and deaths rapidly at about 5% per year, and is taking the MDR-TB epidemic seriously. They have decided to go boldly and convene, with WHO, a global ministerial conference on ending TB in the new sustainable development era. These first promising steps are a drop in the ocean, as many countries still lag behind in ensuring equitable access to care for those most vulnerable.
"The promise to leave no one behind in our fight to end TB, is one we must all keep."
However, there is reason for hope as we reflect on World TB Day this year. We finally have a spark of new momentum at the highest political levels to act. The G20 emphasis on antimicrobial resistance (AMR) provides an opportunity to address MDR-TB as a priority disease among those traditionally targeted under the AMR agenda for investment in care and research. Failure to include MDR-TB in that framework will mean lack of vision and risk of parallel, non-synergistic efforts. The recent South-East Asia Region Ministerial Conference saw health ministers from countries in the region signing a call for action, pledging to scale-up efforts and implement adequately funded, innovative, multisectoral and comprehensive measures to end TB, including novel mechanisms for funding of research. Further, as mentioned above, in November 2017, WHO will organize the first ever Global Ministerial Conference on Ending TB in the context of the SDGs in Moscow, hosted by the Russian Federation. The conference outcomes, that will address TB in the framework of the current largest challenges in global health, will inform the UN General Assembly High Level Meeting on TB which will be held in 2018.
All this political momentum will serve to catapult the fight against TB to the next level, promoting the necessary multisectoral approach and accelerating action on several fronts including:
Universal coverage of TB care and prevention, including systems reforms, and full uptake of innovative tools, to optimize quality of integrated people-centred care and prevention, and ensure access so that no one is left behind.

Sustainable financing, especially from domestic sources, to enable access to care and prevention embedded in comprehensive health and social systems that alleviate the risk factors and consequences of disease.

An equitable and human right-based response that prioritizes people affected by poverty, disease, stigma and marginalization, including global action on the plight of migrants, and on the special risks faced by other vulnerable groups such as prisoners.

Increased and targeted financing and intensified capacity-building to foster rapid achievements in scientific research and innovation.

Tracking progress towards SDG Target 3.3 and other SDG targets that impact the TB epidemic, and establishment or strengthening of digital systems to collect, store and analyse large volumes of disaggregated data.

Addressing MDR-TB as an emergency and threat to health security, including within the global antimicrobial resistance (AMR) agenda.

Integrated care for all people affected by TB and HIV, with a special focus on eliminating TB deaths among people living with HIV.

Synergistic and joint actions against TB and noncommunicable diseases and their risk factors.
As I approach the end of my career at WHO, my hope is that the commitments to end TB that emerge in the next two years, move from just "calls to action" to greater action itself, backed by concrete investments. This will not only elevate the fight against this top infectious killer but move to wipe it out completely.
Let us use the occasion of World TB Day to pledge a year of collective achievement for the cause of the most vulnerable and those left behind. Let us commit to effectively translating our opportunities into concrete progress, our good intentions into concerted action, where it matters most.
The promise to leave no one behind in our fight to end TB, is one we must all keep.
This post is part of the 'Tuberculosis Today' series produced by The Huffington Post highlighting the challenges of combatting TB. Tuberculosis is now back in the top ten causes of death globally, and it is the world's leading infectious disease killer despite being curable and preventable.
Related