The IUCN Global Gender Office (GGO) is climbing a mountain. We have been climbing this mountain for some time now, and in January, we entered the final ascent. This trek has been strenuous, rewarding and sometimes frustrating. There have been highs and lows along the way, but ultimately it is a worthwhile journey. We will not rest until we reach the lofty peak -- a gender-responsive framework from the United Nations Convention on Climate Change (UNFCCC) in 2015.
In 2014, a vast amount of ground was covered as we continued to scale upwards. We've generated knowledge on a range of topics; we've toiled over finance mechanisms for environment and gender; and we've brought gender considerations from the policy level to implementation for on-the-ground action. We invested in enhancing alliances and strategies -- from the Global Gender and Climate Alliance (GGCA), to the United Nations organization dedicated to women and gender equality, UNWomen, to the United States Agency for International Development (USAID), the Government of Peru, and many, many others, to build the capacity of delegates to international conventions, as well as on-the-ground-implementers, to close knowledge gaps, and to promote the advancement of women and enhance gender equality throughout environmental sectors.
Over the past year, GGO moved forward in addressing and closing information gaps and empowering both policy makers and practitioners at various levels with necessary gender-sensitive data. In coordination with key partners, we held workshops and knowledge-sharing sessions on gender and energy, Reducing Emissions from Deforestation and Forest Degradation (REDD+), mitigation, adaptation, and climate finance mechanisms.
Throughout 2014, we strove to open space for stakeholders to not only understand the value of the linkages between gender and the environment, but also to provide access to resources, both technical and financial, at the national level. GGO participated in collaborative processes for advancing gender equality within environmental finance mechanisms by supporting development and enhancement of gender policies and gender action plans.
At GGO, we are honored to have a presence and support outcomes at major international fora. In the past year, we engaged with the Convention on Biological Diversity (CBD); the United Nations Climate Summit; the Global Environment Facility (GEF); the United Nations Convention to Combat Desertification (UNCCD); the IUCN World Parks Congress; and the UNFCCC, just to name a few. Having the opportunity to work at the international level is rewarding; yet we believe that we must focus on both policy and implementation. In 2014, GGO took our policies, practices and knowledge to the ground level, assisting those working on mainstreaming gender considerations into everyday practice. Our work in the field allowed us to "practice what we preach", including development of an evidence-based data set from the Amazon, defining enhanced knowledge of biodiversity when women are engaged in field research; in Cuba and Mozambique we facilitated the implementation of nationally-recognized Climate Change Gender Action Plans, and coordinated Peru's commitment to develop a Climate Change Gender Action Plan (ccGAP).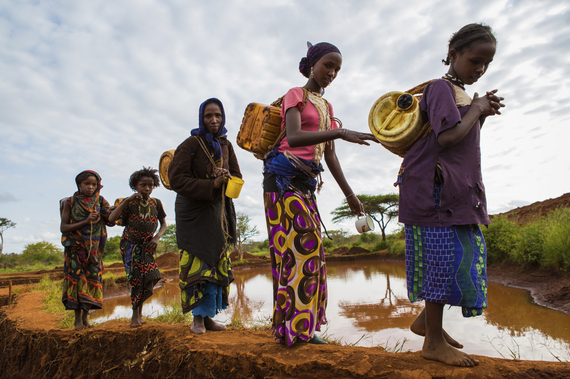 The UNFCCC COP in Lima, Peru, this past December was the perfect time for a "pulse check" as we continue to gain traction on the summit. The power of different groups uniting to protect and fight for a common cause was evident. Also crystalized was the fact that the road to maintaining gender equality and empowerment requires not only willingness, but strong support from everyone involved--countries, negotiators, scientists, policymakers. All must work together because just one lone dissident voice could hold the process hostage and send all of our hard work spinning off course.
As we enter into 2015, GGO is rapidly approaching the final summit, moving upwards and pushing onward toward a gender responsive framework from the UNFCCC. Gender equality and women's empowerment is an asset, translating into more effective and efficient initiatives within the environment sector and beyond. However, this can only occur if rights and equality are fully embraced and understood as a benefit for all. In the coming year, we hope to deliver more tangible proof for this--we are endeavoring to create a suite of technical and scientific case studies to add to our ever-growing Knowledge Center. This will provide both policy-makers and practitioners the knowledge needed to make smart, evidence-based, gender-sensitive decisions. Additionally, we are expanding our Environment and Gender Index (EGI) by creating and consolidating more databases, offering governments data to make wiser decisions regarding the linkages between gender and environment.
There are only 11 more months left to reach the peak. This December, the UNFCCC Framework will be decided in Paris. GGO is excited and hopeful for what challenges and opportunities 2015 will bring. Our office continues to grow--we are now one of the largest gender teams in the world, comprised of 14 staff located across the globe with particular expertise on gender and the environment. However, like any challenging task, this one cannot be accomplished without cooperation--steadfast collaboration, synergies and teamwork. For that, we look to you, our allies in this journey, for continued inspiration toward a sustainable and equitable world.
To stay on top of IUCN GGO's 2015 journey to "reach the peak," please visit the IUCN GGO website and follow us on Twitter.
Calling all HuffPost superfans!
Sign up for membership to become a founding member and help shape HuffPost's next chapter