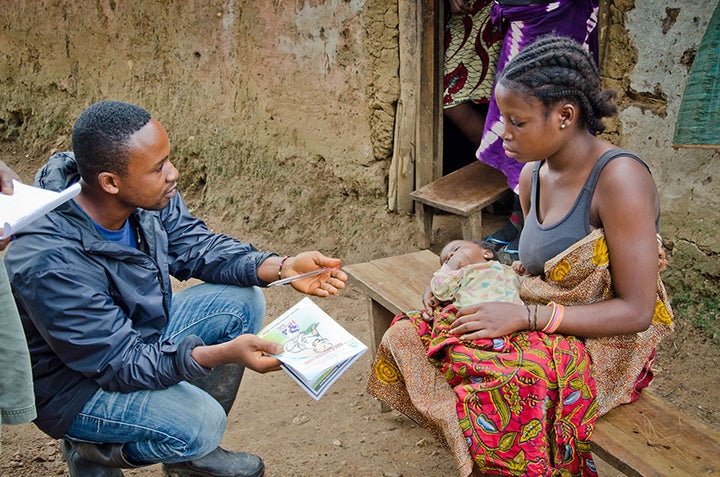 I first became acutely aware of the healthcare needs of remote communities nearly twenty years ago when I was Peace Corps Volunteer in East Timor at the end of the conflict (serving as a community health promotion volunteer). I spent a year living with a host family in a small town nearly 45 minutes' drive from the capital city, Dili, and the nearest health facility.
When a family decided to name their ninth child after me, I was hugely honored. But just few days later, baby Bakary fell sick. His chest and face turned pale blue. I knew this was a symptom of asphyxia and it was beyond my meager medical experience to treat him. We needed access to a community health worker (CHW) or a trained traditional midwife, or to rapidly get him to the health facility. But there were no skilled health providers nearby, and given it was nighttime, there was no electricity and neither the host family nor anyone in the community had the means to transport him to the facility. Instead, we called on the mother-in-law, the local woman who had helped to deliver baby Bakary, but she too was at a loss at what to do. Around 10pm, baby Bakary died.
It is a common story. Millions of babies in remote areas around the world die of preventable or treatable conditions. But there are solutions. There is growing evidence that basing primary health care in communities can considerably improve child survival. Research has shown that CHWs who are trained, incentivized, supported, and have a recognized role within the health system structure, can successfully treat and mitigate manage childhood preventable diseases and refer complicated cases to health facilities. However, despite this evidence, people living in remote communities still find it difficult or even impossible to get the treatment they need. According the World Health Organization (WHO) and the World Bank, 400 million people worldwide still do not have access to health services.
Lack of access to care remains one of the major health challenges, particularly in post-conflict and resource-limited countries. These countries often lack health system policies, sufficient health centers or clinics, drugs and medications, and a shortage of trained physicians and nurses. In addition, they face the challenges of damaged or extremely limited infrastructure. To improve the situation, it is crucial that community-based primary health care becomes a prominent component of a country's national health policy and strategy. The community must be engaged and included in the process so they have the power to make decisions and help to manage their own health.
The health systems of post conflict and resource-limited countries also must be prepared to respond effectively to a major outbreak. I now work in Liberia, which along with neighboring Sierra Leone and Guinea, was devastated by Ebola. All three countries have limited resources and two of the three are post-conflict countries, with weakened and fragile health systems. Tragically, health workers were not equipped to respond to the outbreak safely, and lacked essential supplies like gloves and personal protective equipment needed to treat Ebola patients.
Today, with the support of the international community, Liberia is slowly building up its health system by establishing a national health workforce to provide basic preventative and curative services to the countries most remote communities. In Rivercess County, there are 225 CHW deployed to serve a remote population of approximately 37,000. The employment of these trusted members of the community to provide basic health services in their communities has become one of the foundations of the national health policy.
The impact has been felt in remote communities like Gorble, in Rivercess County, where the nearest health facility is a many hours walk away and required a two-hour journey by paddle canoe. Last year, Abednego James, the local Community Health Worker (in Liberia called a Community Health Assistant), discovered a 7-month old baby called Prince during his weekly house visits. The baby was malnourished and on edge of death. Previously, he would have died due to lack of access to healthcare. But with the support of the Community Health Services Supervisor (CHSS), Doris Kollie, and Abedego, Prince was referred to and transported to the nearest health facility , where he was screened and found to weigh just 5.5 pounds. He was immediately admitted to the in-patient feeding nutrition program and, a few weeks later, sent home and enrolled into the out-patient therapeutic feeding program and provided monthly with a supply of ready-to-use-therapeutic-food. After three months, he was finally discharged as a healthy baby. He is currently on a regular diet like all other members of his family.
I recently took a canoe and hiked to baby Prince's village and saw a bright one-year old with chubby cheeks who is meeting his key developmental milestones, including trying to say new words and pull himself up to a stand. If a similar community health policy, system, and structure had been in place in East Timor all those years ago, my namesake, baby Bakary, might be a grown man by now.
REAL LIFE. REAL NEWS. REAL VOICES.
Help us tell more of the stories that matter from voices that too often remain unheard.