General Hospital Akampa in Cross River State, Nigeria, offers a variety of services to women during pregnancy, labor, and delivery. Like all public facilities in Nigeria, women can give birth there for free, and the facility typically carries out 20 deliveries each week.
Yet challenges remain. According to Dr. Patrick Ubi, former chief at General Hospital Akampa, the facility lacks appropriate equipment, including an ultrasound machine, an incubator, and functional delivery beds. There is no water and power is unreliable. Women in labor must cross a rickety, 30-year-old bridge to reach the facility; pregnant women needing an ultrasound have to be referred to private facilities, where they are made to pay.
Dr. Ubi is one of many health providers who is frustrated by an inability to perform all necessary obstetric services for the women who come to the hospital. These frustrations play out at health facilities and in communities around the world, and at their heart is the inequitable access to health services.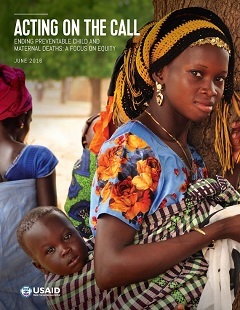 Equity is at the heart of the U.S. Agency for International Development (USAID)'s 2016 Acting on the Call report. In addition to providing updates from 25 priority countries that together account for more than two-thirds of the world's child and maternal deaths, the 2016 report also takes an in-depth look at the importance of equitable access to health services.
Certain populations face disproportionate barriers to accessing health services. By working to expand the equitable distribution of resources to hospitals and communities, we can ensure that all women and children have access to the quality, respectful care that they deserve.
The 2016 Acting on the Call report examines how, through an equity-based approach, we can save the lives of 8 million women and children from the bottom two wealth quintiles alone -- the poorest 40 percent of the population -- by 2020.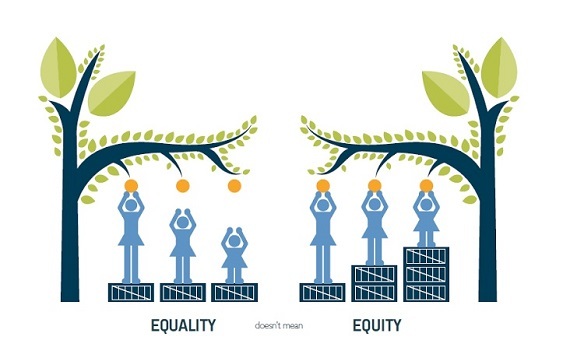 The global community has seen tremendous progress over the past two decades in reducing child and maternal deaths from preventable causes. In order to not just maintain current trends, but accelerate them, we must prioritize reaching the unreached and empowering providers like Dr. Ubi to expand access for the underserved.

Equity: Why It Matters
For a variety of factors, ranging from social to economic to geographic, some populations face unique barriers to accessing the health care and services that they need.
Women with HIV or limited financial means may face disrespect and discrimination in health facilities, serving as a major deterrent to seeking care in health facilities.
"Many women would prefer to die at home than to experience bad treatment in the public health facilities," said one woman during a focus group in Ethiopia to uncover inequities among migrant populations' access to health services.
At the same time, high out-of-pocket costs can prevent the poor from receiving treatment. Children living in rural communities may miss out on lifesaving immunizations.
By emphasizing the equitable access of health services and commodities for vulnerable and underserved populations, we can work to ensure that all women, men, and children benefit from global efforts to reduce mortality and improve health, no matter who they are or where they live.
Health financing, for example -- the funding sources that support a country's health system -- offers insights into the ways in which equity and the health system interact.
Without sustainable, equitable mechanisms for health financing, much of the cost of health services falls on individuals. High out-of-pocket (OOP) spending is a leading cause of impoverishment in low- and middle-income countries and a significant financial barrier to accessing care. Without financial risk protection schemes in place, individuals and families may be subject to impoverishing health expenditures.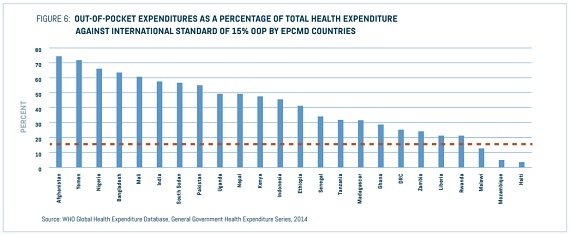 The 2016 Acting on the Call report describes how USAID works closely with in-country partners, including national governments, the private sector, and civil society organizations, to optimize domestic resources devoted to improving maternal and child health outcomes. USAID places particular emphasis on poor, vulnerable, and underserved populations through creative and versatile approaches that take into account each country's unique financing landscape.
In some countries, USAID works directly with national governments to increase the portion of the national budget allocated for health. In the Democratic Republic of the Congo (DRC), for example, USAID advocacy led the prime minister to increase domestic resources for health from 1 percent to 7.5 percent of the national budget, with an unprecedented $3.5 million allocated for contraceptives.
The DRC is also one of four pilot countries in which USAID is working to scale up national financing approaches for maternal, newborn, and child health through the Global Financing Facility (GFF). In four frontrunner countries -- the DRC, Ethiopia, Kenya, and Tanzania -- USAID is working with global stakeholders to align approaches in commodities systems, market shaping, results-based financing, results measurement, and the private sector. An initial investment by USAID of $50 million over five years in these four countries will leverage $12 billion.
Elsewhere, we work at the regional and local levels to expand the equitable accessibility of health services. In Ethiopia, for example, USAID supported the eightfold expansion of the country's community-based health insurance (CHBI) schemes, reaching 6.5 million Ethiopians this past year. Through a contribution of central government and household contributions, CHBI subsidized health services for the poor and reduced OOP expenditures.
Furthermore, with direct control of their individual CHBI cards, women and children were empowered to seek health services without having to ask for funds from a male head of household.
A Grand Convergence in Health
Health financing is one of many sectors in which USAID is working to reduce inequity and remove barriers to accessing health services.
USAID activities in Pakistan use voucher systems and mobile outreach units to bring maternal, newborn, and family planning services to the poor and women in areas far from health facilities.
In Tanzania, USAID helped to identify districts with the highest numbers of under- and unvaccinated children. Targeted efforts reduced the number of unprotected children from more than 100,000 in 2013 to fewer than 5,000 in 2015.
An agreement signed with the Ministry of Health in Haiti secured the availability of voluntary surgical contraceptive services free of charge in USAID-supported facilities.
The 2016 Acting on the Call report analyzes the underlying causes of inequity within these health services and others, and examines how to specifically address inequity in order to accelerate progress towards ending preventable child and maternal deaths.
As more and more countries and communities are lifted out of poverty, new approaches are needed to ensure the effectiveness and sustainability of efforts to improve global health outcomes.
As more and more women and children gain access to health services, concentrated attention to equity is needed to ensure that poor, vulnerable, and underserved populations do not slip through the cracks.
As we enter the era of the Sustainable Development Goals, we have the opportunity to not just reduce preventable child and maternal deaths, but to effectively end them.
Through an emphasis on equitable access to services and sustainable, innovative finances for health that reach all members of a population, we can accelerate our progress towards achieving global goals in health and other sectors. Our goal, after all, is to improve health and wellbeing worldwide -- not just for some, but for all.
Related
Popular in the Community