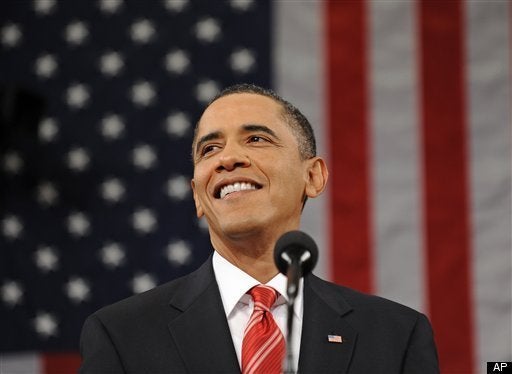 President Obama spoke in his State of the Union address about how health insurance reform could help middle class families.
"I took on health care because of the stories I've heard from Americans with preexisting conditions whose lives depend on getting coverage; patients who've been denied coverage; families -- even those with insurance -- who are just one illness away from financial ruin," he said.
The Huffington Post asked three people who are being squeezed out of the middle class for their reaction to Obama's speech.
Heather and Greg Mroz of Fort Lauderdale, Fla., told HuffPost they are in the process of filing for bankruptcy after losing their insurance earlier this year because, Mroz said, they failed to notify the insurance company that they had twins instead of just one baby.
"It all came crashing down on us when I took our babies to their third doctor's appointment," said Heather Mroz, 24. "I handed them our insurance card and they said it was canceled." After they lost their insurance, they accumulated $480,000 in debt before they stopped counting. They've since moved in with her parents. "Before all this mess, we were middle class," said Mroz. "Now, we're homeless."
Mroz said she loved the way Obama seemed to take a hard line with Congress. "What he said was great," said Mroz. "I hope he has finally grown a backbone."
On Monday, the administration previewed initiatives to help the middle class, including a more generous child-care tax credit, a cap on student loan payments, and help for people caring for their parents.
Kristen Huff, a 35-year-old lawyer in Austin, Texas feels sandwiched by the pressures of raising two kids and taking care of her 56-year-old father, who she said recently suffered a catastrophic stroke in the brain stem. She told HuffPost that even though he has what she calls a "Cadillac" health insurance plan, the cost of taking care of him is extremely burdensome. She said her family is current on the bills but racking up credit card debt.
"I would say that we don't feel middle class," said Huff. She said she doesn't know how she will afford college for her children or her own retirement.
She said that Obama did an excellent job in his speech of aligning himself with regular people and showing leadership.
"It's not about the policy. I think it's about morale," she said. "It's about trying to get the tone of Washington, the tone of Congress, more in line with the tone of everybody's lives."
Mary Duffy of Redwood City, Calif. volunteered for the Obama campaign because she wanted health care reform. The three-time breast cancer survivor knows what it's like to be denied insurance because of a preexisting condition. Her desire to see the health insurance industry reformed became particularly acute when she lost her job in June of 2008. She continued her employer's coverage through COBRA, but spent all of 2009 applying for jobs knowing that her COBRA coverage would end in December.
The health care bill passed by the House, had it become law, would have saved Duffy by providing an automatic extension of her COBRA benefits -- which were subsidized at a rate of 65 percent by the stimulus bill -- until she becomes eligible for a low-cost plan through an insurance "exchange" in 2013. And both the Senate and the House versions created a high-risk plan for people unable to get private insurance that would have gone into effect immediately starting on Jan. 1, 2010 (though the Senate version would have been slightly less accessible than the House version).
Duffy, 60, said she gave up on Obama weeks ago. She told HuffPost she watched the State of the Union while trying to order medicine online from a Canadian pharmacy for the first time since she lost her COBRA coverage. She was not impressed by the speech.
"Overall, it was a nice speech," she said. "Could have been given by anybody. George W Bush could have given that speech."

REAL LIFE. REAL NEWS. REAL VOICES.
Help us tell more of the stories that matter from voices that too often remain unheard.