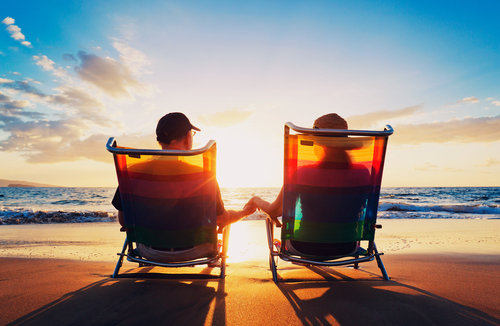 It's a well-known fact that I'm a big proponent of "seconds"--all sorts of seconds, from second helpings (that's where the "big" comes from) to second chances. So preparing for a second honeymoon with my second husband should have been--what else?--second nature to me. Or so I thought when he made the surprise announcement last month on our tenth wedding anniversary. I swooned like a schoolgirl as he detailed how we'd spend two glorious weeks together in France and Italy where they practically invented romance. So what if we were well into the second half of our lives (unless, of course, we live to be 140), we were still young at heart, right? Right. But along with that lovely sentiment, allow me to offer a few tidbits I learned the hard way on our second half second honeymoon that may come in handy when planning yours.
1. Stay Young at Heart, but Pack (Both) Your Arch Supports
My feet began morphing into my mother's about ten years ago--bunions, fallen arches, planter fasciitis--and finding comfortable, somewhat fashionable shoes that accommodate my various orthotic devices has been my life's mission ever since. I felt like Cinderella the day I found a cute pair of black flats that were roomy enough to hold both my arch supports and my feet in reasonable comfort. I snapped them up and took them with me to Paris. Fast forward to the Champs Elycees, where the pain in my left foot completely sidelined me after a very short stroll. Leaning against, appropriately enough, the Arc de Triomphe, I removed my shoes and saw the problem. Apparently I'd gotten distracted when packing and had only put an arch support in the right shoe! So my first purchase in the fashion and style capital of the world was a pair of Dr. Scholl's gel insoles at a pharmacy. So glamorous.
2. After a Certain Age, Jet Lag Is More Like Jet Sag
It had been a couple years since my last transatlantic flight, but I was fully prepared to have my circadian rhythm thrown off for a few days. I was not, however, prepared to have my jet lag express itself so conspicuously as upper eyelid sag. At my age, the only place I want to see droopy puppy dog eyes is on a puppy dog--and definitely not drooping back at me not in the mirror. I swear that whole first week, it would have taken a system of pulleys and levers to hoist my upper lids to an "awake" position. I took to hiding behind my sunglasses even when it wasn't sunny. Like inside...at night...in the shower.
3. There's Something Rotten in Venice, but It's Not the Canals
You know that god-awful smell that wet clothes take on when left sitting in the washer for two days? Well, that's the smell that accompanied us across Europe for two solid weeks during the hottest months of the year. The night before we left for our trip, I threw my default shoes, the white sneakers that allow me to walk pain-free for miles, into the washing machine and set them out to dry. The next morning they were a wee bit damp, so I wrapped them in a plastic bag and packed them. Never Do This!
Unwrapping them when we hit Paris was like opening the Pandora's box of odors! Gagging on the noxious fumes, my husband and I raced each other to the nearest air vent. Since laundering the shoes was not an option in our hotel room, we tried to neutralize them with everything from perfume to deodorant to medium-hold hair spray. The only thing that contained the stench was keeping my feet in the shoes, so I wore them A LOT. When I took them off, I had to wrap them in plastic and shove them in the farthest corner of the room so we could breathe freely. After one particularly sweaty day of walking in Venice, I had to hang them outside the bathroom window all night!
4. Fling Caution to the Wind, but Not Your Nightie.
Now let's face it, soaking up all the culture and history is fine and dandy, but this is a second honeymoon, dammit, so let's get down to the romance. Believe it or not, it is possible to still feel romantic despite the unpleasantries of smelly shoes, fallen arches and sagging eyelids. I'll leave to your imagination the maneuvers involved to accommodate one partner's bad knees and tennis elbow and the other partner's positional vertigo and carpal tunnel syndrome. What I want to warn you about is getting so caught up in the moment that your slinky new negligee, the one that tastefully camouflages all your figure flaws, gets flung across the bed and you completely forget about it until the next night when it's nowhere to be found. This is because it got wrapped up in the bed sheets and carted off to the bowels of the hotel laundry facility from which it will ne'er return. And you paid full price for it and everything!
So, there you have it, my friends. Learn from my mistakes and make your trip a smashing success. Of course, don't forget to take your sense of humor along with you, too. You just may need it.
Happy (Second) Honeymooning!
What about you? Have you taken or do you plan to take a second honeymoon? I'd love to hear your tips, tales and anecdotes, so join the conversation!
Photo:EpicStockMedia via depositphotos
A version of this was originally posted on Sixty and Me
Calling all HuffPost superfans!
Sign up for membership to become a founding member and help shape HuffPost's next chapter