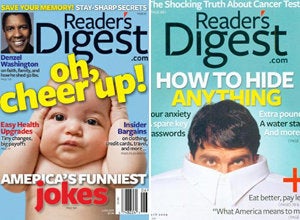 "I want to assure you that that is not what is or has been planned, and that the strategy to embrace our core values can be misinterpreted," Dillon said in the memo. "To clarify, neither the magazine nor the company is going in any direction other than what we are doing now. Reader's Digest has always been about the values of home, family, community, optimism and country, and certainly our values today are more than ever in step with America, especially during these recessionary times as people focus on the "back to basics" of family and home. What we did with the relaunch and redesign of the magazine and websites was to go back to the roots that made this company great by embracing and catering to our specific and unique audience -- and do that very well."
Dillon tells Bercovici that Reader's Digest has requested a correction from the Times.
Original Post: Reader's Digest is undergoing a brand transformation, shaking up both the editorial and business sides of the magazine.
The New York Times reports that the magazine is moving "in a decidedly conservative direction," and it plans to include features on military families and spirituality to achieve the shift:
After years of trying to broaden the appeal of Reader's Digest, the publishers are pushing it in a decidedly conservative direction. It is cutting down on celebrity profiles and ramping up on inspiring spiritual stories. Out are generic how-to magazine features; in are articles about military life.

"It's traditional, conservative values: I love my family, I love my community, I love my church," said Mary Berner, the president and chief executive of Reader's Digest Association.
Berner told the Times that the magazine even considered becoming a "right-wing handbook, a companion to Fox News" but that it didn't test well so they focused on values:
The editorial team had even considered turning Reader's Digest into a right-wing handbook, a companion to Fox News. "It was a supposition," Ms. Berner said, that half the country is annoyed that Barack Obama is president.

"What if we just go after them?" said Ms. Berner, who has a framed photograph of President Obama in her office. But testing the right-wing handbook idea with cover lines like advocating prayer in schools flopped.

"What worked was conservative values," Ms. Berner said.
The editorial changes are matched by a reduction in publication frequency and the magazine's rate base on the publishing side. From the AP:
NEW YORK -- Reader's Digest Association Inc. is embracing multimedia content and in the process reducing the number of times it will publish its flagship magazine.

The company said Friday it will publish its U.S. magazine 10 times a year beginning with the February 2010 issue, down from 12. It will also adjust its rate base from 8 million to 5.5 million over an 18-month period. A rate base is the circulation the company is guaranteeing to advertisers. Advertisers pay for their ads with the understanding that they get that amount of circulation.

Total global circulation will be 14.5 million.

Over the summer, the company plans to roll out a global Web platform, localized by geographic market, in 21 languages.

The move comes at a difficult time for print media, with newspapers and magazines facing declining advertising revenue as well as audiences migrating online.