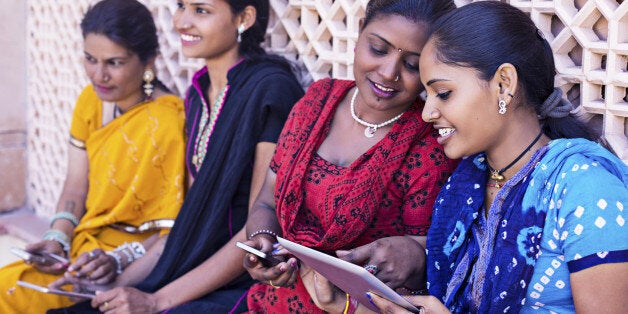 Frugal innovation is all about doing more with less. In India it has applied to products and services as diverse as cars (Tata Nano), refrigerators (Mitti Cool), artificial limbs (Jaipur Foot), cataract operations (Aravind Eye Hospital), and open heart surgeries (Narayana Hrudalaya).
To commemorate International Literacy Day, rather than reiterate the importance of literacy or bemoan how badly many developing countries have fared, I'd like to share a frugal solution for mass literacy that I have been advocating for in national policy in India.
Same Language Subtitling (SLS) is simply the idea of subtitling existing Bollywood film songs on TV, in the same language as the audio. The lyrics of Hindi songs subtitled in Hindi. Tamil songs subtitled in Tamil and so on in all languages.
SLS is deceptively simple for what it can do. In India, 800 million people -- children, youth, and adults -- watch on average two hours of TV a day. A significant portion of the content consumed is song-based, including, film, folk and devotional songs. If all the songs were "Karaoke-ized" with the addition of SLS, 800 million viewers, half of whom are weak readers, would get automatic reading practice, every day and lifelong.
Pratham's annual ASER has found for a decade that 50 percent or more rural school children in Grade 5 cannot read a Grade 2 text. India has a massive and steady pipeline of "literate" but non-reading children becoming youth and adults. Nationally, there are an estimated 450 million "literates" who have incipient letter knowledge but struggle to read a newspaper headline or simple texts. The massive potential of SLS is that, through daily and inescapable reading along practice on TV, almost all most weak-readers who watch TV regularly can transition to functional or better reading ability.
Strong evidence for the effectiveness of SLS was found most recently following a two-year scale up in Maharashtra state (population 114 million), supported by USAID and World Vision's All Children Reading, Grand Challenge. SLS was implemented on most of the songs shown on Zee Talkies, a popular 24x7 Marathi movie channel. The subtitled movies were further repeated on Zee Marathi, another Marathi general entertainment channel in the state. As a result, 38 percent of TV viewers in rural Maharashtra who have access to Zee's Marathi channels got routine SLS exposure, and more importantly, reading practice whenever they saw film songs.
The baseline and end line data collection on the reading skills of school children was commissioned to Pratham's ASER group. Among children who could not read a Grade 5 level text at the baseline, for every grade (except Grade 4) we found that 10-14 percent more children in the SLS group became good readers than in the no-SLS group (see graph below). This remarkable impact resulted from just two years of regular SLS exposure. One can only imagine what lifelong SLS exposure, from childhood, might achieve.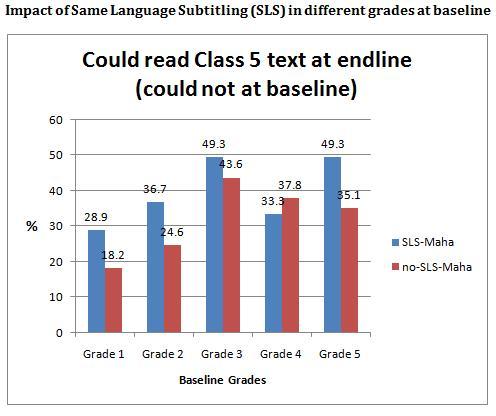 The cost of illiteracy in India is estimated to be 1.2 percent of GDP or nearly USD 28 Billion in 2015. The entire 2015-16 budget for the Department of School Education and Literacy is USD 6.6 Billion.
Contrast this to what a national scale up of SLS on the entire state TV network would cost. Only USD 1 million annually for SLS on 50 weekly programs! And it would deliver daily reading practice to 200 million weak-reading viewers at a cost of half a penny per person per year.
SLS is a disruptive and frugal innovation - orders of magnitude cheaper and supported by strong evidence. A scale up of SLS on all songs, and in all Indian languages, has the power to change the context of reading skill acquisition in a nation poised to become the most populous by 2022, from, "Is it possible to make everyone a good reader," to, "Is it possible to stop anyone from becoming a good reader."
(A related post for International Literacy Day, 2015, is here.)
Related
Popular in the Community