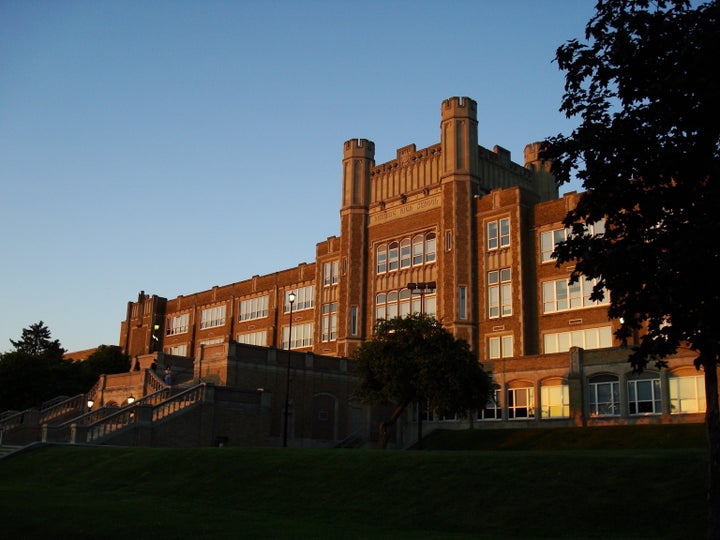 Eighth-grader Selena Karner lined up in her Reading, Pa., middle school auditorium last week to receive an award for language arts. But during what would normally be a joyous moment for her teachers, educators were crying in the audience. Many were absent.
Teachers were less than joyous for the awards ceremony because 110 of them received pink slips earlier that day, placing them on unpaid leave until further notice. In addition, they learned 60 retiring teachers would not be replaced. The schools of America's poorest city had run out of cash and cleaving 13 percent of the teachers from the payroll was just the beginning.
Reading will lose pre-kindergarten entirely next year. Special courses in industrial arts will be curtailed. Selena's mom, Malissa Karner, said she expects her children's classes to grow to 40 or 50 students because of the shortage of space and personnel. Selena Karner started a Facebook group to advocate for the city's teachers, who were furloughed based on seniority.
"It's a big mistake," Malissa Karner said of the pre-K cuts. "My kids were fortunate enough to attend pre-school, which helped them catch up and start learning faster. I can't imagine what would have happened otherwise."
You've heard this story before. Because of the recession, school districts across the country have struggled to make ends meet. Their budgets have been ravaged, their arts classes shot, and, in some cases, their school buses consolidated. States now spend $700 less per student on preschool than they did a decade ago. In the grades from kindergarten to the end of high school, states have cut $10.5 billion over the last two years.
While most states' 2012-2013 public school budgets are roughly what they were before the recession, the effects of the economic collapse on school districts are still playing out, with a nasty wrinkle this year. Funds from the 2009 federal stimulus are drying up. This money paid for 275,000 U.S. education jobs, including 6,000 teachers in Pennsylvania.
School funding problems are particularly bad in Pennsylvania, where the state cut $860 million in education spending last year. The Republican-led legislature is debating a proposed budget from Gov. Tom Corbett (R) that would cut $100 million more from public K-12 education, and end a block grant program that funds kindergarten and small class sizes, according to Mike Crossey, the president of the Pennsylvania State Education Association. The budget also would also cut $30 million from early education and $18 million from childcare programs.
Meanwhile, the cost for teacher pensions has shot up by 300 percent over two years. Some school districts, including Harrisburg, accrued mountains of debt from interest rate swaps peddled by Wall Street. "Instead of using the stimulus money as the icing on the cake, some districts used it as the cake itself," said Mike Griffith, a senior school financial analyst at the Education Commission of the States, a non-partisan policy group.
The budget drama led to a protest in Harrisburg on Wednesday, with pink-slipped teachers screaming about their plight in the rotunda of the state capital.
The state has until the end of June to finish its budget. Deadlines for school districts come sooner. That means they're preparing for the worst, laying off teachers in advance of state cuts. Some districts, such as Harrisburg and York, are talking about cutting kindergarten, since Pennsylvania's constitution doesn't mandate it.
Reading's school board chose to cut pre-K, curtail special courses and furlough teachers to close its $40 million budget deficit, including an expected loss of $18 million from state cuts. "We have buildings where it rains inside of the classroom," said Bryan Sanguinito, a music teacher who leads the city's teachers union.
Reading, a city of 88,000 distinguished by having the largest share of its residents living in poverty of any American city, has a poverty rate of 41.3 percent, according to the most recent census numbers. Only 8 percent of Reading residents have a bachelor's degree, and 63 percent have a high school diploma.
Lacey Kerchner said she fears the education cuts will make the grim statistics worse. Growing up in Reading, Kerchner would come home from school every day, line up her stuffed animals, set up a chalkboard, and teach. From that moment, she knew she wanted to preside over a kindergarten class of her own. And she did -- until last Wednesday, when she received her furlough note at Northwest Area Elementary School. In the middle of the school day, she and her colleagues were escorted to the main office, where administrators broke the news.
"I was devastated," Kerchner said. "I love my job, and I'm very good at it."
She's particularly devastated about the loss of pre-K, which had waiting lists. "It breaks my heart," Kerchner said. As a kindergarten teacher, the benefits of early childhood education were particularly apparent to her. "Children coming in from low socio-economic backgrounds are already starting out well behind their peers as far as oral language use goes," she said.
Kerchner blames the problems on Gov. Corbett and his budget. Corbett has thrown the problems back at school districts. Kerchner said she's looking into education advocacy, and researching how to recall Corbett.
Representatives from Corbett's office did not return requests for comment, but Corbett did address the budget on a recent radio program. "You have to make tough decisions, and nobody really likes them," Corbett told Q106.9-FM.
Several proposals are flying around Harrisburg. One would turn kindergarten into a voucher system. Another would create emergency financial managers for distressed cities. "When a state is talking about privatizing kindergarten, they're facing all of these problems and they just don't know what to do," said Griffith, of the Education Commission of the States.
"We're the poorest city for our population in the country," Malissa Karner said. "You're taking away 100 teachers. There are a lot of people who would look at that district and say, what's wrong with these people?"
Related
Popular in the Community