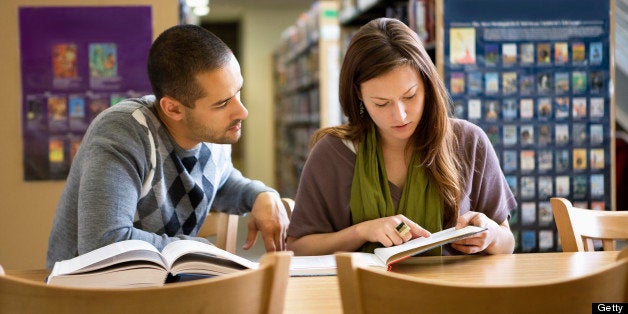 In today's job market, it's not about what you know; it's about what you know how to do. Many new college grads may be surprised when they enter their first interview with degree in-hand, only to be told another applicant landed the job, not because of the name of the school on their degree, but because they could communicate effectively, generate ideas, and demonstrate their skill in the field.
The online platform HireArt helps employers find qualified job candidates by creating a series of video and written tests for job applicants. Eleonora Sharef, co-founder of HireArt, recently told Thomas Friedman, "What surprises me most about people's skills is how poor their writing and grammar are, even for college graduates. If we can't get the basics right, there is a real problem."
The number of high school graduates is at its highest since 1974, and the number of students who hold a college degree is the highest ever. But numbers can be deceiving. The U.S. job market currently suffers from a skills gap, or the divide between the skills working adults possess and the skills required to fill today's job openings. The White House says college is no longer a pathway for the select few, but rather a "prerequisite for the growing jobs of the new economy." The Lumina Foundation also advocates for more grads with an ambitious goal to raise the percentage of adults who hold two- or four- year degrees from 38.4 percent in 2010 to 60 percent by 2025.
The country's call for more high school grads, college applicants, and college grads has been heard. But while more students pursue higher education, a recent report by the National Center for Education and the Economy (NCEE) questions if the degree many of these students hold, or aspire to hold, will actually prepare them with the basic skills they need to succeed in the workforce.
The NCEE report shows many math, writing, and English classes offered at community colleges are significantly below college-level coursework. The reading complexity used in freshmen classes is between grade 11 and grade 12. But that should not suggest that college freshmen are prepared to read at that level. High dropout rates in community colleges suggest the coursework is too challenging for many students. Decades of research also points to a decline in the level of reading expectations in high school, which has created a misalignment between the reading skills high school grads possess and the reading skills colleges expect.
The NCEE research shows that in order for students to read successfully at the 11th and 12th grade level, students must have four capacities:
The ability to read complex texts in unsupported environments;
The capacity to process, retain and synthesize large amounts of new information;
Significant reading experience in a wide range of content areas; and
The ability to read and understand tables, charts, maps, lists and other documents that supplement the prose in many college texts
In the information age, we do most of our reading independently, we have access to information that will teach us anything we want to learn, we like to share what we learn with our friends and family, and we get our information through mixed media. So why are these four capacities so hard to fulfill?
In her essay "Save the Readers!" Annie Murphy Paul aims to answer just that. "'Deep reading' -- as opposed to the often superficial reading we do on the web -- is an endangered practice, one we ought to take steps to preserve as we would a historic building or a significant work of art," says Paul. A recent study of 34,910 youth from eight to sixteen found more children and teens read using electronic devices than in print. The study also found that young people who read daily in print or both in print and onscreen were two times more likely to be above-average readers than those who only read onscreen. Reading takes preservation, Paul explains, because unlike spoken language, the ability to read is not passed down through our genes. Since the "reading circuits" we construct are formed from structures in the brain that evolved for other purposes, their strength is dependent on how much we do or don't use them.
So how do we improve the reading that our students are exposed to, prepare high school graduates for college-level coursework, and hold community colleges accountable to graduate students whose basic skills are up to par with the demands of the workforce? The NCEE cautions it won't be a quick fix. "The nation may have to learn to walk before it runs," says the report, suggesting we can't raise the standards at the college level before high schools catch up.
One way we can make an impression is to start the practice of deep reading early. The lack of reading skills at the college level is a reflection of lack of skill from down the pipeline. All students who don't read over the summer experience learning losses. Low-income students, who may not have the same summer learning opportunities as their affluent peers, lose as much as three months of reading comprehension over the summer months. By the end of fifth grade, they are nearly three grade levels behind their peers. All students, regardless of socioeconomic status, must read over the summer.
New common core standards have been adopted by most U.S. states to raise expectations by grade level, as well as prepare more students for the rigors of college and career. One change the common core makes to the traditional K12 curriculum is to increase the amount of nonfiction reading a student has to 75 percent by twelfth grade. As the common core aims to increase the number of college and career ready students, this emphasis to non-fiction reading better reflects the complex texts that students will be required to read and comprehend in college and career.
Project-based learning is also a trend in today's classroom that requires students to learn by doing, thinking deeply, and using critical thinking to show what they've learned; all skills employers -- and platforms like HireArt -- require of applicants to land a job.
Read a book and discuss it with friends and family. Exchange handwritten letters with one of your friends across the country, or even one down the street. It takes practice to think, to read, to write, and to land a job.
Popular in the Community