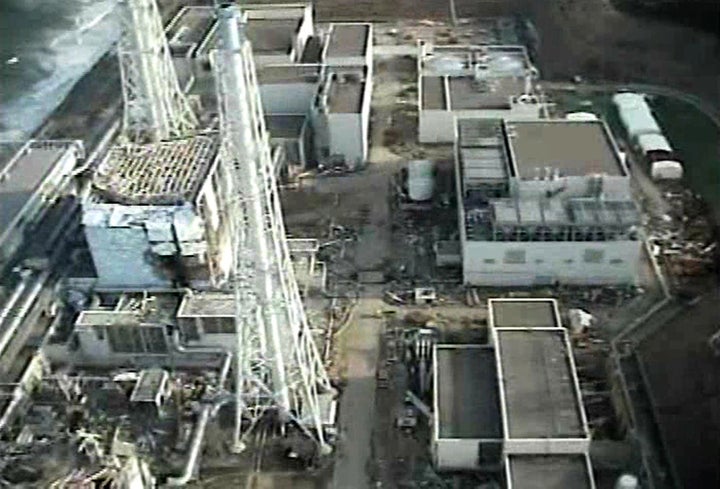 Hmm, corporate media still not very interested in Fukushima in spite of three compromised reactor cores? Still fronting for TEPCO and the Japanese government running news briefs about clean-up timeframes as if TEPCO was essentially doing a mop up operation? How about that ho-hum three paragraph AP story run by the the Independent about the Olympic pool-size spill under Unit 1 resulting from the meltdown.
And then, still can't find suitable photos to run?
What about the ludicrous photos distributed by TEPCO last week pitching how workers had accessed the notorious Unit 1, as if finally turning things around. Yes, that's before we learned that the meltdown actually occurred just sixteen hours after the earthquake. The conventional wisdom, by the way? Because we're not facing an uncontrolled chain reaction or "China Syndrome," even though the fuel melted through the reactor and permeates that "Olympic swimming pool," nothing to worry about. (Yeah, tell the neighbors.)
And what about photos from the town of Iitate, having been "swathed in high radiation." The town was just outside the newly extended 30km exclusion zone.
What about images offering seaweed samples collected up to 40 miles from the Fukushima plant
offering high levels of radiation, and just as fisherman begin harvesting this Japanese staple -- that after sales spiked last month in the belief that seaweed prevented radiation poisoning?
No, I guess there's still nothing to see.
----------
(photo: TEPCO caption: Northwest side of the first floor, Fukushima Daiichi Nuclear Power Station Unit1 - guy walking toward us.)
(photo: TEPCO caption: North side of the second floor, Fukushima Daiichi Nuclear Power Station Unit1 (pictured on May 9th, 2011) - guy walking away)
(photo: REUTERS/Kyodo caption: A woman evacuee from Iitate village carries a baby, as she arrives at a evacuation center in Fukushima, located about 40 kilometres (24 miles) from the tsunami-crippled Daiichi nuclear power plant and is included in an expanded evacuation zone, May 15, 2011. Japan expanded the evacuation zone around the plant taking into account the high levels of radiation that have accumulated in some areas after the powerful earthquake and tsunami on March 11 caused the world's worst nuclear accident since the 1986 Chernobyl disaster.)
(photo: Jeremy Sutton-Hibbert/Retuers/Greenpeace/Handout caption: Crew members from the Greenpeace ship Rainbow Warrior, including radiation safety advisor Jacob Namminga, collect seaweed samples to monitor for radiation contamination levels as the Greenpeace ship sails up the eastern coast of Japan, in the vicinity of Fukushima prefecture May 5, 2011. Seaweed collected from the coast near Japan's crippled Fukushima Daiichi nuclear power plant and sewage in Tokyo have shown elevated levels of radiation, according to data released by an environmental group and officials on Friday. Picture taken May 5, 2011.)

Calling all HuffPost superfans!
Sign up for membership to become a founding member and help shape HuffPost's next chapter