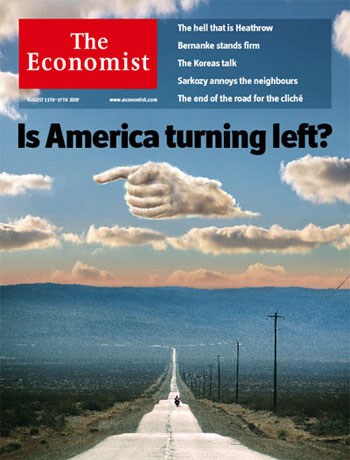 I hope you caught this cover last week, as The Economist should definitely be called on it.
In an act of political fear mongering, this photo-illustration warns that an otherwise centrist America is being mysteriously poked to the left. (Which is why I've come up with a more accurate directional and title revision, which you can see here at BAGnewsNotes.)
In The Economist scenario, on the other hand, it's as if the left (in a freak act of nature, in the form of a wannabe-storm cloud) is conspiring not just to highjack the country but to drive it off into the wilderness.
Even more clever, in fact, is the allusion to celestial forces. Wonderful, wonderful indeed how the illustration seems to associate the left with the Almighty, transposing the delusion, firmly gripped for most of the decade by the right wing, that it was they who acted with the hand of God.
And if it's not that, then it's Harry Reid and Co. as the all powerful Oz.
(photo-illustration: The Economist cover. August 11, 2007)
Popular in the Community