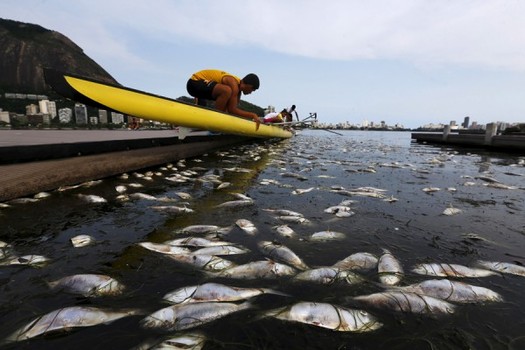 I was all prepared to talk about the paradox of this photo, given this lagoon will be the site of the Olympic rowing and canoe sprint events at the 2016 games in Rio. That's the path I was going down until Monday happened -- when the immigrant catastrophe in the Mediterranean, one that has been escalating for months, suddenly flooded the sea and the news. If context is all, that photo from Brazil suddenly seemed to have little to do with sport at all.
And what was it that caused these shad to die in mass? Seems it's ambiguous. From an AFP article in The Telegraph:
It was not known whether the cause in that case was an environmental problem or if fishermen had thrown the fish aside because they had no commercial value, but garbage and sewage regularly clog Rio's waterways.

...

Environmental officials said the shad fish, which are sensitive to temperature change, had died of "thermal shock."
Maybe the culprit here was environmental. If it wasn't, however, how unremarkable it sounds to just dump the fish because they have no commercial value. It sounds just as unremarkable as, well, sewage and garbage in the waterways as just a fact of life.
After Massimo Sestini's remarkable photo of a refugee rescue off the Libyan coast won a World Press award this year, having already become a visual signifier for these desperate and increasingly deadly migrant flights, a close colleague sent me the following diptych. She took Sestini's photo and juxtaposed it with an image of those 35,000 walruses stranded in Alaska last September as a result of climate change-related shrinking sea ice.
Isn't it curious how people tend to think about "ecology" as it relates to plants and air and water and less in terms of humanity and how much we look out for each other. What troubled me so deeply today, looking at that photo from Rio, is how easily we can look at that boat-like ice chunk and immediately feel protective of the walruses (and see it as a metaphor for us). That's in contrast to the instinct (outside the week it's plastered all over the media, perhaps) to protect the Syrians, protect the Tunisians, protect the Nigerians, protect the Egyptians, protect the Somalians, protect the Zambians, protect the Bangladeshis.
Certainly, it's a lot easier to either discard or just work around whatever lacks commercial value.
(photo 1: Ricardo Moraes/Reuters caption: Dead fish float next to a rowing athlete as he puts his boat on the water before a training session at the Rodrigo de Freitas lagoon, in Rio de Janeiro on April 13, 2015. Rodrigo de Freitas lagoon will host the rowing and canoe sprint competitions in the 2016 Olympic Games.)