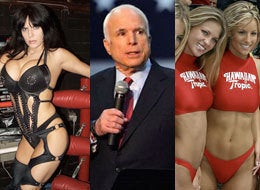 Only the wildly hypocritical McCain could have made the scene at the Sturgis Motorcycle Rally at the Buffalo Chip campground in Sturgis, S.D. and escaped any blowback from the wild debauchery and female exploitation that characterized the event.
And, as an act of collusion, the media totally blinked, particularly the visual media.
Out of the measly eight AP photos made available on the wire, four were rather distant crowd shots, one was a thoroughly romanticized shot of the McCain bus pulling out of the dusty fairgrounds at sunset, and another offered John and Cindy walking alongside their bus, an American flag soaking up more than half of the scene.
But then, I'm sure John and Cindy had no idea when they were posing in front of this t-shirt rack that the front of one of the shirts was showing -- although I did appreciate this attempt at a coded allusion to the ambiance offered by AP, via CBS:
McCain and his wife, Cindy, paused at several points to examine the products and their labels, with Cindy McCain quipping that the entourage could use some to cure campaign trail ills.

Certainly this is one of those instances where a photographer, in a discreet way, in a photo almost guaranteed not to run anywhere, records at least one picture in order to call bullshit on how the media fails to cover (or uncover) McCain.
(image: Mary Altaffer/AP. August 4, 2008, Sturgis, S.D.)
Popular in the Community