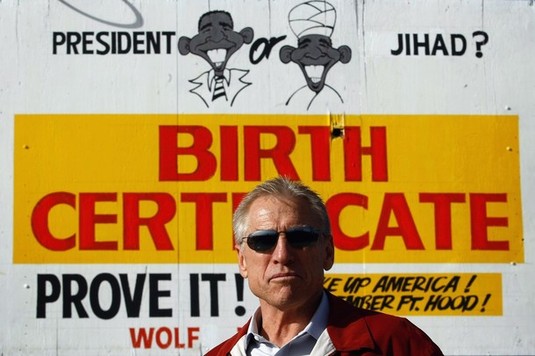 If anti-abortion picketers can routinely intimidate women outside health clinics, can it be that hard for protestors to scare off all but the most racist customers from doing business with this attention-seeking, hate-mongering Colorado used car salesman? (See backstory in caption below.)
By tying in Fort Hood, Phil Wolf's birther billboard constructed at his Colorado auto lot takes the "Obama as a closet Muslim" (or "Obama as secret Jihadist") scare tactic to a whole new and much sicker level. Just like the terrifying TIME cover supposedly exposing Nidal Hasan using a "terrorist x-ray," presenting Obama in a suit morphing into the version with the turban plays on the "example" of Hasan suddenly morphing into "one of them" from a U.S. military uniform.
So, where's the push back?