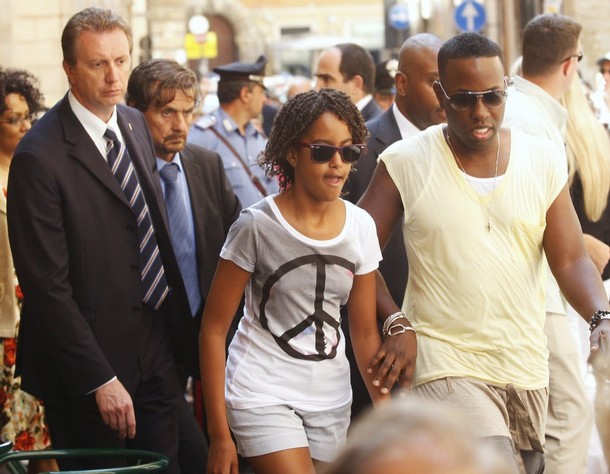 I hope you'll permit me a little finger wagging in tracking how things like this get started.
First, shame on the Daily Mail for posting images of Malia Obama on Thursday claiming that her wearing this t-shirt (and then, one other with a peace sign) while her Dad was negotiating arms control with the Russians meant she was somehow fronting for the anti-nuke movement and the CND. (Other sites, such as Newsday, also took a cut.) The girl is growing up under intense public scrutiny. The best advice to the media in this case is, either keep it to the fashion section, or move on.
Second, double shame on the Vancouver Sun for elevating the photo along with mindless racist utterances about Malia at the paleo-site, the Free Republic, into something resembling a legitimate story.
Third, shame on Mediaite, a slick new online media gossip rag for packaging the Freeper trash, the VS story, and the otherwise earth-shattering news of the election of a new hate-loving head of The Young Republicans to further escalate the Malia/Freeper "story."
Fourth, shame on more supposedly respectable journos/tweeters like Matt Cooper and David Shuster for further fueling this nonsense, with Shuster doing three tweets on it today (1, 2, 3) , the last one a promise/threat to elevate the story to the network tomorrow. (Yeah, the Freepers are loving that.)
But overall, someone please save us from a conflict-hungry and gossip-starved media forced to enter this week with no Michael Jackson to pick over and faced with the not-so-juicy prospects of a slam-dunk Sotomayor confirmation. It is arid conditions like these that draw professionals and bottom-feeders alike to elevate their ideological, relevancy and deadline needs at the expense of young girls.
(image: Remo Casilli/Reuters. caption: U.S. President Barack Obama's eldest daughter Malia, 11, leaves the Giolitti gelato (ice cream) parlour in central Rome July 8, 2009. Leaders of G8 and G5 countries are attending a summit in the city of L'Aquila July 8-10.)
Popular in the Community