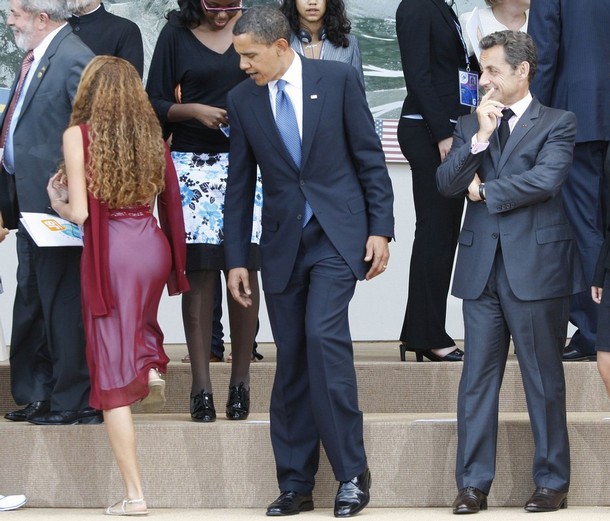 Call it further signs of the media swoon....
Reuters distributes this shot which, from the way everyone is caught in the moment, seems to capture Obama ogling, or at least gamely distracted by this junior G-8 delegate (set up by the notorious Sarkozy seeming to also look on lecherously). Of course, the context is reinforced by the fact host Berlusconi has scandalized Italy, and the conference, with his exploitation of various Italian girls. (If you've seen a collection of conference photos, you'll also see how most of the female aides, photographed sprinkled among the attendees, look like fashion models. (1, 2.)
Of course, this is dangerous territory for the visual media, this photo unavoidably repeating certain racist themes of the presidential contest -- in this case, the stereotype of Obama (1, 2) and the African-American man as hyper-sexual and instinctually drawn to the white woman. (In this case, the "pull" is heightened by a young black woman behind Obama, as well as "in between").
I can't tell how much it's the Berlusconi factor, the media's current "MJ-ization," and/or a new sense of entitlement to chip away at Obama now that he, and the enduring pain of the recession, are settling in, but if anyone is taking liberty here, it's the wire service.
(Update 10 am PST - A reader just called my attention to this video from ABC regarding the photo. The video gives a completely different impression, one that reinforces Obama's character as a class act ... while reinforcing Sarkozy as a lech. What the video shows is Obama in the process of looking back and offering the young black woman a hand stepping off the the steep riser. I believe they had just taken a group photograph. Sarkozy, on the other hand, is shown looking, then looking around Obama to ogle the girl in red.)
(For more visual politics, follow BAGnewsNotes on Twitter).
(image: Jason Reed/Reuters. caption: U.S. President Barack Obama (C) and France's President Nicolas Sarkozy (R) take their places with junior G8 delegates, including Brazil's Mayora Tavares (L), for a family photo at the G8 summit in L'Aquila, Italy July 9, 2009. Leaders of the Group of Eight major industrial nations and the main developing economies are meeting in the central Italian city of L'Aquila until Friday to discuss issues ranging from global economic stimulus to climate change and oil prices.)
Calling all HuffPost superfans!
Sign up for membership to become a founding member and help shape HuffPost's next chapter