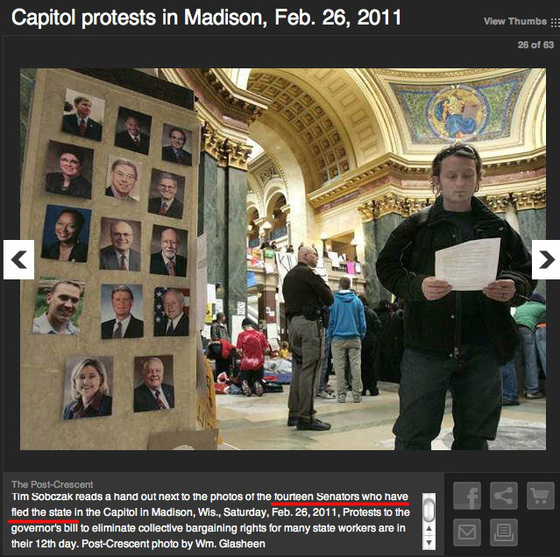 I'm not sure what to make of this composition of the fourteen WI Senators who have "relocated" to Illinois. I imagine the protesters posted these pictures for sympathetic reasons even if this has a bit of a memorial, or 9/11-ish vibe to me.
What I really want to illustrate, however, is the widespread description of these Democrats by the press as "having fled." I'm completely with Lakoff on this one, and I feel progressives need to push back on the media over this kind of framing. Recalling how Lincoln once took leave (from a second story window, no less) to avoid being bamboozled, George explains how:
Quorum rules are an inherent part of democracy. They are in the Wisconsin Constitution for a reason. When an extreme move by a legislative majority would be a disaster, patriotic legislators can, like Lincoln, refuse to allow the disaster ... (having) the power to stop it. That is their democratic duty, not only to their constituents, but to the nation.
So a hat tip to these fourteen, the first I've seen of these (dare, I say) patriots -- or "Lincoln Legislators," as Lakoff elects to (re-)fashion them.
Update: Reader Dan John, who commented on this post below, had a further read on the photo which puts the portraits of the Senators in a stronger light. He writes:
These images were posted on the side of a bust of Robert "Fighting Bob" La Follette, Sr. (U.S. Senator, Wisconsin Governor, and founder of the Progressive Party). One of the slogans going around the protests is "What would Fighting Bob do?". One of the consensuses is that the senators are doing honor to Fighting Bob, the state of Wisconsin, and all his progressive party stood for.

"Men must be aggressive for what is right if government is to be saved from men who are aggressive for what is wrong." - Robert Marion La Follette, Sr.
I hadn't situated the photos on the side of the statue but you can
in this exclusive BagNews Originals post a few days ago taken inside the capitol building featuring the photos of Wisconsin photographer Christopher Guess. (You have to scroll down to the third pic -- and be sure to take note of the banner behind.) The placement
does
change the visual information and
does
more strongly reinforce the fighting spirit of the legislators. ----------
For the latest in visual politics and on-the-ground photo-reports of the democracy uprising in the Middle East, visit BagNewsNotes (and follow us on Twitter).
(screen shot: Wisconsin Post-Crescent)
Popular in the Community