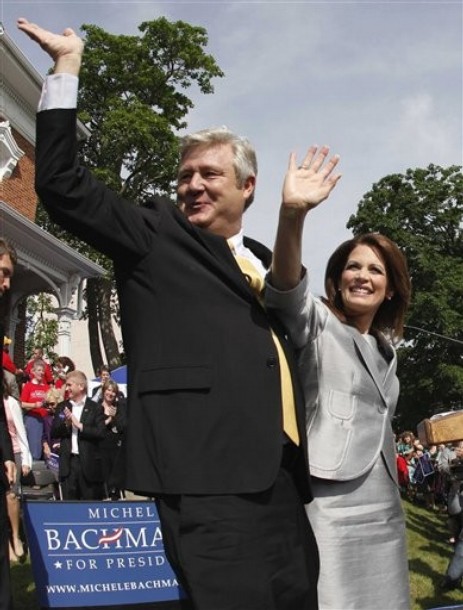 "Christ is the Almighty Counselor."

-- Marcus Bachmann (from Bachmann & Assoc. counseling website)
"(He's) an IZOD shirt away from being the gay character on 'Modern Family'."

-- Jon Stewart about Marcus Bachmann
Because Michele Bachmann is vehemently anti-gay and because her husband runs psychotherapy clinics with a strong Christian focus, evidence showing the treatment of homosexuality as a pathology, Marcus has become a legitimate object of political attention. That being the case, there is now a lot of chatter going around that Michelle's other half is, himself, deep in the closet.
What's problematic, though, is qualifying what that happens to look like.
Jon Stewart, with the maximal dose of satire sprinkled with flashes of real anger toward Dr. Bachmann for calling gays "barbarians," went right at his sexuality in a segment last Wednesday. Stewart not only questions Bachmann's orientation based on a clip of him and Michele dancing, but he then flips out, partially to the barbarian comment, but partially, I believe, to Bachmann's "style of speech" in the audio clip. (Stewart on Marcus Bachmann in Daily Show video starts at 2:12. Audio clip is at 5:15.)
In the meantime, the file photo above (taken the day of Bachmann's candidacy announcement back on June 27th) has been making the rounds the past few days, showing up on media sites such as The Washington Examiner, the Post Bulletin, the SF Examiner, as well as other media articles. In this example, the photo appears in an AP slideshow accompanied only by the caption about Bachmann doing "ex-gay therapy."
As expected, I've got a few questions about the photo: Are the editors at these various media sites dipping into the file and producing this "queer-looking" pose as their own quiet version of what Stewart dished out? Even if Bachmann is in the closet, how fair is it to proffer one single frame as evidence? And, above all: has Dr. Bachmann, in his and his wife's vitriol toward homosexuality, brought this visual, as heavy as it is with innuendo, upon himself?
(photo: Charlie Riedel/AP caption: In this June 27, 2011, file photo Rep. Michele Bachmann, R-Minn., and her husband Marcus wave to the crowd after her formal announcement to seek the 2012 Republican presidential nomination in Waterloo, Iowa. Marcus Bachmann is defending his Christian counseling business for offering so-called ex-gay therapy, a controversial practice that's focused attention on the Bachmanns' views on social issues at a time when the Minnesota congresswoman has shown momentum in the Republican presidential race.)
Calling all HuffPost superfans!
Sign up for membership to become a founding member and help shape HuffPost's next chapter