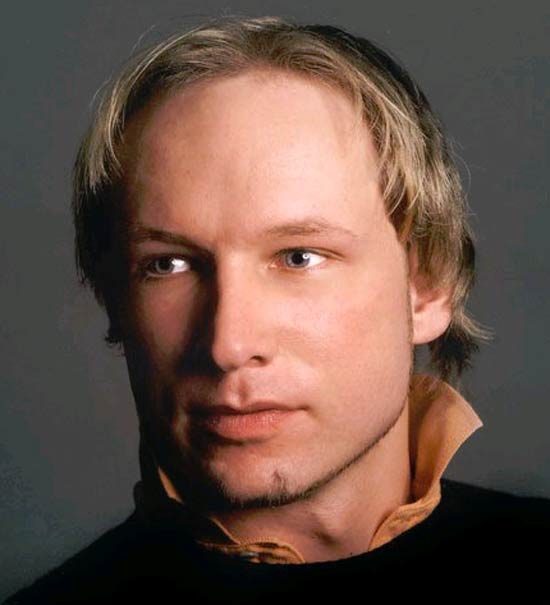 1. That's funny, he doesn't look Muslim! (even though that's who the attack was first attributed to).
The new blonde haired, blue-eyed face of terrorism? That model head shot is definitely one of the photos of the year...
In the photographs first circulated around the world, Anders Behring Breivik looks almost preppy. Neatly parted blond hair frames a boyishly handsome face. The upturned collar of a peach-colored polo shirt pokes through a dark Izod sweater.

It's hard to reconcile the softly smiling young man in these professional studio shots with the monster that witnesses say donned a police uniform and ruthlessly hunted down scores of young Norwegians, even firing at those who jumped into freezing water in a desperate bid to escape his rampage.
I read a lot of references to "preppy." I didn't see any reference to "Aryan," though.
The portrait of the blond haired, blue-eyed Breivik, the collar of his salmon-hued polo shirt poking straight out of his black Lacoste sweater, seemed to stare out from newspapers and television screens everywhere here.
Seems to be some debate as to whether the polo shirt was "peach" or "salmon." Somehow though, I don't remember any wardrobe (or foliage) descriptions in early found photos of the "underwear bomber" -- not until pics turned up with a prayer cap, that is. (Mr. Abdulmutallab was boyishly handsome, too.)
3. I saw a lot of sentences like this one (bold mine) from the Daily Mail:
Six foot tall and blond, Breivik is reported to have arrived on the island of Utoya dressed as a policeman and opened fire after beckoning several young people over in his native Norwegian tongue.
I'm actually not clear exactly why the height and hair color is so notable here. Is the point that a short, dark-haired "cop" wouldn't have been as easily trusted beckoning young people over in Norwegian? Or, is there a need to punctuate how unbelievable it is that a guy with those features would commit such an act. (If Facebook had existed in '95, I wonder if Tim McVeigh's page would have been good, at least, for a shot from the senior prom.)
4. Breivik apparently likes uniforms. Here he is in full Masonic regalia: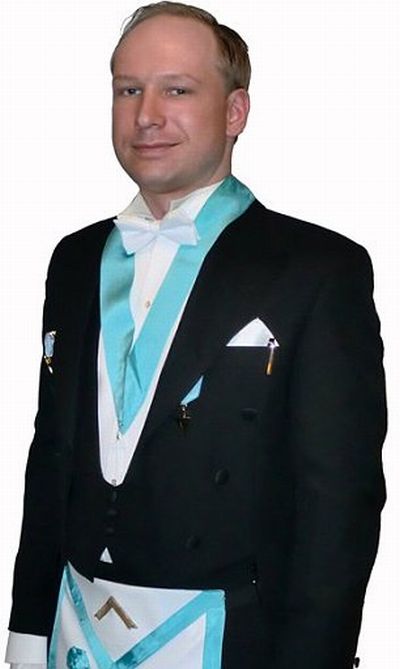 UPDATE: 7/24/11, 8:30 PST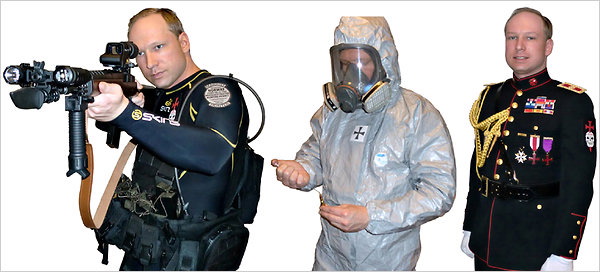 Apparently, Breivik has an intense interest in uniforms.
The video posted before the killer's slaughter gives more evidence of Breivik's passion. (The triptych above was compiled by the NYT based on screenshots from the video.) He was also particularly fascinated with the Crusader uniform. Starting from about the 11:50 mark, near the end of the video, we see several Crusader shots that segue into stills of the Mason uniform above, then the uniform with the decorations, then the scuba/Seal shot.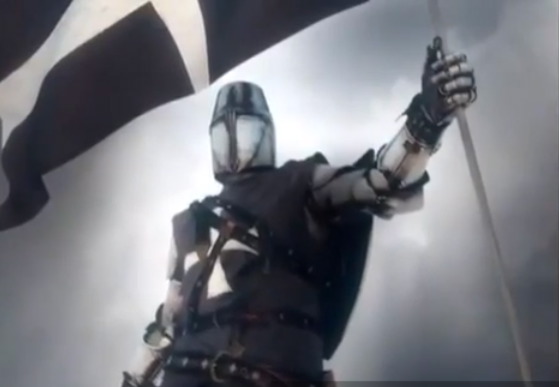 This frame, which appears immediately after "Scuba Breivik" actually has a strong, if steely resonance with "Hazmat Breivik." Like alter-egos from his video game world, all these martial, commando and warrior costumes (and the headshots, too?) reflect someone hurting, and, looking back, apparently seething for identity.
Sadly, the the unfolding evidence of Brievik's Christian radicalism, Muslim-hate and paranoia over immigration could not prevent the media from drawing a parallel to Muslim extremists. Although the analogy to be drawn here -- sketched by Brievik himself -- is to the Crusaders, the following paragraph appeared in the NYT background piece Sunday morning referring to Breivik's video/manifesto:
Thomas Hegghammer, a terrorism specialist at the Norwegian Defense Research Establishment, said the manifesto bears an eerie resemblance to those of Osama bin Laden and other Al Qaeda leaders, though from a Christian rather than a Muslim point of view. Like Mr. Breivik's manuscript, the major Qaeda declarations have detailed accounts of the Crusades, a pronounced sense of historical grievance and calls for apocalyptic warfare to defeat the religious and cultural enemy.

"It seems to be an attempt to mirror Al Qaeda, exactly in reverse," Mr. Hegghammer said.
What the quick description of Hegghammer doesn't clarify, which his website does at the get-go, is that "Thomas Hegghammer is an academic specialising in the study of violent Islamism."
Really? Was it Mr. Breivik attempting to mirror Al Qaeda in reverse, or was it Mr. Hegghammer, among others, attempting that?
(photo: Facebook via Reuters caption: These screen grabs of an undated photograph on Facebook.com shows the central suspect of the Norway terror attacks, named by sources as Anders Behring Breivik, July 23, 2011. The 32-year-old Christian fundamentalist Norwegian suspect is in police custody following a bomb attack in Oslo and a shooting massacre on Utoya Island that have claimed more than 90 lives. triptych: NYT via slideshow: Aftermath of Norway Violence.)
Related
Popular in the Community