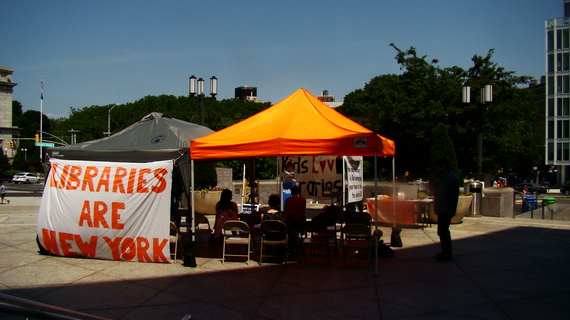 Library supporters are taking the 24 Hour Read-In to City Hall. Once again Urban Librarians Unite and our fellow library advocates will read around the clock from 4 p.m. Tuesday, June 9th, to 4 p.m. Wednesday, June 10th. Readers and volunteers are welcome and can still sign up to join the chorus of library supporters.
This is our sixth year doing this. We have already read for 120 hours, three full work weeks, and yet once again we find ourselves in the same place we always are, fighting tooth and nail for libraries. Every year our members and supporters tell us we should do the event as a celebration of reading and libraries in the city and every year it ends up having to be a massive rally to protest inadequate library budgets. This year we are calling on the Mayor and City Council to restore operating funding to 2008 levels and add $1.4 billion over 10 years to the capital budget to provide universal six-day service across the city and bring the buildings in every neighborhood to a state of good repair.
It is an exhausting event to plan and realize. Months of work led up to it and when we get there, our core team is awake for more than 30 hours straight before it is done. Since it is a day-long event, there is usually some kind of weather with winds or rain lashing away. It is springtime in New York City so we sweat in the day and freeze at night. We've dealt with drunks and counter protestors and surprise visits by VIPs. Through all of it there is a voice reading into the city. Sometimes it is in the light of day with kids gathered around and sometimes it is in the very dead of night where the night owls and library soldiers are the only ears standing in for the City That Never Sleeps. It is very simple and quiet and quite beautiful and hypnotic.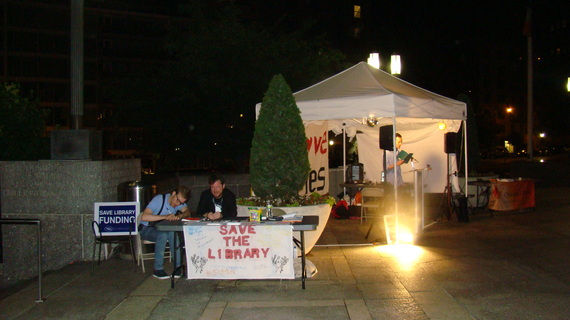 Why do we do it? We do it because we believe in what the library can do for the people of this city and through them for the city itself. The public library is the great equalizer, open to all, free to all, fiercely protective of the privacy of its users while offering them fair treatment and dignity no matter their state or status. We are the poor man's university and act as a titanium crowbar for our users to pull themselves out of adversity. We are information first responders there ready to serve when you need us whether that is for a good beach read or how to change your life.
The 24 Hour Read-In is a perfect metaphor for libraries in New York City. There is always someone using our materials and services, day or night, 365 days a year. No matter what time it is somewhere in the five boroughs there is a student cramming for an exam, a commuter on the subway, an entrepreneur working on their startup, or a senior who can't sleep and all of them are holding onto a library book, or using our online learning resources, or sitting outside a closed library using the free wifi. When we are out reading we are giving them a public voice and speaking for their right to libraries.
Photo credits Vicky M. Zabriskie
REAL LIFE. REAL NEWS. REAL VOICES.
Help us tell more of the stories that matter from voices that too often remain unheard.