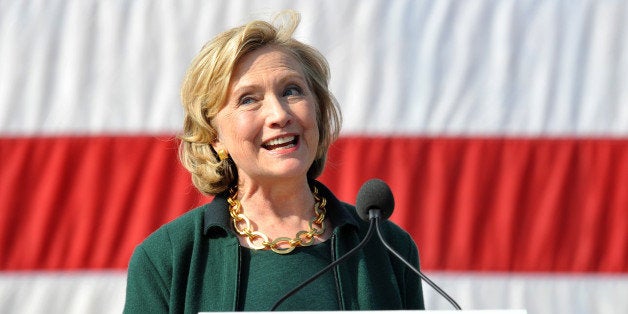 We are witnessing a new tour-de-force in election strategy operating across the nation. It isn't based on raising a billion dollars but rather raising just enough money, less than $10 million so far, to generate excitement and get people motivated to speak out and work for a candidate who hasn't yet announced she is running.
The Ready for Hillary PAC has done an incredible job preparing the stage for a potential Hillary Rodham Clinton entrance into the 2016 presidential race. Begun on the front porch of its founder, Adam Parkhomenko, and working largely through social media, it has amassed over 2.5 million supporters and their email addresses, a list larger than Hillary had at the end of her 2008 campaign. They also have a current donor list of over 100,000. With all this going on Hillary can legitimately take her time deciding if and when to announce and she is right to not let anyone in the media, try as they may, determine or rush her decision-making process.
What Ready for Hillary has going for them is the name, Hillary Rodham Clinton, which has always generated incredible passions, both positive and negative. What they are proving today is the positives strongly outweigh any negatives because of an apparent wide-spread recognition that if Hillary decides to run she will be the best prepared president to ever enter the White House.
They are now out to prove they can also be a powerhouse influencing the results of the 2014 mid-term elections. They are flexing their muscle in states in which Democratic Senate candidates are facing close races. A clear example of the impact they can have became apparent recently in Iowa. Bill and Hillary Clinton were invited to keynote the Harkin Steak Fry in Indianola, Iowa. They came to honor their friend Tom Harkin, who is retiring from the Senate, at an event he has held for 37 years and which generally attracts about 5,000 people.
This year in anticipation of the event Ready for Hillary with their huge mailing list, and staff on the ground, got into the act and an estimated 10,000 people showed up. Nearly double the usual crowd heard not only Hillary, Bill and Tom but got to see and hear Congressman Bruce Braley (D-Iowa), who is running to replace Tom Harkin in the senate. He is in a close race and he got to interact with all the people drawn to the event with the help of Ready for Hillary. He had lots of help getting 10,000 people charged up enough to hopefully come out and vote this year. Seth Bringman, Ready for Hillary's communications director said, "the group has also sent out an email to raise funds for Braley and that was the first of likely several such fundraising efforts for Democratic candidates in critical races this year."
The same phenomenon of generating big crowds is happening all over the nation. Every time Hillary speaks for a candidate or makes an appearance in a state, Ready for Hillary alerts local supporters to come out to see and hear her, and they get the opportunity to see and meet their local candidates. Those State candidates have the chance to mingle and charge up those big Democratic crowds to vote in 2014.

Ready for Hillary has purchased lists from state parties giving them funds to use and letting Ready for Hillary build their list and send out more mail. It's reported the group will be sending staff to 14 states including Alaska, Arkansas, Colorado, Georgia, Iowa, Kentucky, Louisiana, Maine, Michigan, Minnesota, Nevada, North Carolina, New Hampshire and South Carolina with those staffers arriving by October 1st and staying through Election Day. It will be exciting to watch the impact this will have on the Democrats hope of keeping the Senate in 2014.

Political strategists across the nation are watching this operation. They will be trying to measure if it would work with other future candidates whose names aren't as universally well-known as Hillary Clinton. They all understand it's working for Ready for Hillary because since she was the speaker at her Wellesley graduation Hillary has stirred all sorts of passion in people.
All indications point to Ready for Hillary making a difference for Democrats in 2014 and then giving Hillary, if she runs, a great head start to winning in 2016.
REAL LIFE. REAL NEWS. REAL VOICES.
Help us tell more of the stories that matter from voices that too often remain unheard.