By Sydney Baumgardt, WiSci STEAM Camp participant
My journey to Rwanda starts in less than three hours. By this time tomorrow I will be in Washington D.C. with thirty other girls, trying -- and undoubtedly failing -- to get some sleep before our thirteen-hour flight to Africa. By Saturday we will be in Rwanda, a fact my mind still hasn't quite adjusted to after the countless days I have spent dreaming about this trip. For the past few weeks, I have been checking my weather app relentlessly, trying to figure out what exactly the weather will be like so many miles from home. And yet, every morning I am shocked to see how little this foreign world differs from my own, at least when it comes to temperature. In fact, at the moment only seven degrees distinguish Kigali, Rwanda from Evergreen, CO! The similarities continue as I take in the rolling, green hills and stoic mountains found whenever I look at photographs of the landscape. While these parallels offer reassurance and comfort as I begin this remarkable journey, my heartbeat quickens in excitement when I think about all of the unfamiliar things I am about to discover.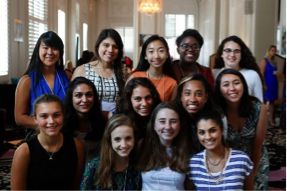 Girl Up Teen Advisors at the Leadership Summit following an NPR interview about what it means to be a teenage girl around the world.
I just spent a week in D.C. at the Girl Up Summit where I got to meet not only the First Lady, but also some of the girls with whom I'll be spending the next three weeks. We talked about which vaccinations we had suffered through and what we were going to pack. We went over all the forms we needed to submit and worried how much we still had to do. And while I appreciated going over the facts and trading information, the real value in the time we spent together was simply getting to know one another. This camp is giving us an incredible opportunity. Yes, we will come home armed with the knowledge to succeed in STEAM, but we will also, perhaps more importantly, return with a new perspective on the world; specifically, on the lives of girls around the world. For the next twenty plus days, I will be living with not only girls from all over the U.S., but with girls from Ghana, Nigeria, Ethiopia, Kenya, Rwanda, South Africa, Tanzania, and Uganda. What is it like to be a teenage girl? There are a lot of answers to this question that we will have in common, but what thrills me most is knowing that I am about to hear some answers I would have never considered before. And we get to take that question a step further: What is it like to be a teenage girl interested in STEAM? Constantly facts are thrown at us about the gender disparities in STEAM fields, but this camp is finally giving us the chance to do something about those numbers and statistics. I can't wait to learn more about topics like coding and robotics, and the knowledge that I will be surrounded by 120 incredible girls who share the same interest is beyond empowering.
As my last few hours at home dwindle down, I am becoming a mess of nerves and excitement. I am terrified for what lies ahead in a continent I have never been to before. However, the nerves are nothing compared the butterflies in my stomach as I think about all of the people I will meet, the cultures I will discover, the things I will learn.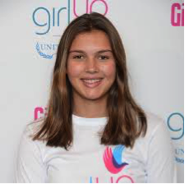 Sydney Baumgardt is from Colorado and a rising senior at Phillips Academy Andover. She is a passionate women's rights advocate and serves as a Teen Advisor for Girl Up, a United Nations Foundation campaign empowering girls to change the world. She also loves volleyball, basketball, rowing, and white-water rafting.
Calling all HuffPost superfans!
Sign up for membership to become a founding member and help shape HuffPost's next chapter