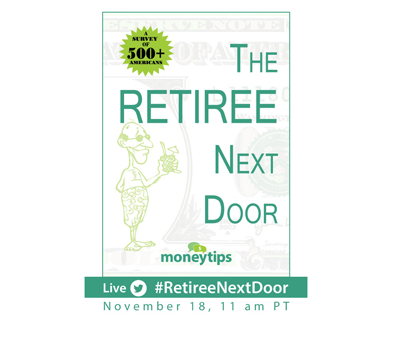 Now that I've transitioned to the rip old age of 35, retirement has been on my mind a lot lately. If you read my blog posts often, you know I often say it's your younger self's job to look after you older self. Fortunately, I've discovered many creative -- even fun -- ways to go about it. I'm also finding fresh new ways to get this vital message out.
This is why I'll be taking part in the one-hour #RetireeNextDoor (LIVE!) social "tweetcast" on Nov. 18. I'll be joining 25 savvy financial advisors, accountants and personal-finance bloggers for a real-time discussion of what it takes to dramatically improve your chances of retiring successfully.
To kick off the conversation, here's my take on several of the questions we'll be tackling:
How do you calculate how much you need to save for retirement?
Look at your current budget, and create a future budget. When I was living with my parents, I projected how much I'd need when I moved out -- added rent, utilities, etc. Similarly, you should look at how you want to live in retirement and determine what that future life will cost.
Talk to your future self and explain to him or her what you are spending your money on today. For example, my future self is a sassy 80-year-old named Wanda. Today, I live simply in New Jersey, but Wanda wants to retire somewhere warmer, where she won't have to worry about the snow. If she chooses Hawaii, I'll need to save a fortune! But if she retires in Mexico, Belize, or some other inexpensive tropical country, I'll need to save a lot less -- and we both will be happy.
What's the most common mistakes you see when people plan for retirement?
The most common mistake I see is that people don't start saving for retirement early enough. And when they finally realize they need to start, they're ashamed that they didn't do what they were supposed to do in their 20s, so they're overtaken by fear. This fear paralyzes them, so they continue to delay. It's a vicious circle.
To break this cycle, you need to set aside your shame and get help. Find a financial advisor -- aka your money doctor -- whom you trust as much as you trust medical doctor. Ask around for referrals. Who are your friends working with? Who's getting rave reviews? And who has a fee structure you're comfortable with?
Once you have your money doctor in place, you can begin the process of putting a financial plan together that you can live with.
More than 60 percent of successful retirees follow some sort of budget. How do you find extra money in your budget to save for retirement without drastically changing your lifestyle?
Everyone has discounts in their life they're not taking. For example, you may buy your favorite jeans for $100. But a few times each year, the same jeans go on sale for $30. In addition, you can negotiate with service providers like your cellphone or cable company to lower your rates. In fact, you can ditch cable entirely and watch great online TV like Roku and Netflix for a lot less money. Plus it's not that hard to save $500 per year by shopping car insurance. When you find discounts like these, it's a lot easier to save money for important items like retirement savings.
Live richer,
Tiffany "The Budgetnista"
Want to learn how to increase your odds of retiring successfully? Register for the free #RetireeNextDoor (LIVE!) and bring your retirement saving, planning and investment questions. The social jam takes place Nov. 18 at 2 p.m. EST (11 a.m. PST).
PHOTO GALLERY
5 Ideas For A Thrifty Retirement
REAL LIFE. REAL NEWS. REAL VOICES.
Help us tell more of the stories that matter from voices that too often remain unheard.