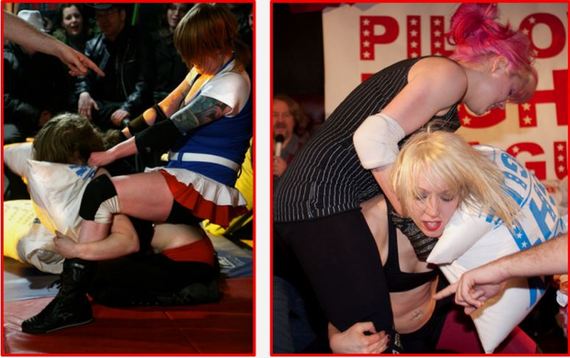 Ever heard of the Pillow Fight League? Upon hitting the sports scene back in 2006, the organization received widespread coverage from loads of media heavy-hitters. We're talking ESPN, Sports Illustrated, The New York Times, The Washington Post, Good Morning America, ABC, NBC, CBS, FOX -- even the National Enquirer for the love of Mike.
The depth of coverage wasn't unexpected, given the league's offbeat modus operandi: have two tough women fight each other -- MMA-style -- with pillows. Real fighters, hard hits, with no predetermined outcomes a la WWE. It's equal parts grace, aggression, and strategy. And definitely not something you'd see at a sorority slumber party.
Despite its initial success -- 65 events hosted throughout North America -- the Pillow Fight League (PFL for short) bowed in 2011 due to the illness of its creator, Toronto entrepreneur Stacey Case.
Which brings us to 2015. Canadian media personality Brandy Dawley recently nabbed the rights to the defunct league with a little help from her ownership group. "I'm determined to not just return the PFL to its former glory, but to see it become bigger and better than ever before," Dawley says. She will also serve as league president.
First order of business: fundraising. The Pillow Fight League has just launched BringBackThePFL.com, an Indiegogo crowdfunding campaign that looks to raise $20,000 -- a figure it says is vital to the league's relaunch. The money will be earmarked for everything from advertising to promotion to insurance to training to athlete compensation. Those willing to kick in some cash can claim a slew of prizes, with the most generous crowdfunders being awarded their own private PFL event. Not a terrible way to get the neighbors jealous.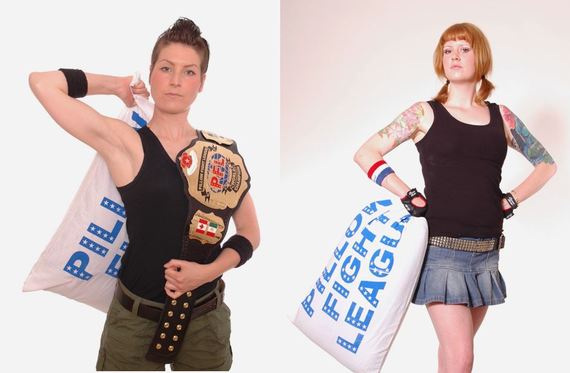 "I intend to make the Pillow Fight League an internationally recognized name," Dawley says, and she seems pretty committed to doing just that. The PFL fighter recruitment process has already begun, and should the campaign go as expected, the first fight in nearly five years will be staged this coming winter.
And this won't be your grandma's Pillow Fight League either. (We're assuming your grandma once had a Pillow Fight League.) The new PFL will feature a revamped set of rules, many to be developed at an upcoming run of private exhibition matches. To boot, fighters will now be assigned to specific weight classes -- a move that will allow for heightened competitiveness.
The league is now on Twitter and Facebook, with crowdfunding efforts running until early November. "This Indiegogo campaign will play a huge role in spreading awareness of the amazing things to come," Dawley says.
The promo video is below, and yep, it'll give one heck of a sneak peek into what's heading your way. Buckle up and get ready for the ride.
Calling all HuffPost superfans!
Sign up for membership to become a founding member and help shape HuffPost's next chapter