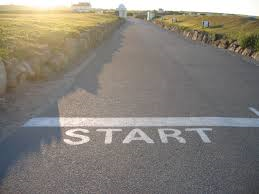 "Get ready, get set, go!"
At this stage of my middle-aged life, I didn't think that I would hear those words just before taking off for a race with my coworkers. Even though running was one of the last on my list for a physical activity, I found myself in an eight week training program to prepare for my first 5K race.
My preparation began with shopping for the perfect pair of running shoes that were vibrant in color and would support the feet of a novice runner. Next logical step was purchasing my running attire. I then partnered with another novice runner in the office so that we could be accountable to each other and committed to running, "No matter what!"
After selecting a training plan that eased us both into this new, strenuous activity, we embarked on the journey of being included into the "runners' world." We religiously followed a warm-up that was shared by our president, a true running expert. Stored bags of frozen peas in the office freezer were applied to our knees after our lunch-hour runs.

As my fellow coworkers began their training, office banter began. I too, got caught up in the competitive dialogue. I was invited to secret visits to the course and private strategic meetings. I felt elated that I was adding something new to my fitness regimen and was building new friendships within the workplace. My lungs were expanding, my knees stabilizing and my energy increasing.
By week six, I found that I was craving the days that took me outside to run. I was actually enjoying the solitude and the feeling of accomplishment as I worked up to one, then two and finally 3.1 miles.
On the day of the event, I was ready for the challenge and felt exhilarated as I gathered with the other competitive runners waiting to dash across the starting line. Coworkers cheered, encouraged and applauded as I ran each lap. When I crossed the finish line, I had accomplished the goal I had set. I felt absolutely fantastic!
The following day, I knew that if I wanted to continue my commitment to this fun and new physical activity, I had to immediately register for my next 5K event. As I perused the Internet, I found a multitude of summer races in my area that were sponsored either by a charitable organization or a health-related cause. What could be more rewarding!
While I was contemplating the decision to participate as a runner for this 5K event, an avid runner in our company informed me that he had just completed a marathon with a 91-year-old woman who jogged past him during the race. I knew at that moment that to be truly alive and live life to its fullest, I needed to set "stretch" goals not only in my fitness routine, but in other aspects of my life.
You, too can step out of your comfort zone and strive for a life of joy and passion. Don't miss your chance.