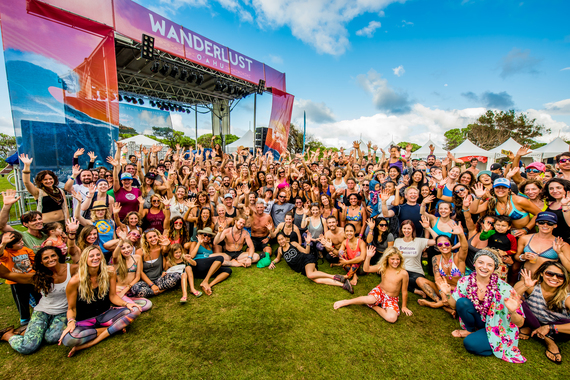 Photo by Jackson Tyler Eddy for Wanderlust Festival
Wanderlust event, which is taking place on Oahu from February 25-28th, is often described as a yoga and music festival but frankly, the event offers much more. Looking at this years' schedule I had a hard time choosing three daily events and one workshop, which festival ticket holders can sign up for. One of the first classes I chose was "Beauty that Transforms: Soul Flow Hoop Dance Fundamentals with Jingo Dasalla". I'm very curious to try new ways of practicing yoga -- blending hula-hooping or graceful hula dance movements with yoga (Friday class -- "The Grace of Hula Meets Yoga") sounded intriguing enough to me so I decided to give it a go.
And this is exactly what the Wanderlust festival will be for me. I'm "Giving it a Go" -- I'll be open-minded and get exposed to exciting new things. Being surrounded by like-minded people, who are eager to explore, eager to try and experience with not only their eyes but all senses.
I want to immerse myself in the "Deep Imagination" meditative session led by a couple of musical artists from Oregon and cross the bridge from sound to silence guided by Jennifer Reuter.
With help of Tiare Thomas, I'll try to "Master the Art of Dreamboarding" and being a jewelry designer myself I'm looking forward to attending "The Creative Flow and Custom Mala" class where we'll learn about natural stones properties and design custom malas -- strings of prayer beads used to count the mantras.
So often being busy takes over our lives, we're simply too rushed and preoccupied with the present to think about a bigger picture of the future. All we can think of is playing a catch up with our daily lives. Wanderlust festival will be a break to reflect, to take a fresh look around regardless of our status quo. Being in Turtle Bay, where the Oahu festival is taking place, and looking into the ocean, you'll realize that your possibilities are limitless. All it takes is "Giving It a Go."
To give Oahu Wanderlust festival a go, click here.
Calling all HuffPost superfans!
Sign up for membership to become a founding member and help shape HuffPost's next chapter