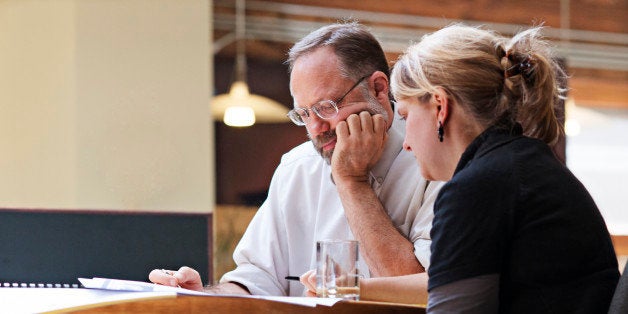 Do you remember that first time you walked into a four-walled office or cubicle? You put your personal effects down. You sat in an unfamiliar chair. It was quiet. You looked around at multiple binders, a computer, a drawer of files. There are people around you but you don't know them, yet. There are other interns, but you don't know them, yet. You haven't drunken the Kool-Aid of what this company does, yet and it's your first time stepping into corporate America as a working member. You find yourself filled with anxiety, excitement, and a few nervous tears that you are desperately trying to keep to yourself. Will you be able to prove yourself in this new environment? This is not college life for sure where people walked right into your dorm room to say 'hi'. Will you see some of the challenges you read on Glassdoor.com first hand?
We have all been there. We forget that we were new as well to to this daily grind and beehive of our working lives. We now no the lingo, can navigate the politics, we are mostly, fine.
I want to ask corporate America, I want to ask you manager and leader, to dig deep and remember what it was like to step into the big shoes of your first job or internship. Who helped you? What worked? What did you wish the company did to help you acclimate? Your intern starts in @4-6 weeks and you can now plan in advance to go the extra mile this summer for your newest team member(s).
Here are five recommendations to get you started:
1] MEET YOUR INTERN BEFORE HE/SHE STARTS: Here is your opportunity to lay some foundation for a great start. Take him or her for coffee outside the office or on the first day, heck, even on a Saturday at 2pm. Sit down where you are relaxed and get to know each other. Come up with some natural and non-pressuring questions like:
What do you enjoy doing on your spare time?
What classes did you most enjoy this year?
Where did you grow up? Do you have brothers and sisters?
What do you most want to get out of your summer experience here?
What are you really good at that you want me (as your manager) to know about? Is this your first internship/ work experience?
Share authentically what got you excited about the company that you work for and how you see your work and job. Share fun plans you have in store for the team this summer and the types of projects you will work on together.
2] MAKE THE ROUNDS: We really want you to take 30 minutes or so and take your intern(s) around to meet the team and the people around them. Help them build a support network as quickly as possible of nice people, good role models and near-peers. Perhaps someone who started six months ago who can teach them an aspect of their job. Introduce them to the HR executive that they were working with, the office manager, IT department, anyone who will be in their daily/weekly lives and let them explain also what they do at the company. If there are several interns, suggest a pizza lunch welcome on day one or two if HR doesn't already have that planned. Extra credit for an ice cream social, a baseball game, or a outdoor team building activity during the interns first month.
3] THE MENTOR: Your intern is taking their whole summer to learn how to both survive and then thrive in the world of work. You might be their first boss. They are nervous and need someone who can help them walk the walk of the company and understand their specific role. How do they handle Leanna's glares, and that team member Dan is moving on in two weeks to another firm? If you have someone in mind to be their near-peer mentor, perhaps that executive could come and join you on meeting #1 or have lunch with them on week one. You can be creative here, but bottom line, find them a mentor (if it's not you) who can help them navigate their role, company culture, politics if needed and more. Your intern should have a standing meeting with their mentor weekly the first month and then bi-weekly should be fine.
4] GIVE ONGOING FEEDBACK. SHARE EXPERIENCE: How will your intern know he is successful and meeting your expectations? Share with your newbie what he or she is doing well. Ask her/him for advice on a project you are working on (reverse mentoring). Ask her/him to join you at a meeting, event or presentation. Share up front that you are a manager who gives ongoing feedback as you see it as a key part of your role to help your intern grow. This will also show that you are investing in his/her learning and development. We are going for progress not perfection here. Your intern wants to be seen by you.
Once you have had time to assess your interns strengthens and areas for improvement, give him/her one or two recommendations she can do to strengthen herself these next few weeks. If you want some more ideas of what millennials (born 1980 - 2000) are looking for in a mentor/boss, check out this great article "Six Tips for Mentoring Millennials from Millennials" by Bridget McKeogh. Remember that many young people would like to have some autonomy and find meaning in their work. Please share with them how the work they are doing impacts the whole. This is a generation of purpose over paycheck. Don't make assumptions that your intern knows have to navigate corporate environments... Celebrate small wins with your team. There is an old adage "Inch by inch life is a cinch, yard by yard, life is hard." If your intern took on a stretch assignment or a leadership role in a project, champion him/ her to others. Who knows, your intern might be a future hire at the company and your championing could mean all the difference.
5] YOU ARE NOW PAYING IT FORWARD: I bet you didn't realize how much sunshine an intern can bring into your life and to your company? After a grueling cold winter, open the windows, pull out the barbecues and welcome them into your hearts and minds. Over the past 25 years I have had over 100 interns work with me on building entrepreneurial movements, the latest being Twomentor, LLC (we help companies build mentoring cultures and elevate women in STEM careers). Interns make me want to be better as a person. They mentor me in collaboration, technology and with their fresh perspectives on the world. They are fun and funny. They come to work with me and I know they are watching everything I do (uh-ho) and how I behave with others. Their parents have sent them to me, and want their kids to have a strong role model and high growth experience here. This is a big responsibility, one that should not be taken lightly by any of us. This is our real pay-it-forward moment in life to be better for someone else. To become better at work for ourselves and invite in summer to our lives. It's also one of the greatest joys one can have, seeing another human being transform and self- actualize.
At the end, thank them for the 'Summer days drifting away', and start running some ads to look for fall interns understanding on many new levels their enormous value to you and the future of our companies.
Julie Kantor is CEO of Twomentor, LLC a Management Consulting firm that offers: Mentor and sponsor training, Dynamic speed mentoring sessions, strategy and consulting around building mentoring cultures, global speaking and more. Learn more HERE. Contact us: associate@twomentor.com @JuliekantorSTEM
Related
Popular in the Community