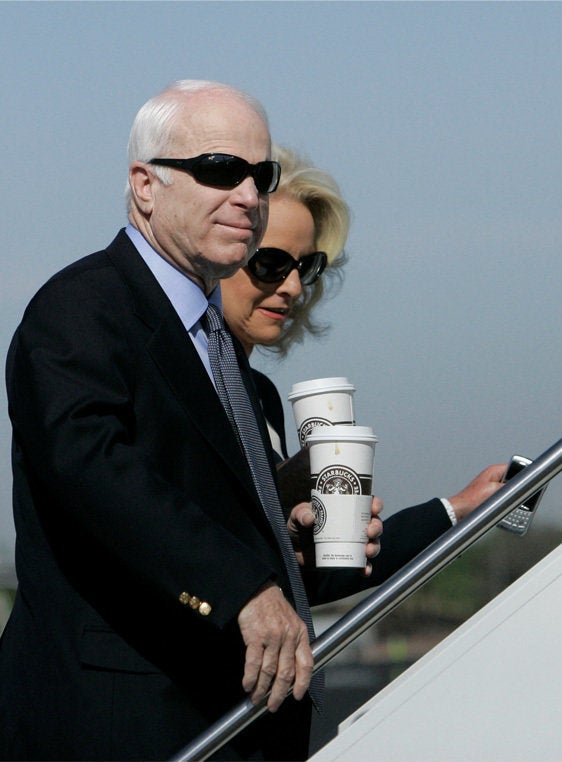 With news of the McCain family's six-figure credit card debt cropping up today, its not too hard to imagine a little light-hearted chuckling among middle class folks getting a look at the spendthrift habits of elites. As The Hill reported this morning, based on disclosure reports released today, Sen. John McCain and his wife Cindy owe at least $100,000 to American Express, with a "dependent child" also holding a card with a balance between $15,000 and $50,000.
But not all credit card debts are created equal. In fact, according to a prior disclosure form filed in May that was provided to The Huffington Post, a significant amount of the McCains' credit card debt is being held by American Express at an interest rate of zero percent -- making their debt a lot less like the costly credit card pitfalls facing many Americans and a lot more like the big sweetheart loans that can get national political figures in hot water. (Sen. Barack Obama's first choice to head up his vice presidential search committee resigned this week after a controversy emerged over a favorable mortgage he received from Countrywide, a key player in the current housing crisis.)
Zero-percent credit card interest rates are not exclusively for the rich or well-connected, of course. But the most common offers of that kind are often capped at a few-thousand dollars and shed their zero percent rate after six to nine months.
According to the May 15, 2008 disclosure form, though, during 2007 Cindy McCain originated an individual debt of between $250,000 and $500,000 with a zero-percent interest AmEx that was still not paid off by the time of the time of that filing.
In other McCain family financial news, Megan McCain -- she of McCainBlogette.com -- has announced she'll be producing a children's picture book about her father. While the publisher, Simon & Schuster, will be donating a portion of the money it makes off the title to the Intrepid Fallen Heroes Fund, a veterans' charity, it appears Megan will not. Perhaps she has a little credit card debt to pay off. But even if that's the case, there's no need to hurry -- the "dependent child" credit card debt listed on McCain's May disclosure form is also being charged at a rate of zero percent.

Popular in the Community