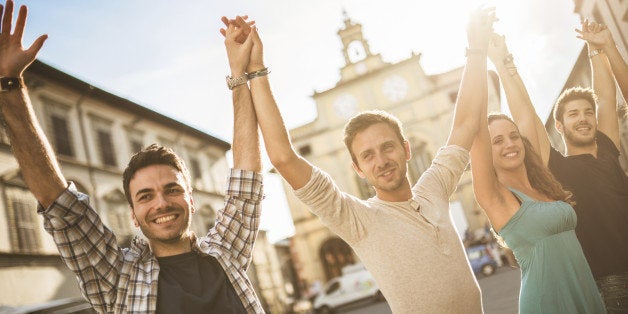 This month, hundreds of government, military, private sector, education, faith, philanthropic and nonprofit leaders will gather on Gettysburg College's campus for the Aspen Institute Franklin Project's Summit at Gettysburg -- and we are eager to join them in discussing how we might revive a sense of engaged citizenship in the next generation of Americans.
That's because, as president of a residential college in historic Gettysburg, Pennsylvania -- a town steeped in a history of famous leaders, politicians and generals -- the connection between education, citizenship and service seems natural to me.
When the Civil War made its way to Pennsylvania, Gettysburg College stood in its midst. Heeding the call of duty, 48 of the College's 116 students postponed their studies to join the Union Army in June of 1863. Just weeks later, as the Battle of Gettysburg engulfed our town and changed the course of the Civil War, our campus and community members sprang to action to tend to the wounded.
Months later, at the invitation of Gettysburg College alumnus David Wills, President Abraham Lincoln attended the dedication of the National Cemetery.In his remarks, Lincoln reflected, "The world will little note nor long remember what we say here, but it can never forget what they did here" -- conveying the idea that actions carry far more weight than words.
This theme of action, particularly action in service of the greater good, has remained central to Gettysburg College's mission, and our students' commitment to engaged citizenship has continued to grow since 1863.
Our Center for Public Service provides students numerous opportunities to exercise informed citizenship beyond the classroom. We offer summer grants, internships, and faculty mentorship as our students research issues such as poverty, women's health, immigration and food justice. Our students participate in weekly dialogue groups and host a blog where they share personal stories and sort through thorny issues of inequality. They attend weeklong immersion trips around the nation and the world, meeting community leaders who share their struggles and describe grassroots efforts to overcome them.
Experiences like these help students appreciate the complexity of social issues, the time and energy required to foster meaningful change, and the value of lasting community partnerships. They change the way students think about politics and policy, how they approach and treat others, how they advocate for those in need, and how they see their roles as citizens in their local and global community. They help students develop into engaged community members and leaders of our next generation -- citizen-servants who will proudly answer the question posed by the Franklin Project, "Where did you serve?"
Take one of our recent graduates, Chris Dellana, whose service-learning internship to Nicaragua not only immersed him in a new language and culture, but also provided him the opportunity to assist doctors at a local hospital and conduct research on water quality. Bringing this experience back to campus, Chris took on a volunteer coordinator position in our local migrant education program. A few weeks ago, he graduated with a B.A. in globalization studies and Spanish linguistics, and is preparing to attend a graduate program in law and public health this fall. Chris says his experiences have made him an advocate for healthcare reform, and drive him in working to ensure our "most basic right: the right to good health."
Students like Chris demonstrate the impact that we as educators can have on preparing an informed and socially responsible citizenry -- citizens who will volunteer in their communities, work to effect positive change and ultimately, make the world a better place.
Students like Chris are why I applaud the vision behind the Franklin Project at the Institute, which is working to promote a future generation of engaged citizens through service.
Students like Chris are why I think that the pundits and politicians who debate the value of higher education in creating a skilled workforce are missing an important point: if we are to prepare students for active citizenship in a rapidly-changing and increasingly global society, we must help them develop a sense of civic responsibility that complements their professional competencies.
And students like Chris are why -- as a college president -- I believe that a contemporary education in the liberal arts and sciences provides exceptional preparation for both civic and professional life.
At Gettysburg, we cultivate in our students strong critical thinking skills, the ability to solve complex problems using multiple disciplinary perspectives, the skills and confidence to communicate effectively, and an appreciation and understanding of all people and cultures. And when they graduate -- whether they pursue careers as teachers or scientists, whether they work in business or government, whether they compose music or practice law -- we want them to feel empowered to apply their education towards purposeful action for the greater good.
The good news is many Americans, including our colleagues at the Aspen Institute, realize the importance of service -- both for the wellbeing of our society and for the growth and development of those serving. As leaders assemble on our campus this month to discuss the "common expectation and opportunity for all young people to serve our nation," I look forward to joining them in examining our role as educators as we prepare a new generation to embark upon our nation's "unfinished work."
This post is part of a series produced by The Huffington Post and The Franklin Project at the Aspen Institute to recognize the power of national service, in conjunction with the latter's Summit At Gettysburg (June 4-6, 2014, Gettysburg, Pennsylvania). The Franklin Project is a policy program at the Aspen Institute working to create a 21st century national service system that challenges all young people to give at least one year of full-time service to their country. To see all the posts in this series, read here. To learn more about The Franklin Project, read here.
REAL LIFE. REAL NEWS. REAL VOICES.
Help us tell more of the stories that matter from voices that too often remain unheard.