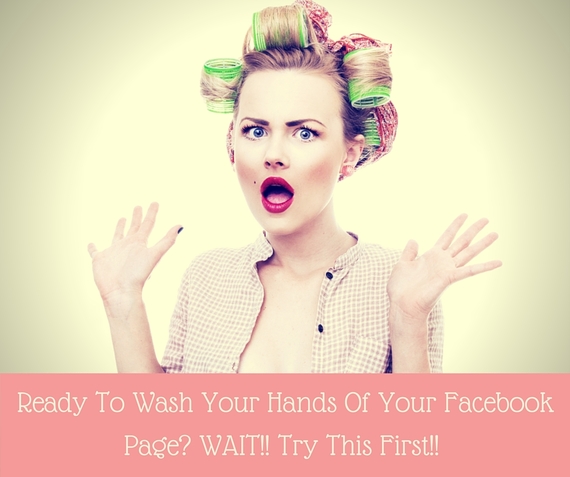 The wonderful world of Facebook is changing ALL the time and it can be pretty hard to keep up! Unfortunately organic reach is continuing to decline and it's becoming harder to get posts seen by our fans. It can be so frustrating but we must remember that Facebook still provides us with an amazing opportunity to get in front of our ideal customers. With 864 million people logging in every day and 5 new profiles being created every single second, there is no getting away from the fact that Facebook is an extremely powerful platform to connect with our ideal customers. So even with the constant changes and declining organic reach, how can we make the most of our Facebook page and improve results? Here are my top 7 super easy tips that you can implement today...
1. Do Your Research: Spend some time researching other Facebook Pages that are performing really well. What is so great about these pages? What are they posting about? What is working for them? An amazing tool to help you with your research is Facebook's 'graph search'. Graph search is great for letting you find out more about your ideal customers. All that you need to do is go to your Facebook search bar and type in 'Pages liked by fans of (insert page name here).' You can use it to search your own page or competitors. It's so fab as it shows you other popular pages where your ideal customers are spending their time and what their interests are. You can then take a look at these pages and see what they are posting - which posts are getting the most engagement and why? What are people responding to most? Use this to get inspiration to improve your own posts and post more on topics that your fans are likely to interact with.
2. Focus On Interaction: The more likes, comments, shares and clicks you get, the more Facebook will push your posts out into your fans news feeds. So make sure you share posts that will encourage interaction. For example ask questions, post 'fill in the blanks' and try posting inspirational quotes (people love to share these!). Also it's so important to show your personality - people still buy from people, so invite people in on a personal level and they are much more likely to connect and interact with you. You could share behind the scenes posts, what exciting things you are up to/working on this week or a funny post about your family holiday or even the dog. Whatever it may be, be sure to drop a personal post in from time to time to really let your personality shine through!
3. The Money Is In The List: Facebook likes do not equal sales!! Once you get your ideal customers to your page your next task is to get them signed up to your email list. Your email list is truly the most powerful marketing tool you can have and it is so important that you focus on continually building this and sending out regular emails with content that your ideal customers will love. Another important reason for building your list is that you never have to rely on Facebook alone for your marketing, as once they are on your list you have full control over your marketing. Offering fans a fab freebie is an amazing way to build your list. (For more info on this take a look at my blog on 'Why You Need To Start Building Your List Today!')
4. You Can Never Share Too Much: Don't be afraid to share too much - the more amazing content you share, the more you position yourself as an expert and gain credibility. It's fine to share your own content and content from other people, but always make sure it is stuff that your ideal customer is going to love. (Tip: sharing content from pages with a big fan base can really help to increase your reach) Mix up your posts by sharing tips of the day, blog posts, videos, quotes and asking questions. Also, you must be consistent with your posts. I aim to post around 3 times a day, which works well for me, but I know lot's of people post far more and some less. Have a play around and see what works best for you.
5. Use Fab Images: Research shows that posts with images get better organic reach and get shared the most, so make sure you are using fab images to stand out in your ideal customers news feeds. An amazing free tool to help you create your own images is Canva. I absolutely love Canva but be warned it can become addictive!! Basically it's a fantastic free tool for DIY design which is really easy to use. It lets you create professional looking design for your website, social media images, blog posts, Facebook Ad's, business cards, leaflets and much more! It also has thousands of free images for you to choose from. It has a template already set up for Facebook posts - so you just need to add in your image and text and you will have the perfect Facebook post all ready to go! Pop over to www.canva.com to get started.
6. The 80/20 Rule: Be careful not too be too salesy on your Facebook page. A recent change from Facebook states that if your posts are too promotional, they are unlikely to show it in your fans news feeds. Facebook want to give their users the best experience possible, so they want to show posts that give value in their users news feeds and not tonnes of promotional posts. This is why Facebook now give much lower priority to promotional posts. So although you should definitely still promote via your Facebook page - don't over do it! Try to focus more on giving your fans value - tips, resources, blogs, tools etc. and remember the good old 80/20 rule - share 80% valuable content and 20% promotional.
7. The Power Of Facebook Ad's: Facebook adverts can be incredibly powerful! Remember the graph search? You can use info you find out here to target fans of pages that you know your ideal customers already like. You can also get really specific with your targeting so you can build in criteria to ensure you are getting in front of your ideal customers. For example you can target based on gender, age, location, interests and much more. You can even use a feature called 'lookalike audiences' which allows you to target people who are similar to those who have already liked your page. There really are some amazing things you can do!
Ok, now it's over to you! Time to take action and implement these easy tips today if you want to improve your Facebook page and see better results. Try different things and make a few tweaks as you go to see what works best for you. I'd love to hear how you are getting on, so pop over to my Facebook page and let me know.
Nicky Rees is the founder of The Small Business Marketing Goddess. She is passionate about helping female business owners to unleash their inner marketing goddess to take their business to the next level. For more practical marketing tips on how to make more money and grow your business sign up now.
REAL LIFE. REAL NEWS. REAL VOICES.
Help us tell more of the stories that matter from voices that too often remain unheard.