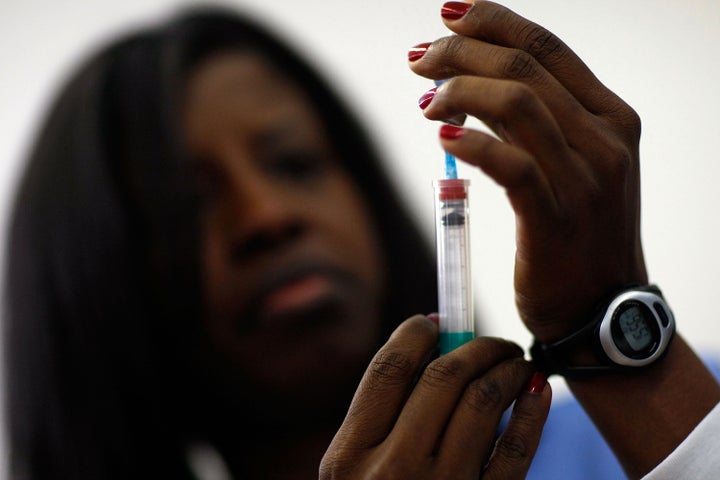 Awards season is in full swing.
On Sunday night, Hollywood's elite came together and celebrated last year's accomplishments on the Big and Small screens at the 70th annual Golden Globe Awards. While millions from around the world tuned in and debated whether the most deserving winners were chosen, a smaller, but no less important, awards program was about to take place just a short drive south of the action.

The inaugural REAL Awards honorees were announced last night in Laguna Niguel, Calif., where nine U.S.-based health workers were named for their extraordinary service in health care. They may not be household names, but they matter enormously to the patients they serve. People like Carri Butcher, our winner in the hospice care category, who created a day spa at her own home in Arkansas for her dying patients so they could be treated to a little pampering before they passed. Or Esther Madudu, a midwife in rural Uganda, who is one of the nine global honorees we named last September. Esther's clinic often has no power, so she delivers babies in the middle of the night by the light of her mobile phone screen.
The REAL Awards is a chance to shine the spotlight on the men and women who go to work every day to perform the greatest role of all -- saving the lives of others. They may not grace the covers of magazines, but their work still deserves to be celebrated, especially since they're needed now more than ever.
We're currently experiencing a severe shortage of doctors in this country. While we can't ignore this crisis, one way to address it, at least in the short term, is to rely more on other health workers -- nurses, physician assistants, nurse practitioners, community health workers, pharmacists -- to perform the tasks that don't require a doctor, as a recent New York Times editorial suggests.
No one knows the importance of health workers more than those in the developing world, where the dearth of doctors is even more stark. By some estimates, the world is short more than millions of health workers, including one million frontline health workers, who deliver care in some of the hardest-to-reach communities, oftentimes with limited resources. In fact, frontline health workers are the first -- and often, only -- point of contact to the health care system for millions of people.
Their role is invaluable. It is estimated that every three seconds, a child death is prevented thanks to care provided by a frontline health worker. But many don't have all the support and supplies they need to do their jobs well, and hundreds of thousands more are needed to end preventable deaths.
Take some time to read the stories of these frontline health workers and all the REAL Awards winners, andtell your member of Congress they need more support.
I promise they'll be more memorable than that acceptance speech by what's-his-name.
Calling all HuffPost superfans!
Sign up for membership to become a founding member and help shape HuffPost's next chapter