The phrase "till death do us part" has many implications -- like committing yourself to someone forever, merging bank accounts with that person indefinitely and forever intertwining your life with theirs (both the good and bad parts). But perhaps no implication is as extravagant, or as binding, as the actual cost of your nuptials.
Needless to say, it can be hard for couples to stay within their budget as they plan the wedding of their dreams. We've partnered with State Farm to bring you this list of tips from real brides who saved money on their big day.
Things You Can DIY
1. Invitations and save-the-dates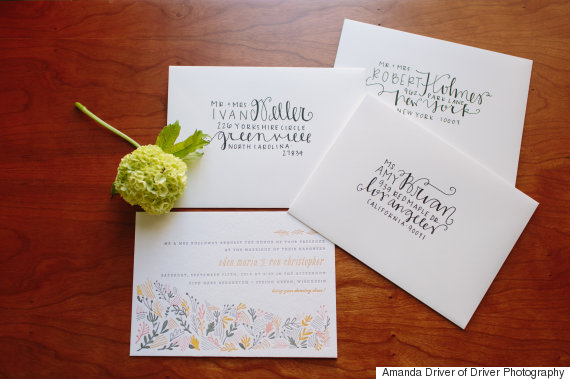 One easy way to save money is to make your own invitations -- or at the very least, address the envelopes yourself. To cut down on costs from stationery stores or paper companies, avoid personalized wedding invitations and utilize a service like Wedding Paper Divas.
As far as save-the-dates go, if you have tech-savvy guests, feel free to use an electronic option like Paperless Post.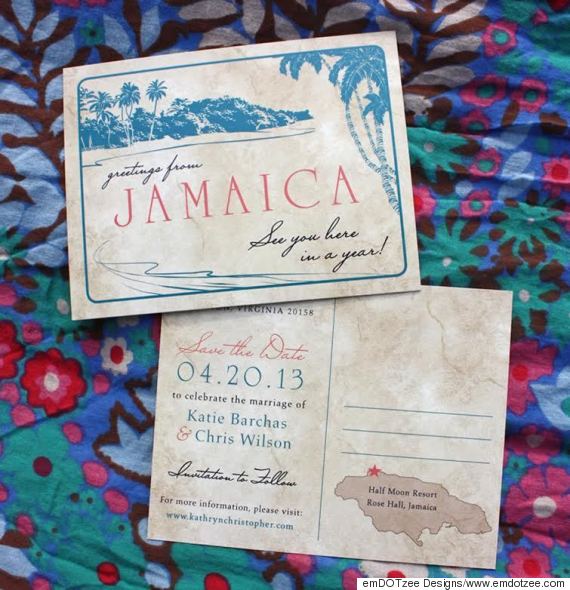 Is your wedding locale a "destination" for many guests? Instead of traditional save-the-date cards, send out postcards featuring the destination where your ceremony will be held. It's a unique way to save on postage!
(Helpful hint: Don't forget that many of your guests are part of couples and/or families -- meaning you don't necessarily need to budget one invitation per guest!)
2. Centerpieces and decorations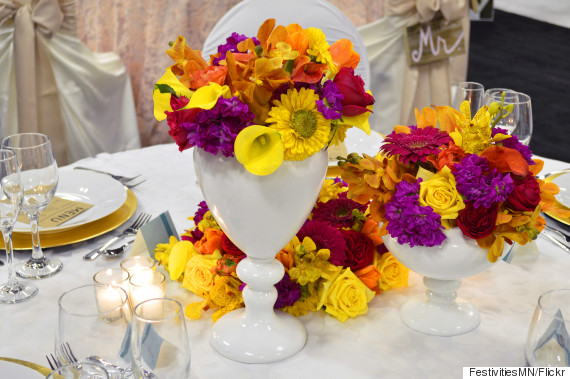 Flowers are a staple of wedding receptions -- but they also have the potential to be extremely expensive. Typically, florists give the option between tall arrangements and low arrangements to use as centerpieces, and by choosing low arrangements, you'll pay a fraction of the cost of the bigger ones. Simply add height to centerpiece arrangements using candles, unique vases or mason jars.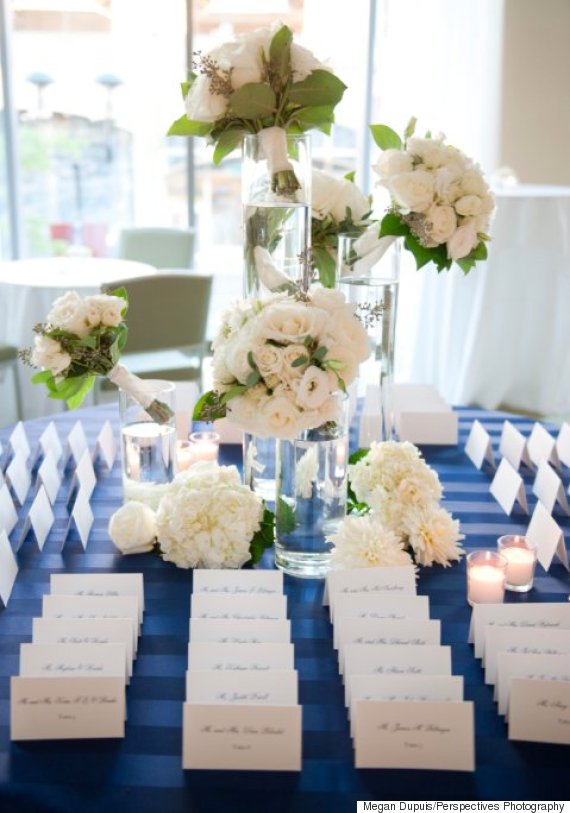 Another easy way to save is by recycling -- and repurposing -- your bridesmaid bouquets after the ceremony. Feature them (again) as your dinner table or cocktail hour decorations!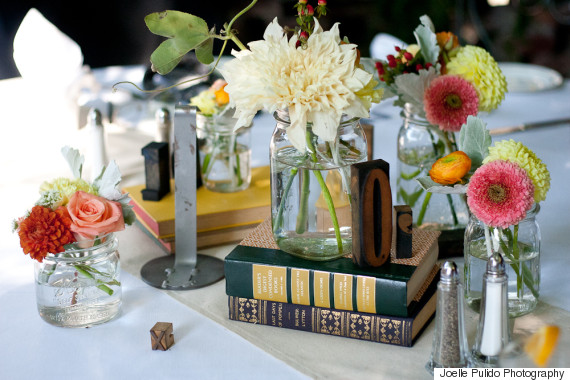 Want to ditch flowers altogether? Tap into your inner creativity (or simply browse Pinterest). Bookworm couples might find that old or antique books, tied together with ribbon or lace, make a unique and memorable centerpiece.
3. Place cards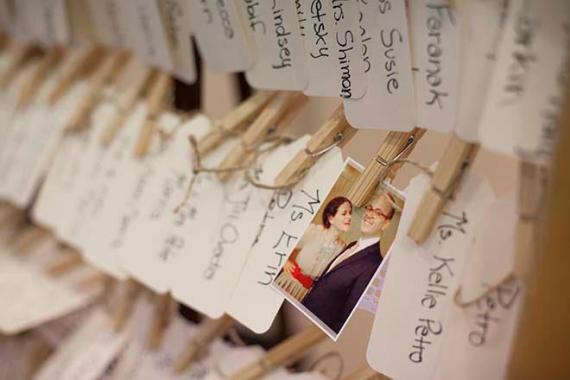 Place cards -- you know, the cute-sy cards that designate where your guests will be sitting -- don't need to be super fancy. After all, they're glorified name tags! Try a DIY craft, like these "clothesline and tags" place cards. Handwrite your guests' names on sizable tags and attach a clothespin that designates their table number. For an (even more) personal touch, intersperse photos of the bride and groom!
Things You Can Limit
4. Guests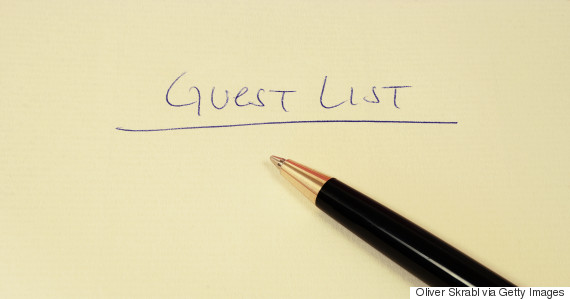 One of the biggest things you can do to control wedding costs is host fewer people. Sure, you might be so excited to get hitched you want everyone you know to be there -- but is it really necessary to invite the "nice" co-worker you exchange pleasantries with, but not much else? Will your friends' children fully appreciate your nuptials? While there are some fixed costs to weddings you cannot control, much of the reception scales linearly with the head count. That means with fewer guests, you'll spend less money on a venue, food and even decorations.
5. Food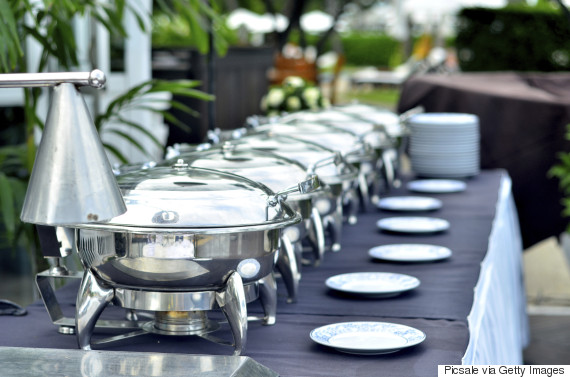 If your reception is held in the late afternoon, consider serving heavy appetizers instead of a full meal. For larger weddings, check the value of plated meals versus a buffet dinner. The cost will vary according to venue, but cheaper options may surprise you -- and doing your homework could save you a significant amount of cash.
As far as cakes go, remember that many of your guests will be too full of dinner to stomach a slice of their own. Ordering a smaller cake for show that serves a fraction of your guests, and fill the gap with a less expensive sheet cake. Another unique money-saving tactic is renting a cake. Yes, renting. Fake cake rental services like Fun Cakes deliver extravagant "display" models for the cake-cutting ceremony that are quickly whisked away before guests are served slices of inexpensive sheet cake.
Things You Can Do Differently
6. Buy an 'experienced' or simple dress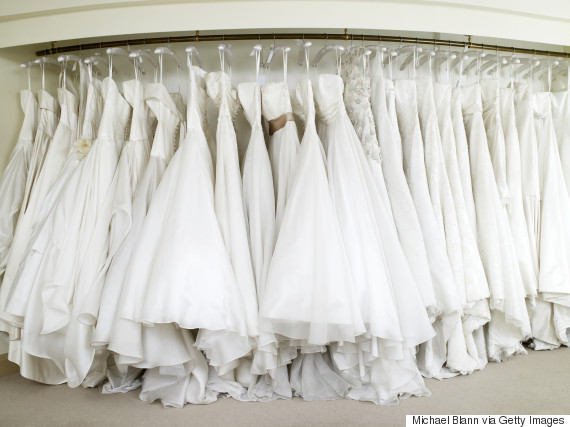 Sample sales, eBay, Etsy, Craigslist and resale stores are the holy grail of finding inexpensive wedding dresses. While brides may have to search a little bit harder than they would by simply visiting a bridal shop, the search will be worth it when you're boasting for years to come about how you spent less than $500 on your wedding dress.
The catch when bargain hunting, besides embodying detective-like tactics, is that your dress may have already been worn. If that doesn't bother you -- and it shouldn't! -- you can also search online databases, like PreownedWeddingDresses.com, for worn-before options.
If you don't feel sentimentally-inclined to keep your wedding dress past the big day (and your history of spilling food on yourself is sparse), renting your dress is another way to cut down on costs. Additionally, you can splurge on your dress and get your money back post-wedding by selling. There are several online outlets that can help you sell your gently-worn dress.
7. Embrace a new trend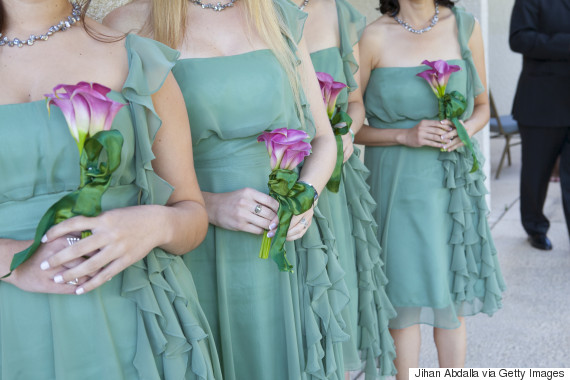 Give your guests a unique wedding experience that will keep them talking about the day long after they've recycled your save-the-date card by incorporating a new or up-and-coming trend into your big day. Cut costs on flowers by having your bridesmaids carry a single flower bouquet -- or even carry one yourself.
For a sure-to-be-buzzed-about music and dancing experience for your reception, offset the cost of hiring an entire band by combining a DJ with a single or multiple musicians of your choice. Services like these, called DJ Fusion by Bitton Events, offer package ensembles including a DJ, saxophonist, electrical violinist and drummer.
Life is infinitely easier with support and guidance. Now that you have the tools to embrace your future with confidence, let State Farm help you to protect it.
Calling all HuffPost superfans!
Sign up for membership to become a founding member and help shape HuffPost's next chapter