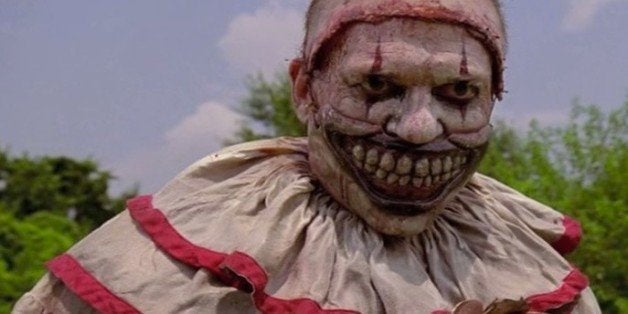 Theses guys definitely aren't clowning around.
Clowns of America International, a real club for amateur and professional clowns, is speaking out against "American Horror Story: Freak Show" for perpetuating an evil clown stereotype.
"We do not support in any way, shape or form any medium that sensationalizes or adds to coulrophobia or 'clown fear,'" said club president Glenn Kohlberger, according to The Hollywood Reporter.
Kohlberger's clown alter-ego, Clyde D. Scope, is described online as a "jollyoligist," but he definitely doesn't seem too chummy when calling out "AHS" for its character Twisty the Clown, saying Hollywood turns any situation that's good and pure into a "nightmare."
By profession, clowns are generally not taken seriously, but it's kind of hard to argue with Mr. Scope's reasoning about Twisty. "AHS" creator Ryan Murphy noted that he was worried the murderous clown was too scary for TV. "I'm worried that people are going to have cardiac arrests," he said. "The clown's intro in the first episode is … It's brutal."
The worst part about Kohlberger's words is that it may hurt attendance at any "AHS" party you throw, since clowns tend to fit a lot of people in very small cars. But, then again, if you're really freaked out by Twisty, you're probably not inviting a group of professional clowns anyway.