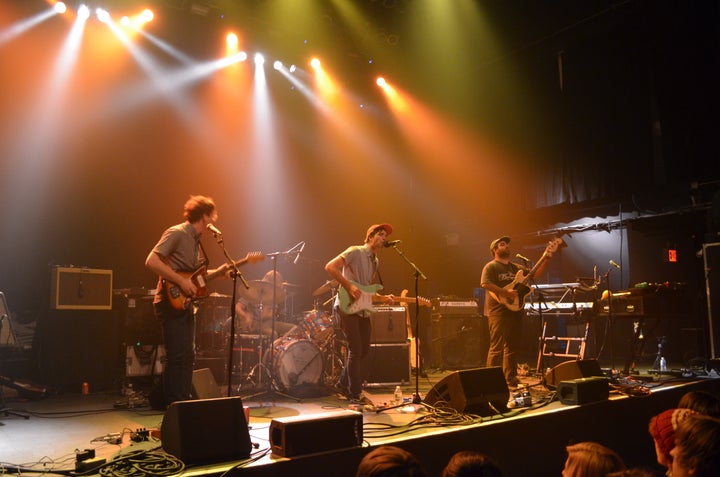 After many months of performing with his band all over the world, Real Estate frontman Martin Courtney eagerly wants to get back to writing songs.
"I think we're all itching to be creative again," Courtney told me backstage before his band opened for The Shins at Terminal 5 on Tuesday in New York City. "I gotta write some new songs. I want to try and record a lot of demos, but it's a slow process."
Real Estate, a psychedelic-pop band that played its first show in 2008, is a young band -- its members are all still in their early-mid-twenties, but the band has rapidly grown in popularity in the past two years among indie rock enthusiasts.
Aside from being written up in Rolling Stone, both of the band's full-length albums received the much-desired "Best New Music" label from hyper-critical music site Pitchfork.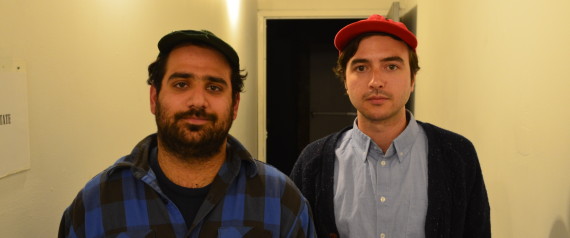 The rock-star lifestyle: Although too many nights on the road have taken their toll, Real Estate guitarist/frontman Martin Courtney (right) and bassist/vocalist Alex Bleeker (left) are energized to write their new album.
Add that to the fact that the five young men from Ridgewood, NJ, have played at music festivals in Spain, alongside bands like Radiohead at Coachella, and with their childhood heroes, and you've pretty much summed up every young musician's fantasy.
But instead of letting it go to their heads, the band still prefers playing smaller, nontraditional venues, with appallingly low ticket prices and no age restrictions. Even at Coachella, they felt like "a cog in the wheel of the machine," said bassist/vocalist Alex Bleeker. "It was eye-opening in a certain way."
Even now that Real Estate is able to play bigger gigs where they can earn substantially more money, they often choose not to. Until recently, the band advertised on its Myspace page that you could invite them to play a show at your house, for free. In January I saw them play at a Chinese restaurant in Queens, NY, where tickets were $5 and beers were $3. In New York City, prices that low are almost unheard of.
"We like doing that because it's more community-based," Bleeker told me. "Terminal 5, I mean, everyone plays Terminal 5."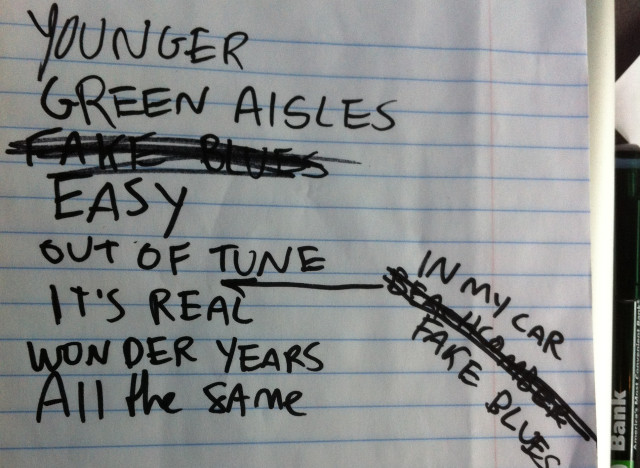 The band's setlist for their show at Terminal 5, where they opened for The Shins.
When I was taken to meet Courtney and Bleeker backstage at Terminal 5, they were in a cramped room with a number of other people, with pizza boxes and soda bottles on the coffee table and a faint odor of marijuana in the air. During our interview an unshaven Courtney was nursing a cup of tea, and Bleeker, in a slightly-rumpled flannel shirt -- when he wasn't answering a question -- was often glancing anxiously around the room.
Not that they're complaining. They're just excited to finally sleep in their own beds again, at home in Brooklyn where they all live, practice and will write their next album.
UPCOMING TOUR DATES: May 4: Boston, MA – Wang Theatre % June 2: Primavera/Barcelona, Spain June 4: Forbidden Fruit/Dublin, Ireland June 27: Electric Ballroom/London, England June 28: Hove Festival/Tromoya Arendal, Norway July 14: Forecastle Festival/Louisville, KY July 15: Pitchfork Music Festival/Chicago, IL August 2: Belly Up/Solano Beach, CA August 3: Henry Fonda Theatre/Los Angeles, CA August 4: Woodist Festival/Big Sur, CA August 9: Mass Moca/North Adams, MA August 10: Paradise Rock Club/Boston, MA August 11: Webster Hall/New York, NY August 12: 9:30 Club/Washington, DC