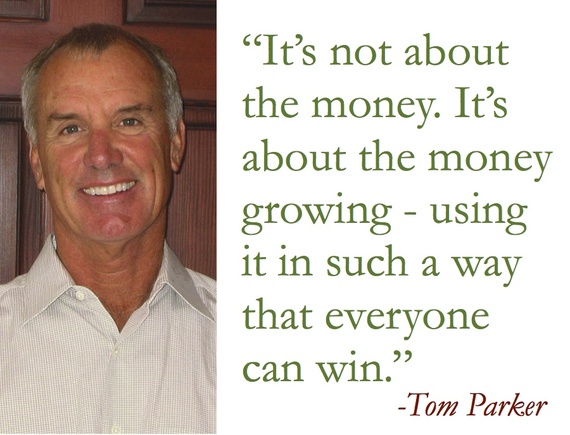 The idea of a philanthropic landlord is a mind-bending oxymoron. But the man who turned commercial real estate into a tool for philanthropy says the basic concept is simple:
First, use private foundation money to buy commercial buildings at a discount (paying cash), then rent them at a discount to nonprofits.
Welcome to real estate philanthropy, Tom Parker style.
Under Parker's leadership, the California-based Hutton Parker Foundation owns and operates 16 nonprofit office buildings (15 in Santa Barbara County) - with nearly 100 nonprofit tenants. The rents are below-market, but the cash flow brings liquidity to the foundation, helping to fund a total of more than $50 million in grants. Unlike many foundations, Hutton Parker makes most of these grants for operating expenses - not new programs.
"Tom understands that physical environment is often a powerful yet largely overlooked facilitator of collaboration among nonprofits," says Ron Gallo, CEO of the Santa Barbara Foundation. "His real-estate based philanthropy has not only made possible a stable and affordable home for dozens of nonprofits, it has given them the physical and psychological space to think big, think together, and reach for greater impact."
Now Parker wants to bring together Santa Barbara's colonial past with its charitable future.
The foundation has bought the Hill-Carrillo adobe at 11-15 East Carrillo Street in the heart of the resort city. Built in 1825, the state historic landmark was once home to the Santa Barbara Foundation. Union Bank currently holds the lease, but when that ends, Hutton Parker will create a "foundation center." Parker says it will allow 4 or 5 private charitable foundations to pool resources and reap networking benefits like startups in a tech incubator.
"We will share receptionists. We will share an accountant. We will share software. We will share things together, be able to be more efficient and save money so we can grant out more. And have it all under one roof... It'll be an opportunity to see if we can work together. And I know we can."
"The arts groups have worked together in ways I had no idea [they would] - they even share development together, they share ticketing, they talk to one another constantly. It's been great... Foundations can do that same thing. So we need to walk the walk I've asked nonprofits to do."
Ask anyone involved with the nonprofit sector in Santa Barbara and they will tell you Hutton Parker is one of the most innovative funders in town. Creative is the word they use to describe Tom Parker.
Parker rejects the praise. He says it's just in his nature to "find a better mousetrap."
For him, philanthropy boils down to a philosophy of life. He says:
"It's not about the money. It's about the money growing, using it in such a way that everyone can win... I always understood from the macro sense that things need to be in balance. If money is in too few hands, it doesn't work - capitalism doesn't work. It implodes. I understood all that. So... okay, recirculate wealth."
Parker's philosophy fits with what he calls his "process" - a never-ending quest to use his natural business talent to produce a more elegant solution for his community. In this the Hutton Parker Foundation rides a growing tide of impact investing - a hybrid form of philanthropy that seeks social impact and a financial return.
"See this, he says, holding up a sheet full of numbers describing one the foundation's investments. "This is my music, too. This takes my brain into a place that takes all this stuff and gives me a simple conclusion... It's fun for me. So my thing on philanthropy is so much different than someone who feels like there's this homeless shelter and they are focused on helping the homeless because they feel it in their heart. I feel this," he holds up the sheet of numbers again, "in my heart." He laughs. "It's just how I've grown up probably. It's how I get fed."
A butcher's son, Tom was born in Santa Barbara and grew up here, attending local schools, starting with Franklin Elementary. A bachelor's degree and an MBA from Cal Lutheran University followed before he became successful developing commercial real estate.
That for-profit experience planted the seeds of his nonprofit success.
As President of the Hutton Companies in the 1990s, Parker faced a challenge. A Hutton-owned high-rise in Riverside was only 20 percent occupied and seemed destined to stay that way. Then Parker had an epiphany. He sought out the biggest law firm in town and offered the firm 30 percent equity in the building in exchange for signing a 15-year lease. The firm would fill about 60 percent of the building. The firm would also pay rent increases of 5 percent a year, but it would pay absolutely nothing for its part-ownership of the building. So why give up equity?
"The building has no value," says Parker, explaining his strategy. "It's only the tenants that bring value to anything. Only that cash flow. Why not share the upside of that cash flow if the tenants are eliminating your risk?"
The Riverside deal proved successful. And he repeated similar deals with other vacant buildings - except this time with a 51-49 percent equity split. Everybody won. And Parker built wealth by sharing wealth.
Parker altered this formula when the foundation opened its doors in 1996, after the death of Betty Hutton. Ever since then, he's been sharing the foundation's wealth to build community (and the foundation's endowment). But always as an astute businessman.
"Once you do it, people say well that's really creative. No it's not. If you could take money in a foundation and instead of giving it to Wall Street, go buy a building, get a hell of a deal, all cash. Almost double your money the day you buy it. Turn around, lease it to nonprofits at 5 percent, which is better than a bond is going to get. Which still makes the foundation money. Plus the asset appreciates. I mean, how fundamentally simple is this ... I won't take risks. It's not a part of me. I don't need to take risks... It's like one block on another."
Parker feels so passionately about this approach he wrote a book about it. Co-authored by Michael Bowker, it's called The $100 Million Secret (2014, Kele Publishing). He also travels the country giving speeches to other foundation leaders. The basic message: investing in community works - whether you are looking at your mission statement or your financial statement.
At the end of my interview, I asked Tom Parker to offer some advice to people engaged in philanthropy and those simply interested in giving back in some way. This is what he said:
"There are so many nonprofits. Find one whose need matches your skill set... If you are an artist, there are so many nonprofits you can help. If you are a musician. Fiscal things. Medical things. Construction. Whatever it may be. Nonprofits need those skills."
Parker does not hold with the give-till-it-hurts philosophy of philanthropy. Making a difference "feels good," he says.
And what makes Parker feel good is using his business mind to get philanthropic results.
"I love the nonprofit sector. I love the recirculating of wealth through choice and through engagement... This process -- to feel like I'm producing, I'm moving forward - is what gives me nourishment."
Calling all HuffPost superfans!
Sign up for membership to become a founding member and help shape HuffPost's next chapter