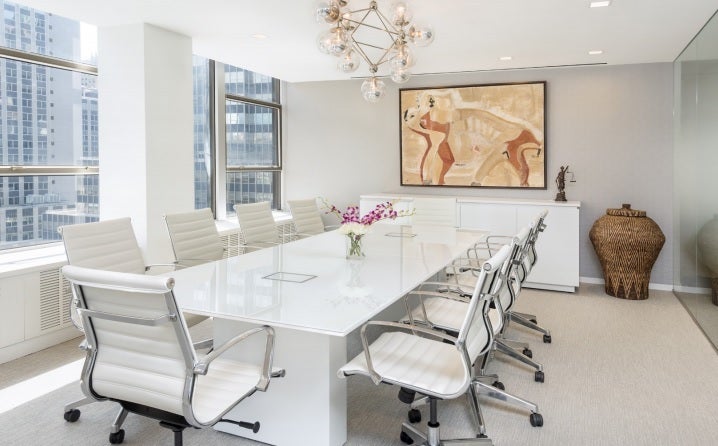 Today's office spaces look dramatically different than generations past. Health and wellness trends are making their way into the workplace, and with it, stunning, practical designs like the standing desk and pieces designed with ergonomic considerations have emerged. While we used to focus on where we get work done, the mindset has shifted focus on the work we do, rather than where we do it. Thus, enters the trends of co-working, remote work, and full-time consultants in place of a permanent workforce.
What does that mean for office space and the pieces that fill it? Well, according to a recent study conducted by CBRE, it means a lot, specifically when it comes to law firms. According to Jamie Georgas, Global Chair of CBRE's Law Firm Practice Group, "Law firms are optimizing their real estate portfolios to avoid excess expenses on antiquated workplaces that value space per attorney over client and employee expectations. To minimize risk around uncertain headcount requirements, many law firms are focused on creating agile workplace strategies through configurable office design and flexible lease structures."
In terms of space, law firms are looking to utilize space more efficiently, with strategies to reduce square footage by 27 percent on average. Interestingly, market predictors are indicating the same trend across the board, with Colliers International's Q4 2016 U.S. Office Market Dashboard expecting key markets like Chicago, Charlotte, Houston, Los Angeles, and Washington, D.C. to experience an increase in vacancies through year-end.
CBRE estimates that nearly 29 million sq. ft. of law firm leases will expire between 2018 and 2022 in the 26 markets studied. It is anticipated that more than 70 percent of these expirations involve requirements of more than 50,000 sq. ft., and are likely to see at least some space contraction as part of renewals and/or new leases.
These firms are choosing unique tactics to do more with less. According to CBRE, some of more common strategies being adopted or considered by law firms include:
Shifting from two-sized offices (typically 15' X 15' for partners and 10' X 15' for associates) to glass-fronted, one-sized offices with seniority recognized by location, not size.
Putting less emphasis on grand, ceremonial client spaces and more emphasis on functional meeting spaces.
Orienting the reception area around hospitality, with concierge services and hosted events.
Transitioning cafeteria space from merely a place to eat to a place to socialize, in a prominent area along a window line.
Creating smaller, on-demand meeting rooms with interactive technology scattered throughout the practice area.
Adopting a paperless file storage strategy.
The most inspiring takeaway from these strategies is that the furniture industry has, in a way, predicted these trends for quite a while. For example, we've been creating unique ways to furnish co-working pods, on-demand meeting rooms, and open-floor concepts for years. Transitioning from a 15' x 15' office to smaller work spaces that appropriately account for acoustical concerns, privacy considerations and of course, an attractive design? No problem – that's our bread and butter. However, like anything else in today's society, we can't stagnate. Yes, we've done a great job of "predicting" these trends, but where do we take it next? How do we stay ahead of the curve?
Recognize that markets are changing.
According to the CBRE report, "More than half of these [lease] expirations are in New York, Chicago, Washington, D.C., and Houston, where there are heavy concentrations of Am Law 100 firms with average leases of 125,000 sq. ft. New York and Chicago are in an extended period of rent growth and declining vacancy, making portfolio optimization critical. Washington, D.C. continues to soften as concessions have steadily increased. Houston remains burdened with an oversupply of sublease space due to the energy industry downturn, and could be particularly attractive to firms looking for lease savings to invest in capital expenditures." This means planning for fluidness in these markets, and adjusting accordingly.
Develop partnerships for the new environment.
Across the industry, we're seeing positive changes toward the adaptation of these trends. Contract furniture has begun embracing eCommerce. Industry leaders are banding together to discuss what's working within the furniture industry, and where there's room for improvement. The conversations are happening. Join them.
Accept the change and grow with it.
While we all loved the days of furnishing a complete office building from the ground up, adjusting to these condensed spaces can be a unique and challenging endeavor. The ability to create well-thought out spaces that adjust to the current and future needs of our clients is an art, and one that requires a vast understanding of the changing atmosphere as well as foresight into future needs.
Julie Whelan, Americas head of occupier research, CBRE leaves us with this, "By fostering a modern workplace with a collaborative, inclusive, and social environment, [we] can promote knowledge-sharing between generations to aid in succession planning and use their office space as a competitive differentiator when recruiting talent."
This article originally published in The Business of Furniture, a division of Bellow Press on November 22, 2017. It is republished here with permission.
About the author: Amanda Schneider, LEED AP is a researcher, blogger for the Huffington Post, and the founder of Contract Consulting Group, a research led strategy firm serving the contract interiors market.
Calling all HuffPost superfans!
Sign up for membership to become a founding member and help shape HuffPost's next chapter
This post was published on the now-closed HuffPost Contributor platform. Contributors control their own work and posted freely to our site. If you need to flag this entry as abusive,
send us an email
.