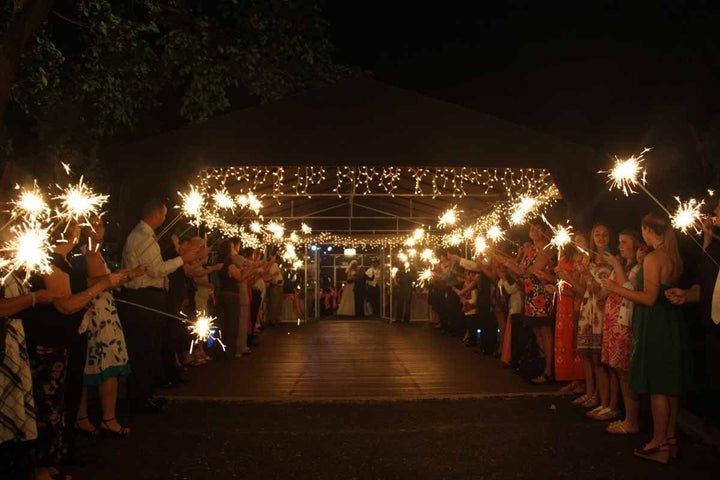 Want real fireworks on your wedding day? And I don't mean just the ones that should be going off in your mind when you and your new spouse kiss and seal the deal. Real fireworks that you light with a flame and that explode in the air? Most places you get married, you can have fireworks if you want them -- if you can afford them, and the permits and insurance that go along with them. Or you can go the budget route and get just as many oohs and ahhs with sparklers.
Don't misinterpret what I'm saying -- these are NOT your typical 4th of July sparklers that you remember swirling in the air as a kid for 45 seconds before they burned out, leaving you feeling somewhat unsatisfied and holding a burning hot rod. These are super-duper, extra long, available in a variety of colors sparklers and they are really, really cool. Wedding sparklers (and I'm going to call them that because there's nobody to tell me I can't) are getting better and better every day. In fact, we used 36" sparklers for a special entrance and first dance for a November wedding, and I kid you not, those suckers were still burning halfway into the daddy/daughter dance that followed the official first dance.
If you have an outdoor venue like we usually do down here on Vieques Island in the Caribbean, you have a million options of what exactly to do with the sparklers -- welcome tunnel when the bride and groom arrive or departure tunnel when they leave? Or maybe you do them for the dances, surrounding the entire dance floor space with exploding light? Check out some of the pictures I've included from recent weddings where the bride and groom had a sparkler event and you can see exactly what I am talking about.
There are a few tricks to using sparklers properly at your wedding -- and don't sit there and groan as you read this -- I am entirely serious. Sparklers can be dangerous in the hands of inebriated, excited wedding guests. Here are a few tips to keep things safe:
Light the sparklers for the guests and hand them out. Don't let them light the sparklers off each other, their cigarettes, or God forbid, the big tiki torches surrounding the venue. All are a recipe for disaster. Have plenty of staff on hand with long lighters or get totally brilliant like one of my caterers taught me and use the crème brule blow torch instead and light 20 at a time to distribute. Not only is it effective, but it's cool looking and distracts the idiots who want to light their own.
Have staff strategically positioned around the venue area with buckets that have water in them so that as the sparkler burn out, your friends can be quickly disarmed and nobody drops the burning stick on the ground for another wedding guest to dance across in bare feet. Might sound a little silly, but I have VIVID childhood memories of stepping on hot sparklers on the beach on 4th of July and I never want to see a wedding guest go through that experience!
When the sparkler event is over, put away the extras. Don't leave anything out where some ingenious guest can try to restart, literally, the party with sparklers. Don't think they won't try -- an unused sparkler to a drunken wedding guest is like Godiva to a chocoholic. Why tempt fate?
Always have a fire extinguisher on hand when you let people play with fire. 'Nuff said.