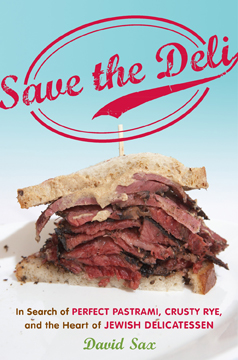 Not too long ago I discovered an article on the Atlantic Food Channel called, "Why I Want To Save The Deli". It was written by journalist and deli-obsessive, David Sax, who was coming out with a new book called Save the Deli. The article spoke to me in a language I completely understood; it triggered something in me -- a call to action -- so I called his publicist right away for an advance copy of the book.
Save the Deli chronicles David's travels throughout the United States as well as Canada and Europe in search of authentic delicatessen. He documents the histories, the characters, the food and how it's made (in glorious, mouth-watering detail). He also discovers where it still thrives, where it's in decline, and where to go for particular dishes. It's part history, part travelogue and the "Food and Yiddish Appendix" in the back is worth the price alone.
What I love about the book is that it's written with such enthusiasm and heart! He captures the very essence of deli culture -- the intoxicating smells, the one of a kind tastes, the tumult, the noise, the wise-cracking waitresses -- which is a huge part of the Jewish experience that I knew and loved growing up. It wasn't until I read this book that I realized that as deli culture dies, a piece of my own history dies along with it. I want to save the deli, too!
A little background: I grew up in Chicago with a grandfather from Kiev, Russia who would take me to the original Ashkenaz Deli and Romanian Deli, both in Roger's Park. I would hand-pick my own pickle from a giant barrel (a ritual inconceivable today in a culture dependent on sanitizer gel) and stand in line and order a hand-sliced corned beef sandwich from the countermen who knew my grandparents by name. My father used to take me to the old Berwyn Fisheries on Sunday where they smoked everything in-house and we'd take home fresh rye, bagels, smoked chubs (whitefish), sable and sturgeon. I will never forget the smell in that place -- it was like breathing ice, smoke, fat and fish all in one breath. Pure heaven. So, I'm a die-hard deli lover if there ever was one.
And I have to say it breaks my heart that most children today haven't been indoctrinated into this world of deli foods and smoked fish. How can you thrive on a diet of chicken fingers? I mean really? And what kind of person do you become when you're exposed to such a narrow spectrum of foods and homogeneous eating experiences? (I'll save this topic for another time)
Anyway, I had the chance to interview David last week while he was on his book tour. He'd just gotten back from a morning visit to the White House! While there, he discovered that feet away from our President's inner sanctum in the office of special adviser, David Axelrod, are three photographs from Manny's Delicatessen here in Chicago including a shot of a knish and a pastrami sandwich and one of the legendary counterman, Gino. They were sandwiched (pardon the pun) next to photos of world leaders! Is that a hoot or what? It's amazing what a deli can do.
I feel like delis are a part of my personal history and I am nostalgic about it but frankly, I'd just be devastated if I couldn't get a bowl of matzo ball soup or a great corned beef sandwich with chopped liver on a whim. To me, that would be a huge loss. So how do you save the deli? This is where our interview began:
RFR: How do you hook a whole new generation on to deli food?
David Sax: I don't see it being any different from Southern Barbecue or something like that. If you told people ten years ago there'd be this rash of new Southern hipster barbecue joints they'd say, "Whaddya crazy? Barbecue?" The difficult thing is, a lot of delis open up and say, "It's going to be like old New York, it's going to be like delis used to be", and there's only so much you can do with a nostalgic bent and I think when you do that you don't necessarily capture that younger generation. You're selling it to the older generation.
I think for the places that are going to save the deli, they're going to be the ones who bring it into the new and they're not going to do it with wasabi meatballs or sliders, they're simply going to do it by being true to themselves and by raising the level of quality; going back to the way that things were prepared, without pandering to that same sense of lost history. They don't need photos of old New York or Maxwell Street on the wall, but they do need to cure their own stuff and stop bringing stuff in from outside. People from our generation who love food, they respect that more than anything. That's the best hope we have right now. And there are only a few places around the country that are doing it that way. I think we'll see more of it in the coming years, I hope to; because delis have tried to branch out and franchise and it took away from their soul and detracted from the original locations. They also tried to open it up to other types of food which drained away the authenticity of it and it hurt the traditional foods. You can't claim to make matzo balls and deep dish pizza really well, you've got to pick one or the other.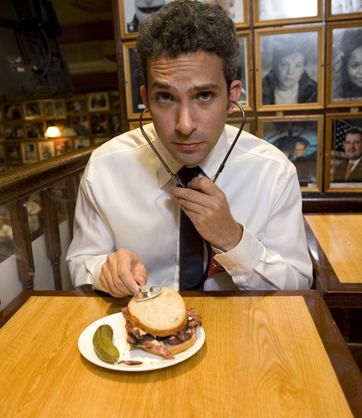 RFR: So who's doing great quality, artisanal deli in the States?
David Sax:The most interesting one I saw is Kenny & Zuke's out of Portland, Oregon. It's two guys, one was a food blogger, the other one owned a restaurant. One said to the other, "Hey, there's no good pastrami in Portland, whaddya say we make a good pastrami and sell it at the farmers' market and see if it sells." So they did and it sold out in ten minutes. The next week they came back with twice the amount of pastrami and they sold out in twenty minutes. They were smoking it in a barbecue smoker and curing it in barrels. So, then they started to do a Deli Brunch at his restaurant and it got so big they decided to do it full time.
They opened up their deli two years ago and it's doing incredibly well. They bake their own bread and bagels every morning in house, they smoke their own pastrami in a smoker with oak that they split with an axe in the basement and even though Kenny is from New York, they don't call themselves a New York-style deli. They're a Jewish delicatessen.
RFR: Have you ever felt as passionately about anything as you do deli? What's next for you?
David Sax: This started out when I was at university, so this has been a passion project for me for a number of years. I knew I was getting into journalism and I always knew I was going to write this book. And what's next is certainly undecided, but it's most likely not going to be about Jewish food because I just feel this one really came from the heart and I don't want to do anything just for the sake of, you know, "...now we can capture Jews 18 to 35 who like bagels." I'm not a food writer and I'm not a food critic and there are a lot of people who are and I think what interested me about this wasn't, "Oh this is a better sandwich and this is the best sandwich," it was the culture and the evolution of it and the business and the people that are within it. Maybe it will be something else Jewish, maybe it will be something else entirely. As of now, who knows?
JOIN ME AT THE SAVE THE DELI EVENT
Manny's Delicatessen, Chicago's most famous Jewish Deli, will be hosting a reading with David Sax this Thursday, October 29th at 6pm. Manny's is located at 1141 South Jefferson in Chicago. I will be there so please join me!
(c) 2009 Dana Joy Altman, Real Food Rehab, inc.
Related