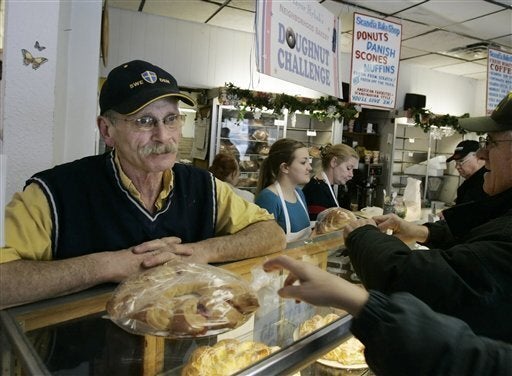 As political weapons are sharpened for another historic showdown over health care reform, it's important to talk about what this debate means for tens of thousands of workers like Dick Rogers, a 28-year member of the International Brotherhood of Electrical Workers Local 1837 in Manchester, Maine.
Rogers is a first-class service worker at Central Maine Power, one of those hearty souls who climb utility poles looking for trouble and fixing it.
CMP is a subsidiary of Energy East, which is owned by Spain-based Iberdrola, the world's fourth largest utility company and the international leader in developing sustainable energy
Local 1837's contract with CMP expired on May 15. The company is demanding a big bite out of Rogers' and his co-workers' health insurance coverage. But Rogers and his co-workers already spend more than $3,000 per year for family medical coverage, with high deductibles for hospitalization. They are fighting back.
A member of the negotiating committee, Rogers is organizing informational picketing in cities and towns across Maine. He wants the state's citizens to know that if CMP further slashes health care benefits; the burden could fall back on taxpayers as workers start to qualify for state-subsidized health insurance.
CMP is striking back with a public relations campaign of its own. The company argues that its workers are well-paid, citing the example of linemen, who, they say, average $74,000 per year in wages. That's enough, say the executives, for them to help share cost increases in medical benefits.
But CMP's example is misleading. Linemen, who constitute only 20 percent of the utility's work force, average 600 hours of overtime per year. They climb utility poles and make dangerous high-voltage repairs in snow storms, ice storms and other weather emergencies. What is this kind of work worth? If your son or daughter or loved one worked for a utility company, what kind of health insurance would they deserve?
Now consider the financial condition of the company that's driving the hard bargain at the table.
Iberdrola's worth in 2007 was $70 billion, approximately the same value as Verizon Communications Inc., the largest U.S. telecommunications company. In 2008, Iberdrola's revenues were $36 billion. CEO Jose Ignacio Sanchez Galan's salary is a secret, but his contract with Iberdrola -- covering his total compensation -- is nine pages long.
For amusement Galan heads up the company that sponsors Spain's entry in the America's Cup. The yachts cost an average $150 million.
Back in Spain and in many of the 40 other countries where Iberdrola has utility investments, health care insurance is a government-provided benefit.
No doubt, health care costs at CMP -- which made $55 million in profits last year -- and at other Iberdrola locations in the U.S., are rising too fast. It's a problem that needs to be addressed. Iberdrola, which is seeking between $400 and $500 million in U.S. government aid for wind energy projects, prides itself as a company that respects workers' rights. Why, then, can't the company deal with health care costs without making Energy East's employees the scapegoats?
Unfortunately, Iberdrola is not alone. Profitable utilities like Florida Power and Light and FirstEnergy and telecommunications giant AT&T are also exploiting the economic crisis, leveraging for major cuts in health care benefits.
Galan hires the best lobbyists to overcome resistance in getting permits for new utility construction. Wouldn't it make sense for Galan to assign some of his lobbying heavyweights to help win meaningful health care reform to reduce costs here in the U.S.? Wouldn't that be a better way to enhance his firm's profitability in the long haul?
Dick Rogers and millions of American workers deserve real health care reform, not short-sighted take backs from companies that are flush with cash, but low on vision.
Popular in the Community