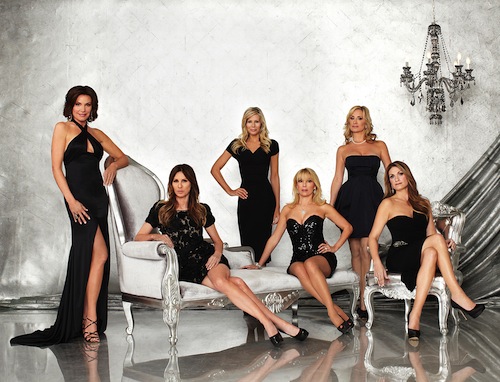 If being a "Real Housewife" is all diamonds and rosé, being a replacement "Housewife" is bit more like... jellybeans. Take Peggy Tanous, who joined the cast of the mother ship, The Real Housewives of OC, for its sixth season in 2011. Bringeth the drama she did not, so Peggy was demoted to "Friend of a Housewife" for the following season. Dana Wilkey had a similar fate on The Real Housewives of Beverly Hills when she was brought in as a "friend" during the show's second season, only to see fellow "friend" (but not friend -- let's be clear) Brandi Glanville become the show's second-wind breakaway star.
But no franchise has had more difficulty with that 'ole routine maintenance than The Real Housewives of New York City. When Bethenny Frankel successfully crossed through the mythical reality star ether with her SkinnyGirl Cocktails (sold to Beam Global for an astonishing $120 million in 2011), she opted to depart the show at the conclusion of the third season, leaving behind an undeniable void. For Season 4, Cindy Barshop was brought in to be the sassy, downtown, single mother of twin baby girls, "juggling it all." Viewers let out a collective yawn, and suddenly Bravo was faced with the prospect of making room in the Housewives graveyard (to this date, a lonely plot, occupied solely by The Real Housewives of DC).
And then came the reboot. In September 2011, Bravo announced its amicable parting of ways with Ms. Barshop, Kelly "Honestly, if being inauthentic means graduating from Columbia University, writing three books, starting two magazines, bearing two children, being the ambassador for wool, running a marathon for charity -- if that's inauthentic? Tell me what authentic is" Bensimon, Alex "You are in high school and I am in Brooklyn" McCord, and fan-favorite Jill "You are an effing bitch" Zarin. Quietly entered the new class: Heather Thomson (another shapewear designer), Carole Radziwill (Emmy-winning journalist and author), and Aviva Drescher (philanthropist).
Everyone was getting along all fine-ish until Slutty Island (aka St. Barths) when the almighty Ramona "Pinot Grigio" Singer got into it with newbie Aviva. Sparks really flew off the handle when Ramona claimed Aviva's husband Reid was not expected upon the couple's arrival at St. Barths for their girls trip. Words were had. Aviva infamously called Ramona white trash. Ramona infamously told Aviva to take a XANAX!!!!!!! The fight propelled the remainder of the season's dramatic arc, earning Aviva a coveted seat directly next to Andy Cohen during the reunion (a seat occupied by Bethenny just two seasons earlier).
Aviva quickly earned her place in the 'Housewives' pedigree going tow-to-tow with Ramona, all but assuredly securing a spot on the show's still unconfirmed sixth season. In the off-season, besides raising her four children, Aviva spends a great deal of time promoting various charitable organizations. When we sat down, Aviva was shooting an ad campaign for The ShineOut Musical Festival, a three-day LGBT music festival happening this October in NYC. Aviva, a straight ally, donned a "SO STRAIGHT SO SUPPORTIVE" T-shirt for the campaign.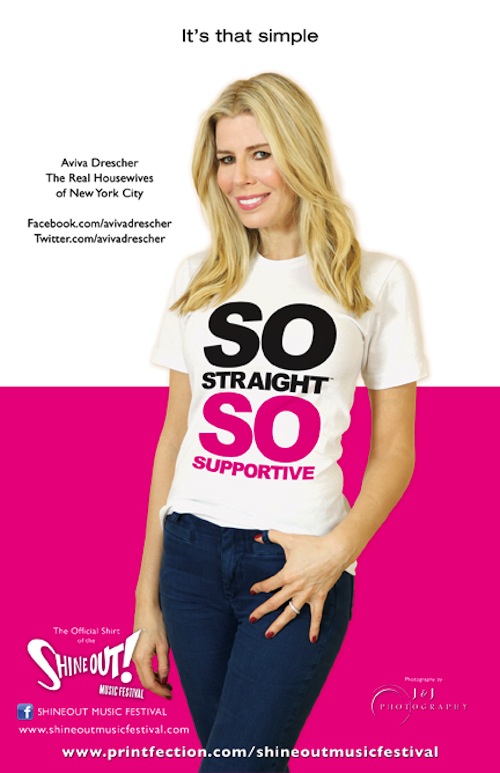 After the shoot I sat down with Aviva to talk equality for all and, of course, some Housewives prattle.
Viva Aviva! Talk to me about how you got involved with the ShineOut Music Festival and what it means to you.
Well, I had met the people behind the campaign, Darren Melchiorre and Chris Ryan, and I really believed in it. And for as long as I can remember, I've always been an advocate for differences. I'm an advocate for amputees and physically challenged and I believe that that goes right into celebrating people's differences.
I was listening to you talk to your children earlier, and you said, "We're here today because gay people deserve to happy just like everyone else."
Everyone should feel good about themselves. Whatever it is, own who you are: The good, the bad, the ugly, the different. Nobody's perfect. Gay, in my opinion, is beautiful. Love is beautiful. And we should celebrate it all. My husband and I don't care about who's bonking who. We care about kindness.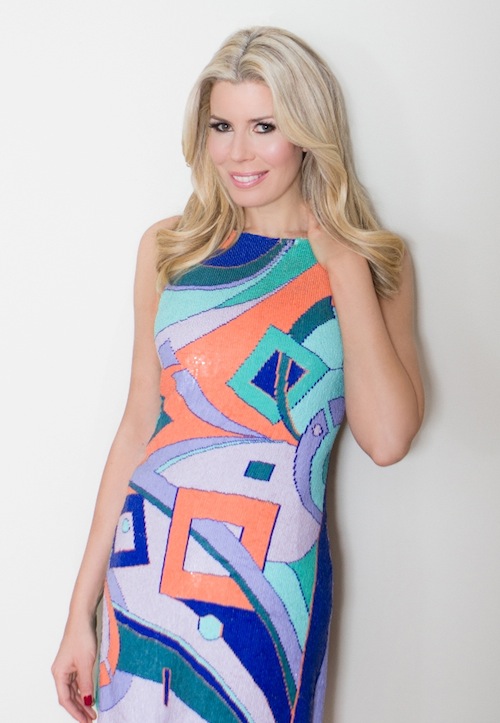 I like that. Now, you and your husband must have had quite a year. How has your life changed since joining the ranks of a 'Real Housewife'?
Well, for starters, a lot of people stare at me.
I anticipated change, but I really didn't know what was going to happen. I expected worse, actually. Now I have to give myself 10 minutes before I go some place because people want to stop and get a picture or an autograph. But I feel like if you put yourself in a public light, no matter what, you have an obligation to give people that time.
And these people are honest-to-god superfans. They really seem to invest themselves in the well-being of you ladies.
They really do. It's an incredible phenomenon, this piece of pop culture. It's been an exhilarating and life-changing experience because I've been able to get the word out there to amputees and physically challenged and it's also opened up many doors for me. I have a lot of projects going on.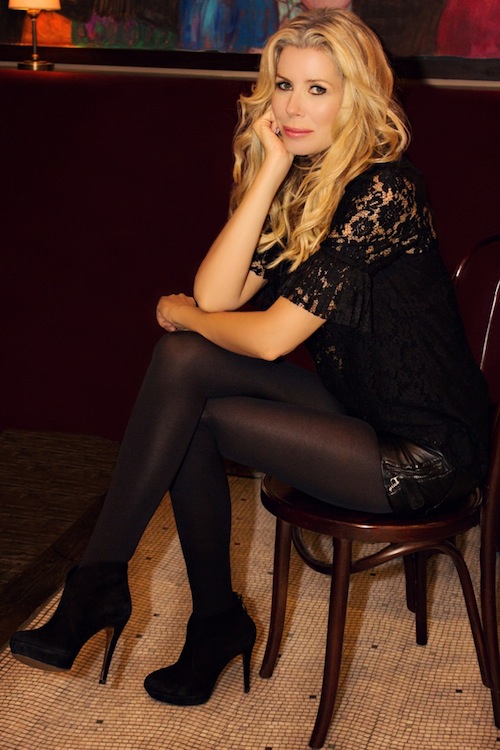 And then there's the social media.
Oh yeah. The whole social media thing is a complete mind F-U-C-K.
I've been following some of the RHOBH on Twitter recently -- which is new for me -- and the way they attack each other...
Oh, they do? You know, "Housewives" have been called narcissists, and I've thought a lot about that. A friend of mine who works with celebrities, told me she'd never seen anything as narcissists as the entire "Housewives" franchise. But there's no one else, besides reality stars, who put their lives on camera for everyone to dissect. That makes you a little self-conscious. I think the "Housewives" that are responding on social media in an off-color way are probably just feeling defensive.
Which makes total sense if you feel like you're being backed into a wall.
I have a whole new respect for actors and real celebrities -- you know, we're just phonies -- because it's not easy. My favorite "Housewife" is always the one who puts herself out on the line for the sake of a good show. Any "Housewife" that drums up the drama has tremendous courage and is really putting themselves second for the franchise. 'Cause you're going to get beaten up no matter how you spin that wheel. Right now I really admire Brandi [Glanville] because I think that she's got guts. It's so much easier to just sit there and be quiet and not get involved in the drama and the minute you get out there -- and she's really radical -- you know you're making a great show. And believe me, she's going to get pummeled.
Do you have a favorite "Housewife"?
I love Lisa Vanderpump. I love Heather Dubrow. I think she's very chic. On my show, I honestly love the whole crew.
Oh, you do? Let's get into that. Do you hang out with them when you're not filming? I think that's the question people always want to know.
We do. As much as time permits. When we're filming we have, like, no life, so when we're not filming, we want to work on our projects, we want to be with our families, we want to get back to regular life. But we do get together. I had dinner with Heather two weeks ago. I'm going to see Carole in the next few weeks.
Is the dynamic different when you hang out off camera?
Well, we're able to break the fourth wall. If we're on camera, we can't talk about being on camera. When we're off camera we can actually talk about the business. In that way, it's a little bit more authentic. You can't get on camera and say, "So what do you think about all these cameras around us all day?" It's a bond that we share. There's only like, 35 "Housewives" in the country. It's an experience that's incomparable.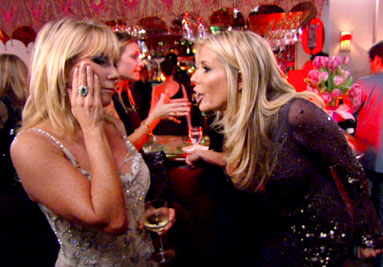 Where do things stand with you and Ramona?
We're not speaking. At all.
When the cameras aren't rolling, are things as fiery and confrontational between the two of you?
First of all, a lot of time has passed and time heals all wounds. I will bump into her at an event. So we'll be on the red carpet together here or there and we're totally civilized. We're not uncivilized people. When you're seated at a table with somebody that you're not really fond of, you just don't talk to them. One thing I've noticed about "Housewives" is that there are spies everywhere.
And "Housewives" live to trash tweet.
I'm really a rookie, so when it was airing and Ramona would say things, I would actually get really annoyed. She did some things that were insensitive and I would respond to it on Twitter. And I know realize that that was completely stupid.
It's tough, though, because if you don't weigh in, you might feel misrepresented.
It's that old adage: What do you do when you're attacked, is it eye for an eye or do you turn the other cheek? I have not been hired to turn the other cheek. In life I believe in turning the other cheek, but to create a good show, kinda go with an eye-for-an-eye.
Where do things stand between you and Carole? I felt some unsquashed tension at the reunion. Am I nuts?
Carole definitely did not approve of me calling Ramona white trash. That is something that she felt was inappropriate. And I agree with her. So I think her opportunity to express that was on the couch. But we totally get along fine.
But "Quite frankly you're both white trash," has become among my favorite soundbites from the series. So, inappropriate it or not, it left its mark.
It's a catch-22. You're not hired to do this job to take the high road. I remember on my first day of filming, Ramona and LuAnn were talking and they were having a fight. And I was like, "You know, you guys, there are people in hospitals dying of cancer." And they were like, "Cut!" "Boring!" "That's not good TV." You're hired like a wrestler to get into some muk muk.
And the ones that don't are booted.
Unless you're very clever. I think Lisa Vanderpump really, really -- in part because she has that fabulous accent -- hit the mark at being witty and staying out of the fray. I'm not that good.
And good zingers in the confessional. Taking after Bethenny.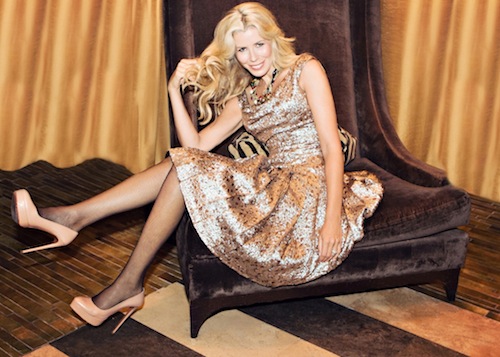 Of all of the things that happened during your first season with the show, what was the most batshit crazy thing that happened?
I couldn't believe that after I had asked Ramona for permission for my husband to come down to St. Barths on that little plane, that she said anything at all about it. I couldn't believe it.
Did you feel like she was doing that to drum up a fight?
Probably. But I couldn't believe it. That, and when she threw my dad out of a party. I still think that was wrong.
And he's become such a fan favorite.
People really love him. It makes it easier for me, because I'm so embarrassed of him. So when people love him, it makes it easier for me to face the world. A PR company dropped off a bag of make-up for me the other day and they wrote on the card, "Can't wait for you to use this make up and everybody here loves your dad. Please tell him hello from us." I need to take a picture of the card and send it to the old, horny geezer.
There's a rumor going around that Jill Zarin might be rejoining the cast.
You know, the cast is always the last to know. You all probably know before us.
Well, can you spill anything about Season 6? It's shrouded in so much mystery at the moment.
Well... fabulous! I am looking forward to Season 6, if there's a Season 6. I believe there will be a Season 6.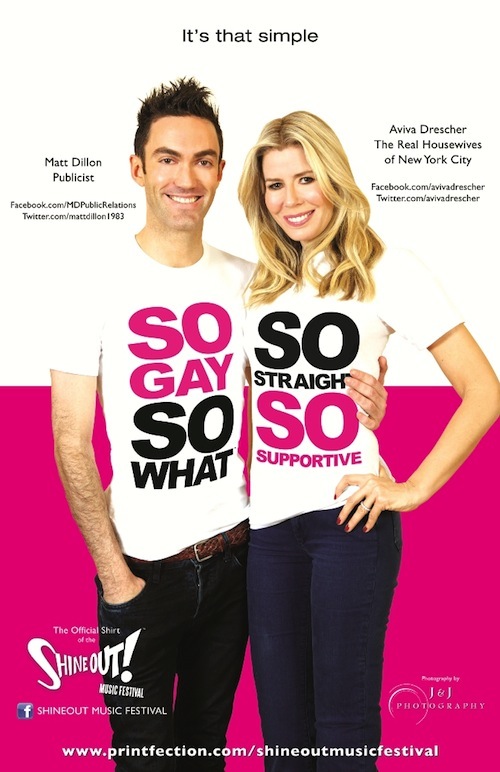 For more information on The ShineOut Music Festival, click here.

Photo credits: Aviva solo shots courtesy of Luxe by Leah; So gay so what picture by Jared Slater; other images courtesy of Bravo
REAL LIFE. REAL NEWS. REAL VOICES.
Help us tell more of the stories that matter from voices that too often remain unheard.