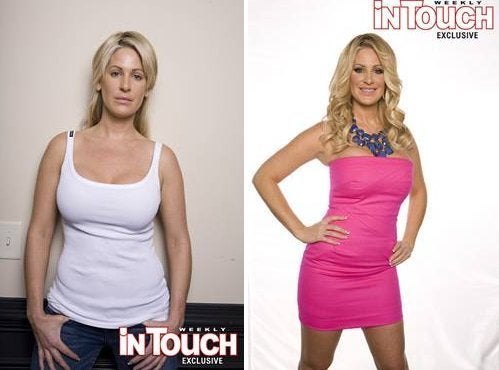 Kim Zolciak poses for a rather undramatic before and after spread in the new issue of In Touch Weekly. The 'Real Housewives of Atlanta' star, 31, also talks about her naturally black hair, balancing her desire to do Playboy with being a mom to kids age 12 and 8, and her unusual migraine treatment.
The new issue of In Touch has the full interview. Here are some highlights:
How have you changed since your younger years?

"I have black hair naturally, but my mom's a hairdresser, so I've been blond gradually since 16, 17 and on. I was always a thick build. I had braces."

You don't hide that you've had cosmetic enhancements.

"I just don't think there's anything wrong with it. Some cosmetic enhancement is obvious. A lot of times, the people who aren't talking about it are the ones who look horrible. I do Botox. I've had my boobs done twice. I started getting Botox when I was 25 for migraines. I recommend that to anybody. And VelaShape. I don't know if it shrinks you, but it keeps you tone and taut."

Would you ever do Playboy?
"Probably. I'd have to talk to my children, because when you're a mom, it's not just you anymore. I think Playboy is very classy and sexy, but there's a time and place for it. Kim Kardashian did it very tastefully."

Would you get more surgery?
"When I'm done having children, I'd be all for a tummy tuck. I would love a nose job, but I'm scared. I would do just about anything to maintain myself."

What is the biggest misconception about you?
"I'm not stupid, I'm not a homewrecker or a gold digger. But I don't even care. I'm past that. I may not make all the right decisions, but I'm happy. I've worked so hard to get where I am. As a single mom, you can achieve your dreams, be successful, and be a great parent. Now I look back and think, 'How could you think you couldn't do it?'"
Popular in the Community