On "The Real Housewives of Beverly Hills" Kyle Richards is one of the final original Housewives standing. As a member of the illustrious Richards/Hilton family (and an aunt to the original "celebutants" Paris & Nicky Hilton) juggling motherhood, her handsome hubby Mauricio Umansky, and five children is a tough juggling act. She sat down to chat with us about how she stays healthy even when not filming on "Real Housewives", how to keep your marriage together while on a reality show, and how she feels about the new crop of Housewives that have joined the 90210.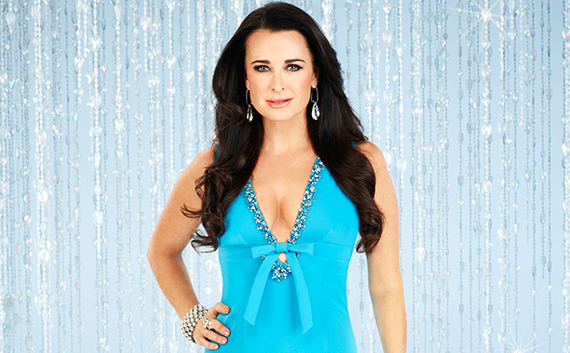 Now is around the time of the year that many people's New Year's Resolutions seem to fall apart. Did you may any resolutions going into 2016?
Actually, pretty well. With me, I didn't want to focus so much on resolutions as I wanted to focus on being healthy as possible. My family has a history of cancer, so I am always thinking about what can keep both my family and myself as healthy as possible. My one resolution this year was to switch over from coffee to tea, which is really huge for me. Some people may feel that coffee is not that bad for you, but for me, I definitely wanted to do it. So far it's been going ok, and I have stuck to it. No soda at all either; I used to have it once in a while, but not I've decided that I cannot have it ever again. I'm really just continuing to exercise as much as possible, eat right, things like that. I am also trying to go to a meditating class, I just haven't gotten there yet. I've been so busy, it feels like I am always on the run.
Since the show films for half the year, and then half the year the cameras are down, is it hard keeping your diet and exercise routine consistent? I know SculpSure can be an invaluable part of any fitness/exercise regime.
The thing is this; for six months out of the year we are doing the show, filming interviews, things like that. For the other half of the year though, we're doing press. I mean, I'm doing press consistently when we're not filming and it gets pretty crazy. I have my kids, I have my husband, (Mauricio) I have my store (Kyle By Alene Too), and you've always gotta be running, going and doing. You don't have to be always looking your best just for the show, but for yourself also.
Like today, I said that I would allow a cheat day if I'm going to be sitting in the airport and have something bad for me, like pizza. As soon as I land in Los Angeles though, it's lemon water, shakes, sashimi and salads!
There were alot of changes this year on the show, and you've been asked consistently about your sister Kim, who left the show this year. First off-how is Kim?
She's doing really well. Thank you so much.
Have you liked the changes in the show?
I think Kathryn (Edwards) and Erica (Jayne) are wonderful additions to the cast. I also think Lisa (Rinna) and Eileen (Davidson) were great additions to the cast from last year as well. I think with the cast we have right now and everything going in everyone's lives right now, as well as the relationships between the women, it makes it all very interesting. I think this season has alot more depth than some more recent seasons. I mean, I wasn't a fan of the seasons with all of the fighting and people throwing glasses of wine in people's faces, I really didn't want to be a part of something like that. This feels like how the show started. Women who are genuinely friends who have great lifestyles, but don't necessarily get along LOL. This is how it should have been all along.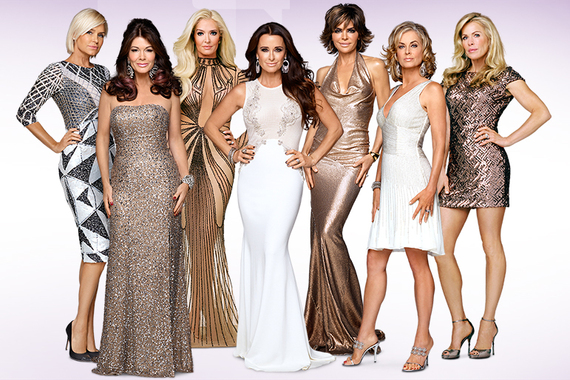 Every season people talk about how people may not get along, and this season is no different. There are definitely times I have been upset with certain cast members throughout the season, but i really genuinely like everyone. I think they are smart women and I really think we have a great group of ladies.
It's probably hardest to go back six months when these events were filmed and be interviewed to discuss them again also; is that safe to say?
People say things in their interview that I may say "that was very rude" and then I just don't talk to them for a couple days. Then when I say things back about them, they somehow suddenly forget that they said things first.
You seem to try to stay out of the press, as other members of your family are much more high profile and on the red carpets regularly. Is it hard suddenly having your family disagreements and issues aired publicly?
Extremely; it's extremely difficult. It's been probably one of my most least favorite things that have happened because of the show and that's saying alot. I mean everything with Kim, arguments we've had, the intensity of them, and then my family issues. They are not part of the cast and it's very difficult when your outside life spills into your screen life and the show.
Do you think your sister Kathy (Hilton) would every become "Housewife"?
You know, I don't' know. You know what, alot of people ask that, and I think many people would like that, but I really don't think she would do it.
I mean, it's our family. Every family has their problems and you almost always work things out. It doesn't help when people are online weighing in, magazines are constantly talking about it over and over, things like that. You just want it to go away sometimes, We've always been a close family.
Happy belated Anniversary! What a wonderful surprise to Mauricio to surprise you on "Watch What Happens Live" by having Andy Cohen give you the stunning earrings he purchased for you, even though he couldn't be there. So many marriages of fellow "Housewives" don't work out. Why do you think that is? What is your secret to keeping your marriage strong under the glare of the cameras?
i am asked that so often and I think sometimes, people sign up for a show like this with problems in their marriage or relationship already. I think women look at it as their "out"; their independence, their way to get money, and they think it's going to be great since they are now a "Housewife" and they are really miserable. I'll say this much; if you have any cracks in your marriage, its going to be the end of your marriage. If you have a strong marriage, you will make it. Lisa (Vanderpump) and Ken (Todd), myself and Mauricio, we have strong and successful marriages.
Part of your storyline this year has been an upcoming potential sitcom on TvLand? Anything you can tell us on that?
I'm definitely still rolling on that, these things take time, but it's coming!
If you had to sum up where you are with your life, the show and your health right now in one word, what would it be?
Fortunate.
www.kylerichards.net
www.cynosure.com/product/sculpsure
(photos courtesy of Bravo/NBC Universal)
REAL LIFE. REAL NEWS. REAL VOICES.
Help us tell more of the stories that matter from voices that too often remain unheard.